DIY Flower Girl Dresses of the Year in shades of Tiffany Blue
These aqua shades of flower girl dresses in silk stole the show
Introducing Megan's Beautiful DIY Wedding and Flower Girl Dresses! With a $30,000 budget for 300 guests, Megan and her friends created an unforgettable celebration. The highlight? Chloe, Lauren, and Lisi, three stunning flower girls in Style 356 dresses. Adorned in ivory shantung silk with three shades of aqua silk sashes, they brought the "sea glass" theme to life. Join us as we celebrate the magic of Megan's wedding and the beauty of Pegeen dresses.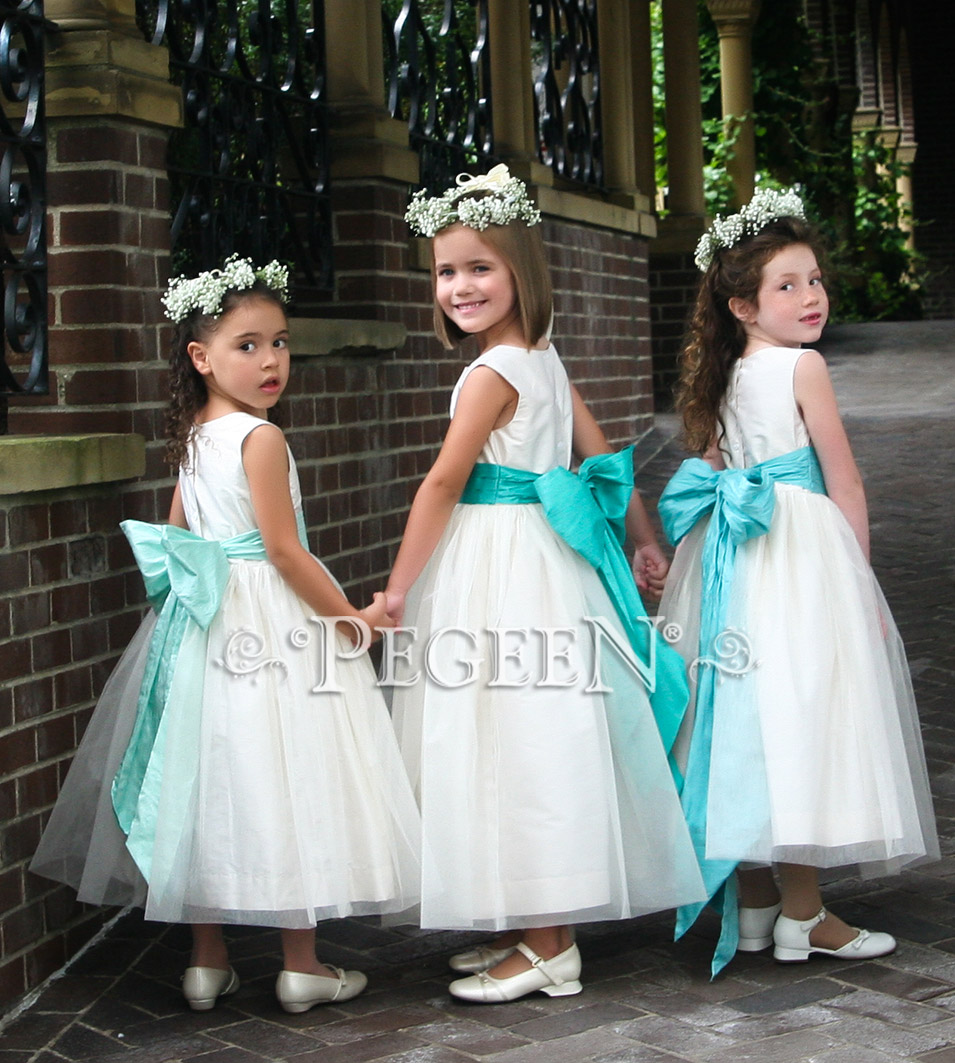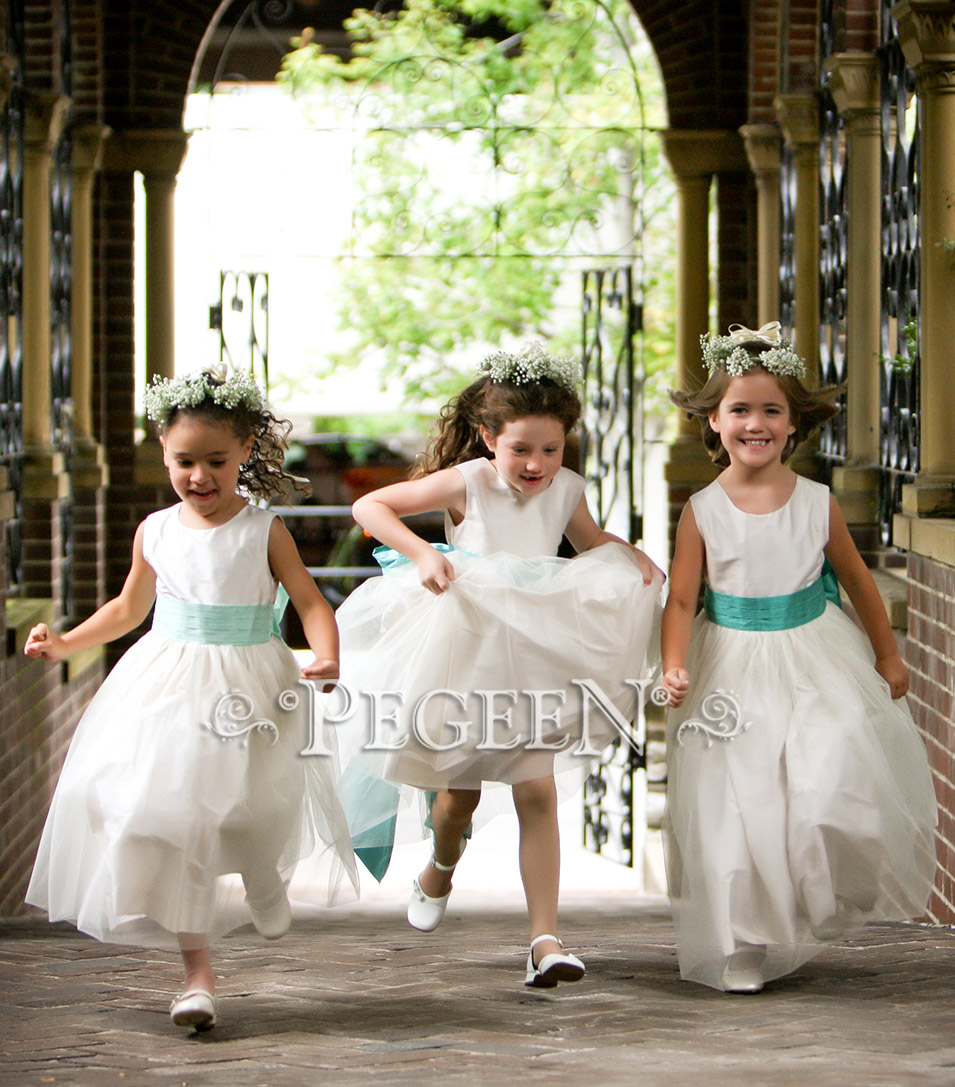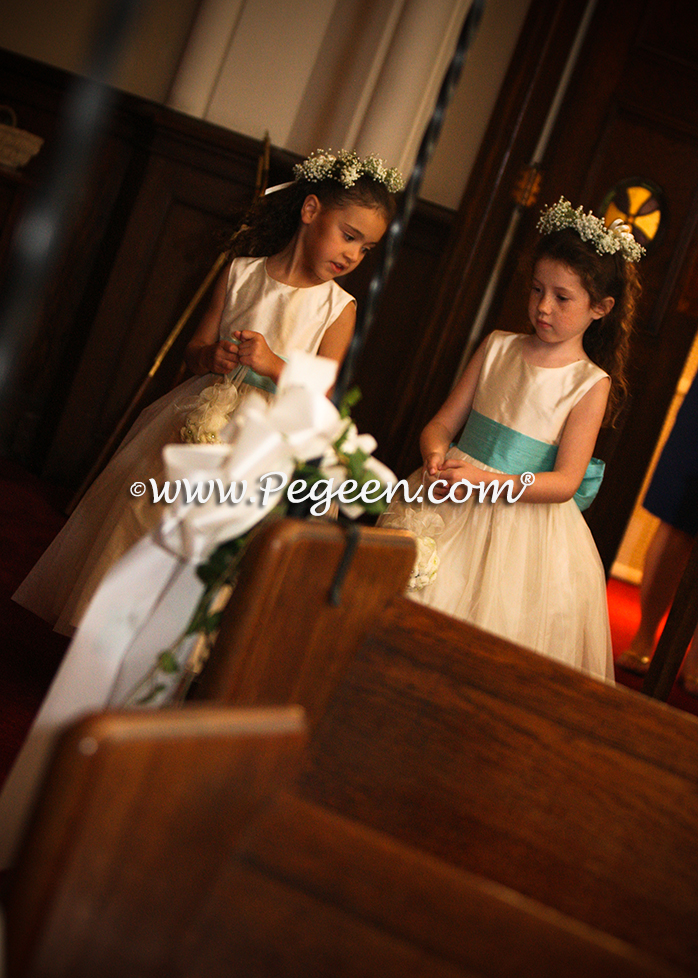 Because we had so many BEAUTIFUL weddings to choose from, this year we decided to choose a wedding that was totally done by the bride, enlisting the help with her friends, who were "a huge help pulling the wedding together". Megan's budget was $30,000 for 300 guests ~ that's an amazing $100 per guest for EVERYTHING. We won't say we choose Megan's wedding as our DIY Wedding/Flower Girl Dress of the Year because of the economy (urgh) - instead we chose it because Chloe, Lauren and Lisi who were three of the most beautiful flower girls in our dresses !! Our bride chose Flower Girl Dress style 356 in ivory with three shades of aqua silk. As soon as Megan said to us "I want the wedding to be in shade of "sea glass" we got IMMEDIATELY what she said and we were VERY excited to see the girls walking down the aisle in Pegeen! The dresses were in ivory duchess satin with tulle and each had a different color of aqua or tiffany... Bermuda (the darkest shade), Sea Shore, and Aqualine silk was used for the sashes on the flower girl dresses.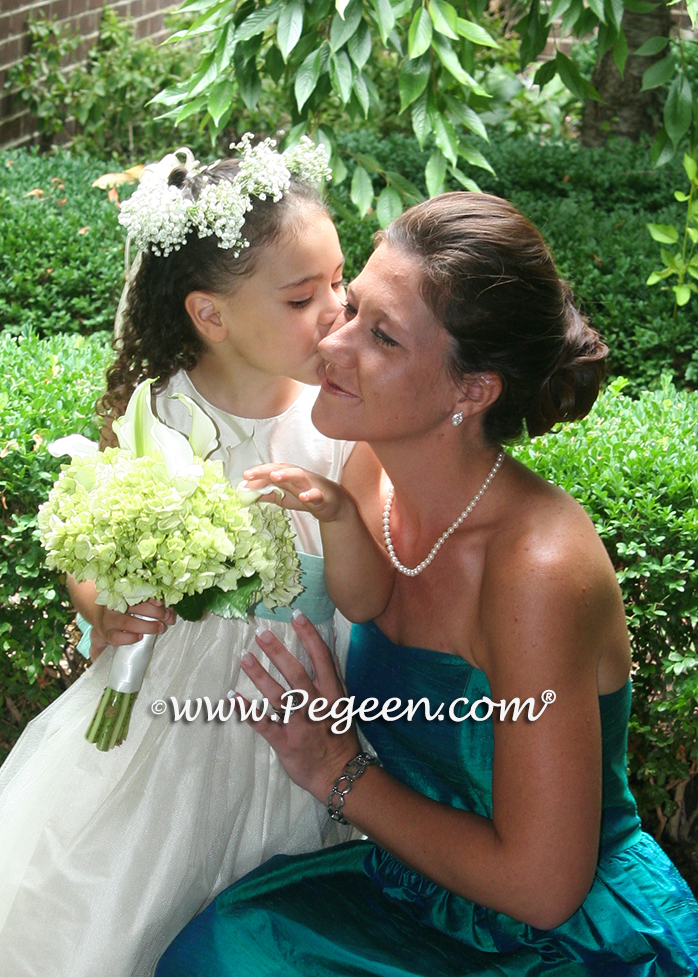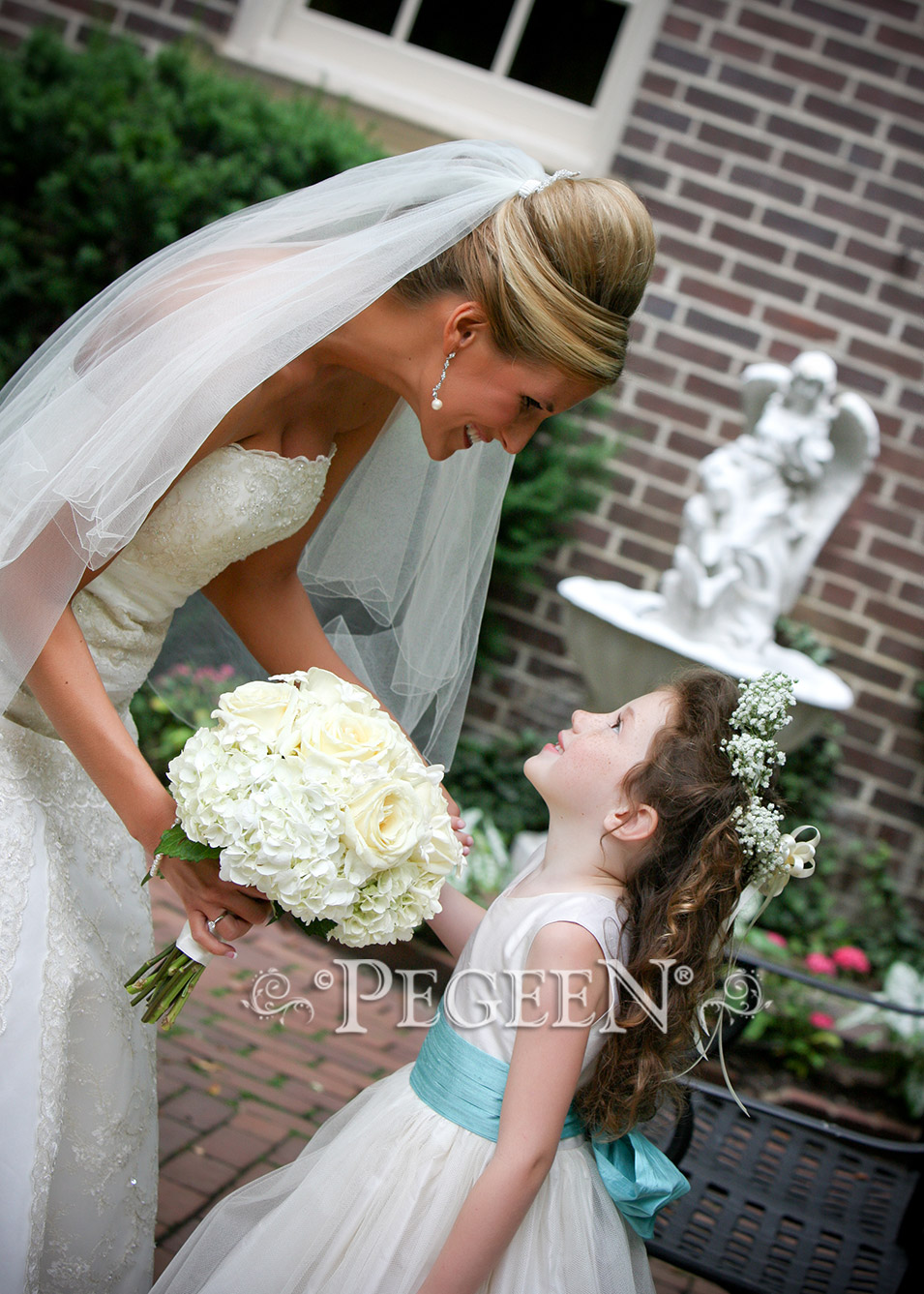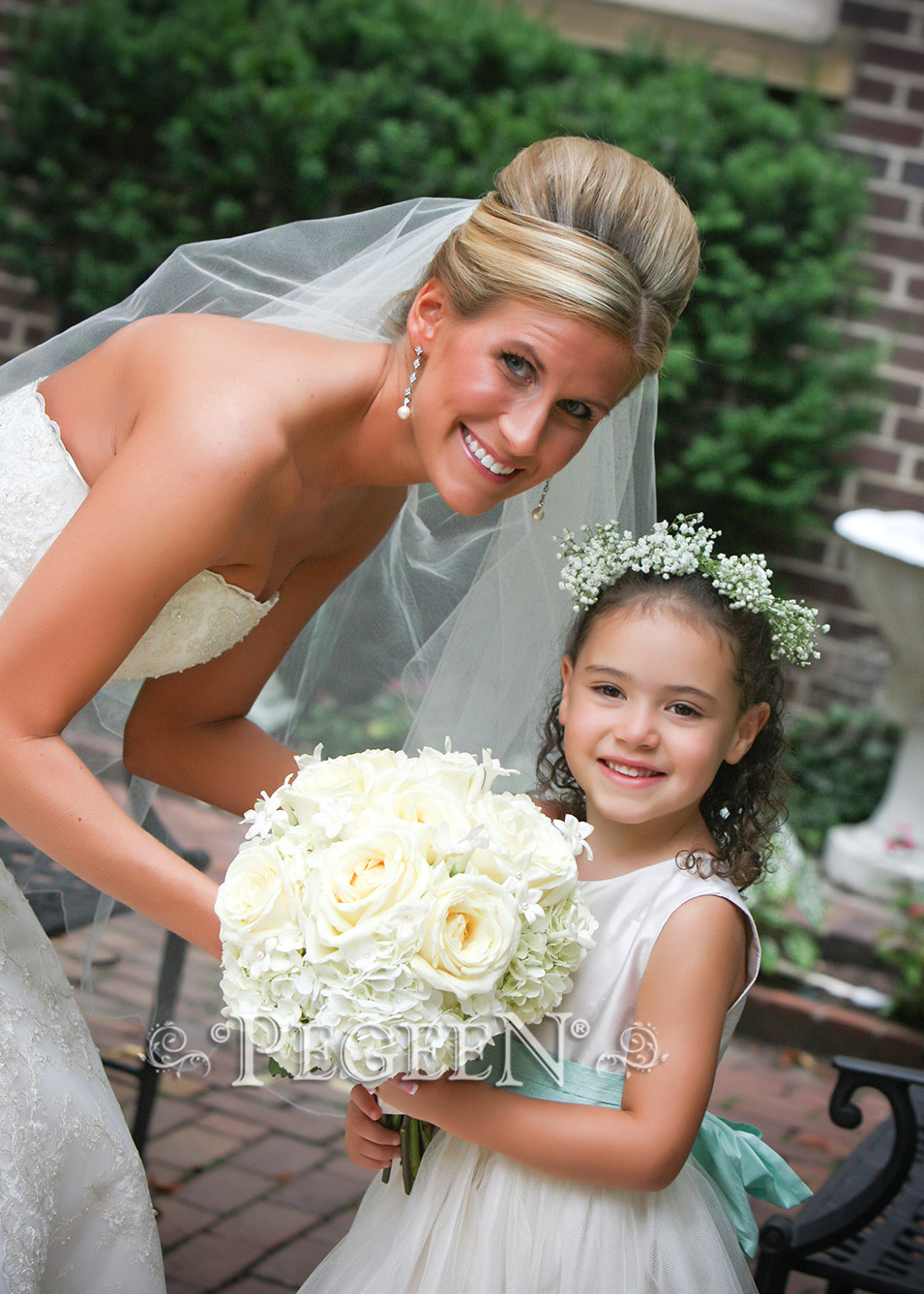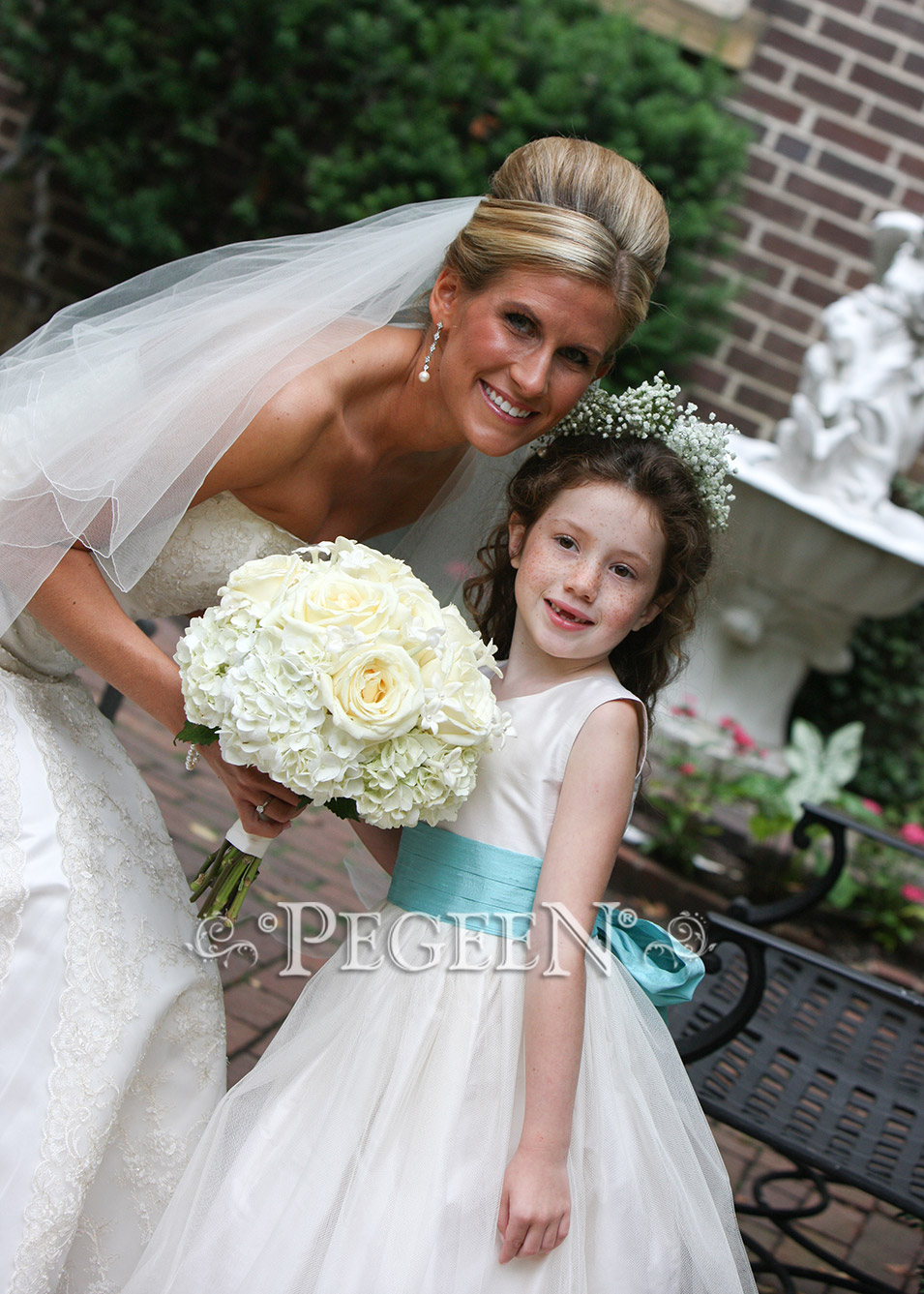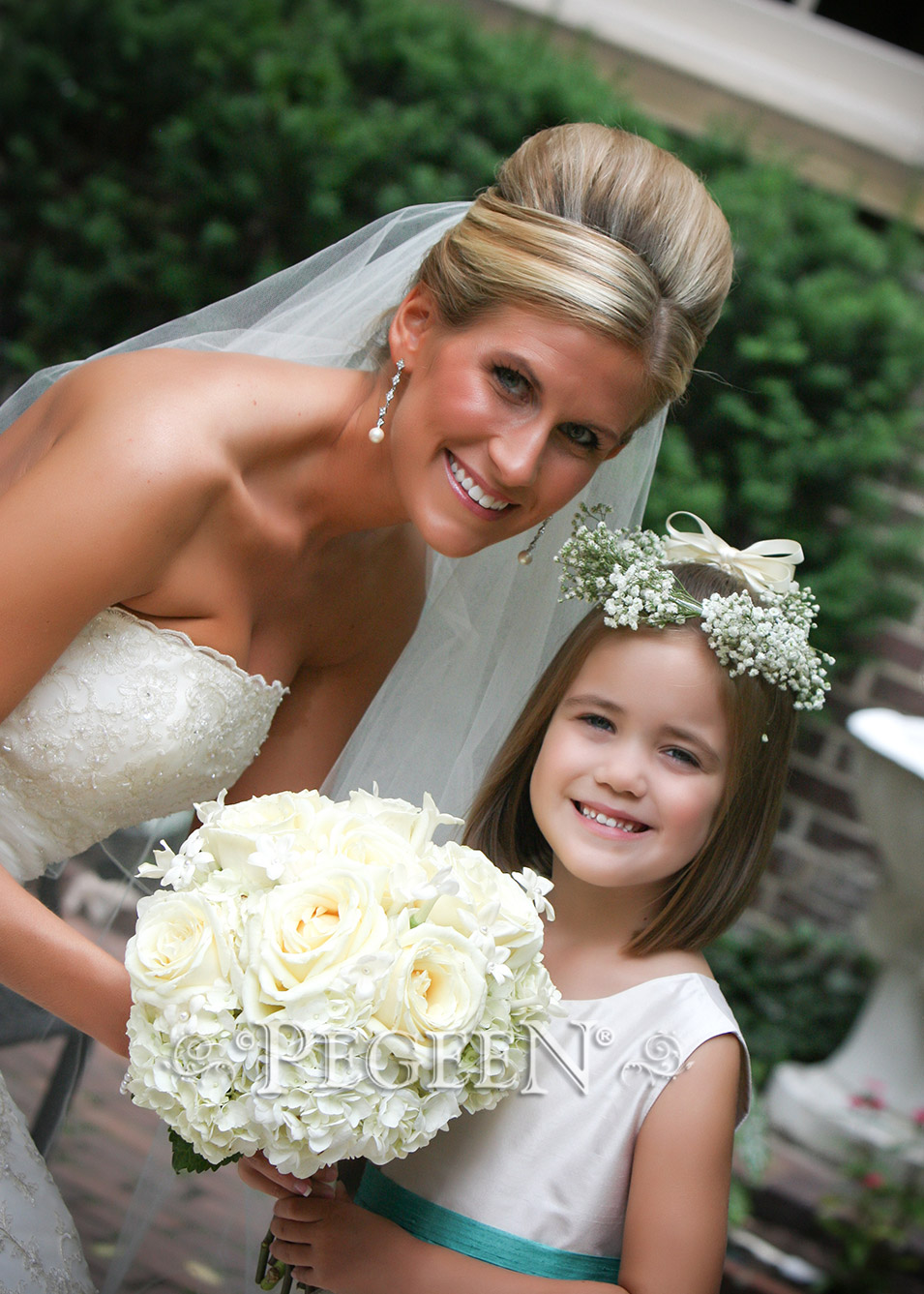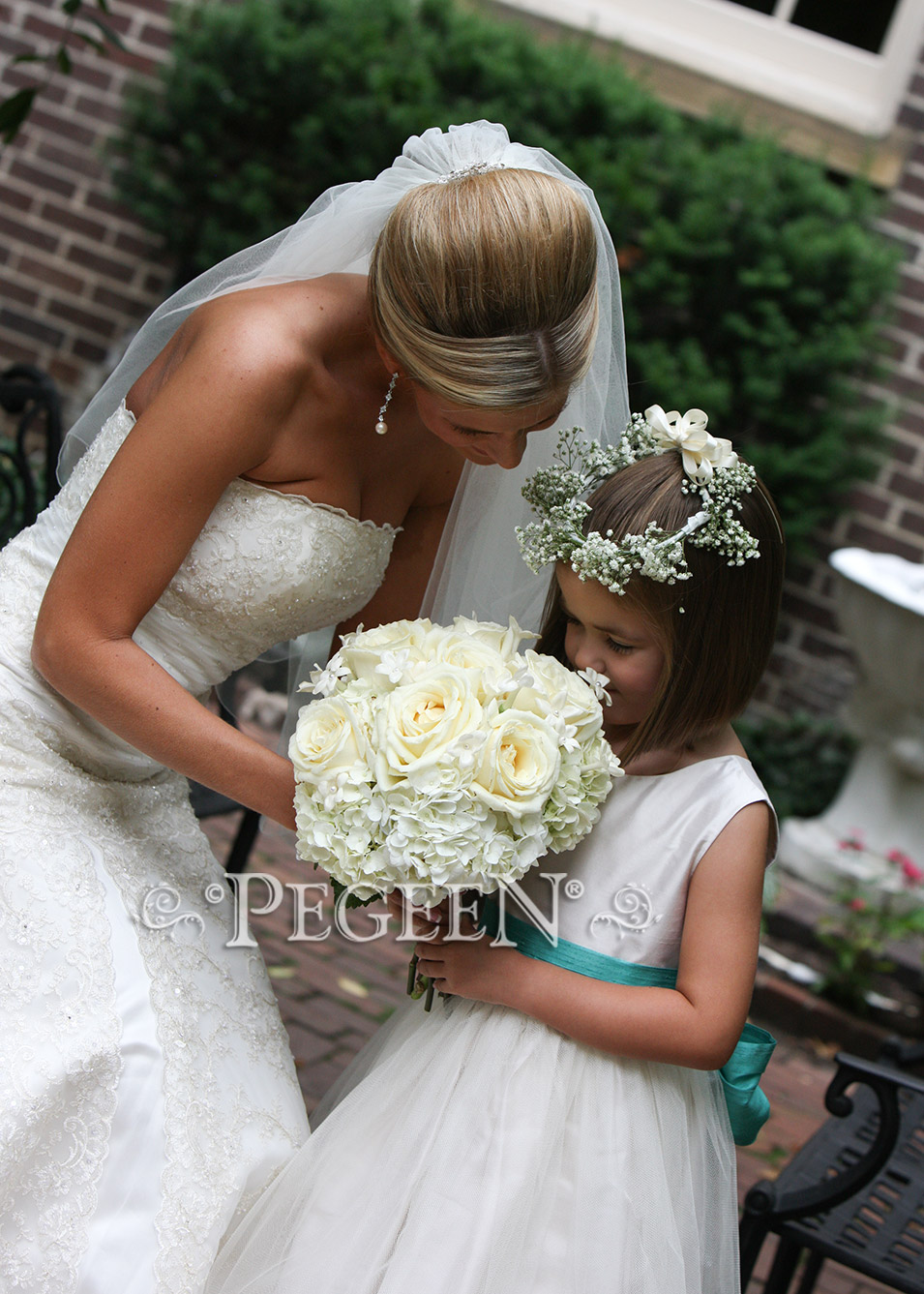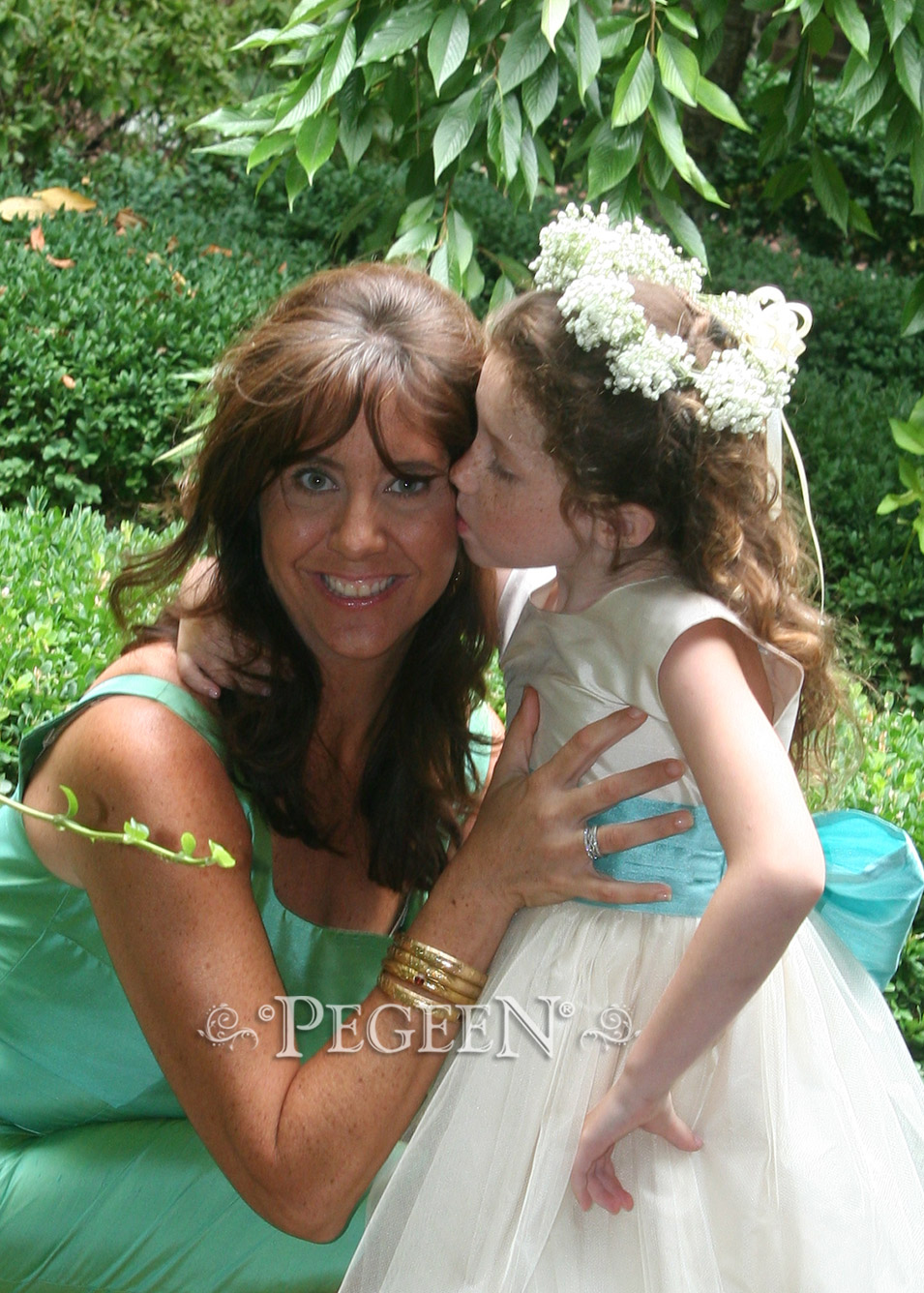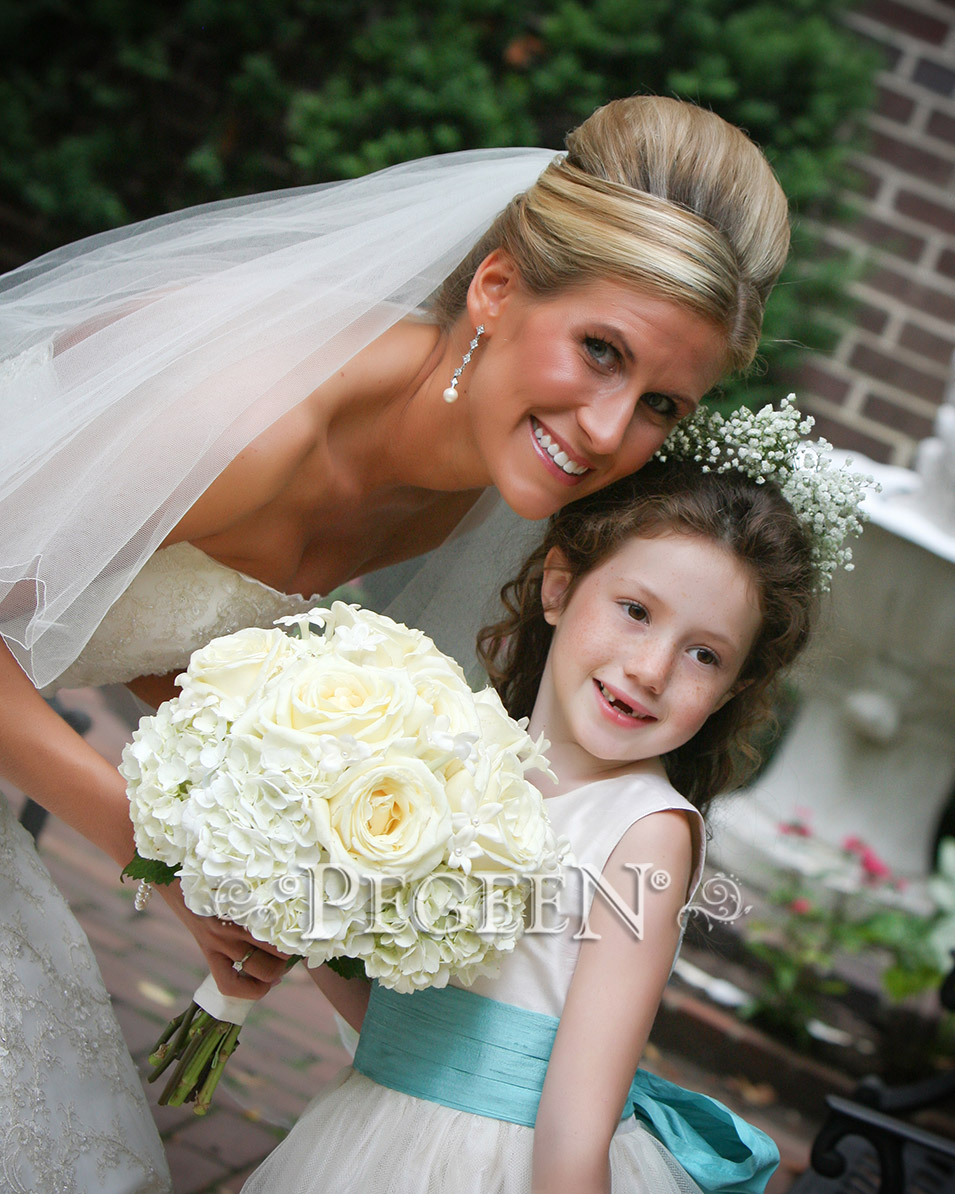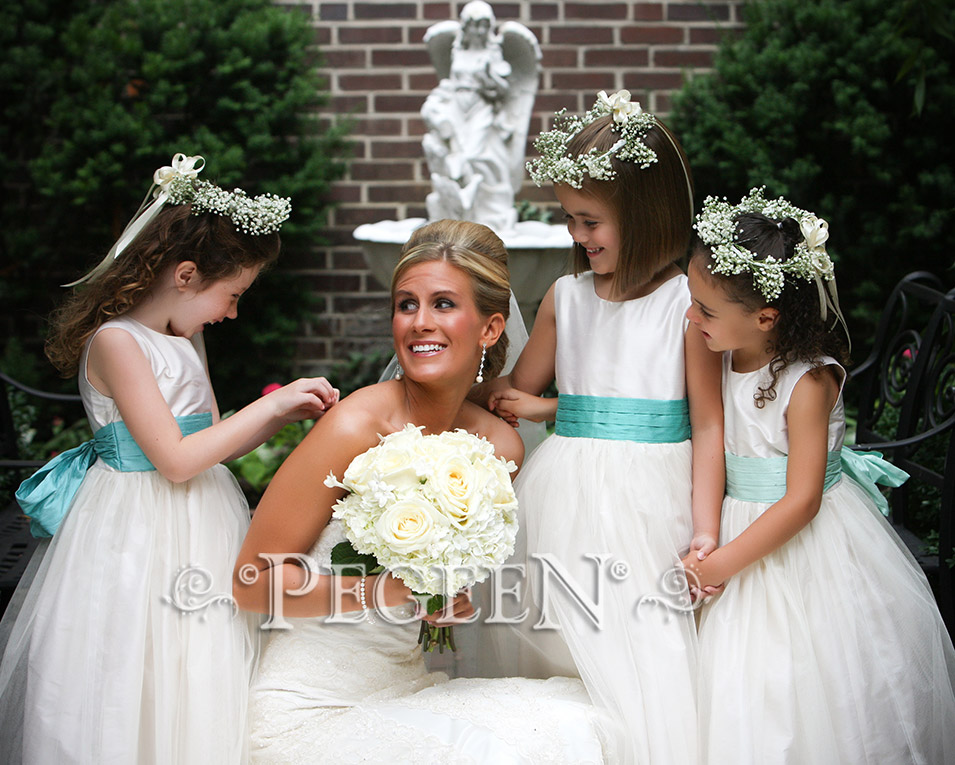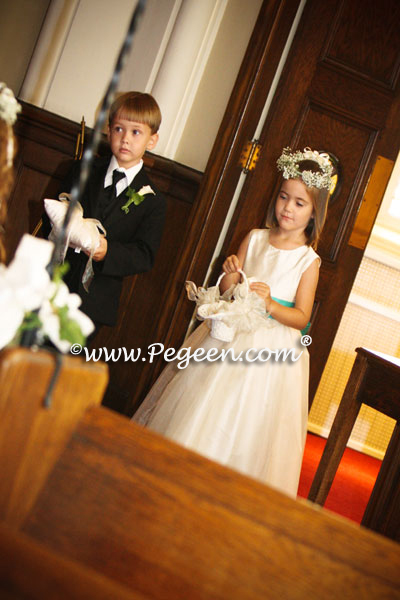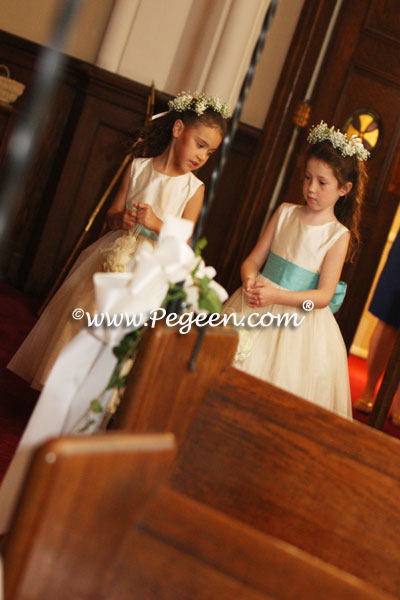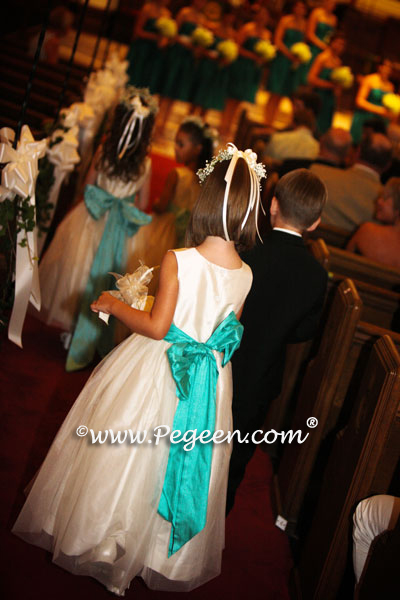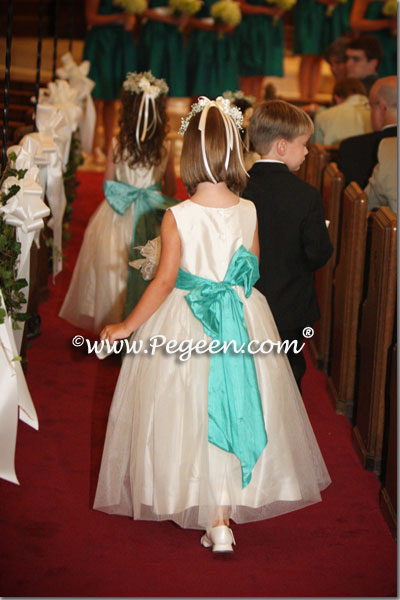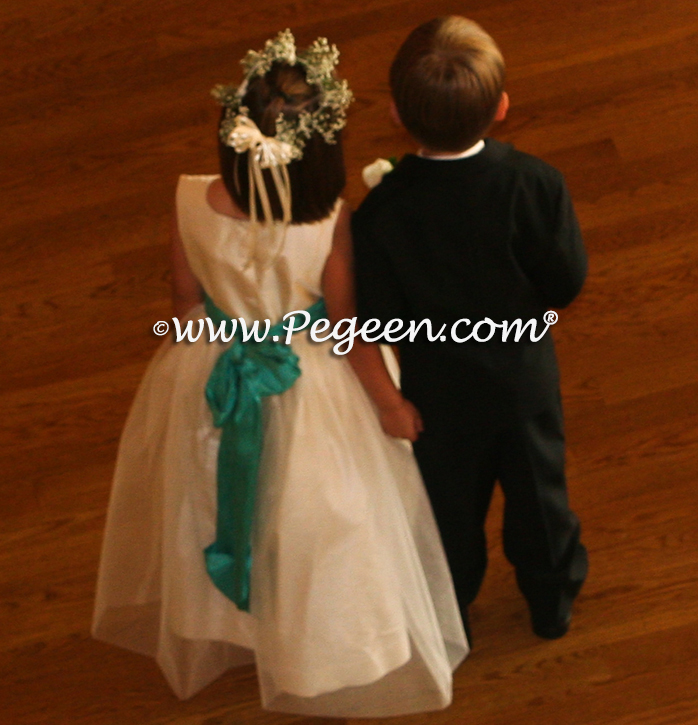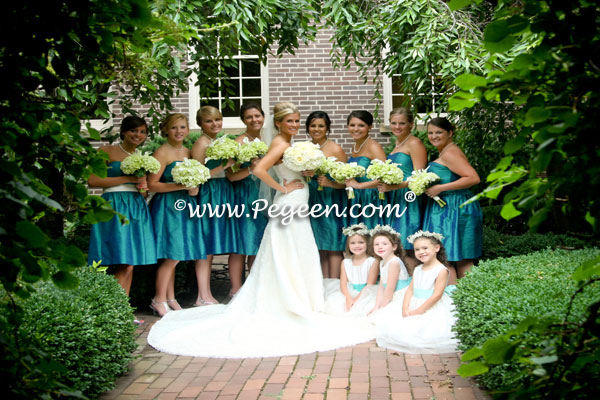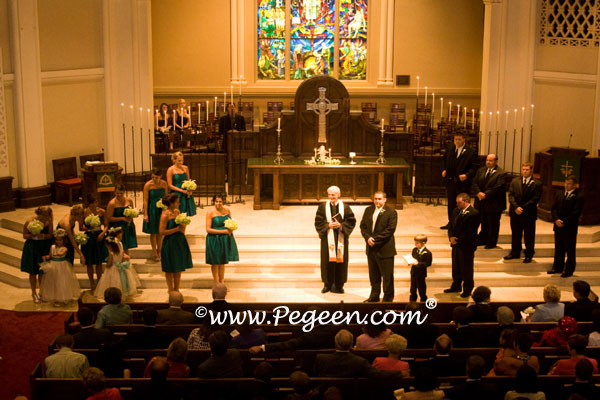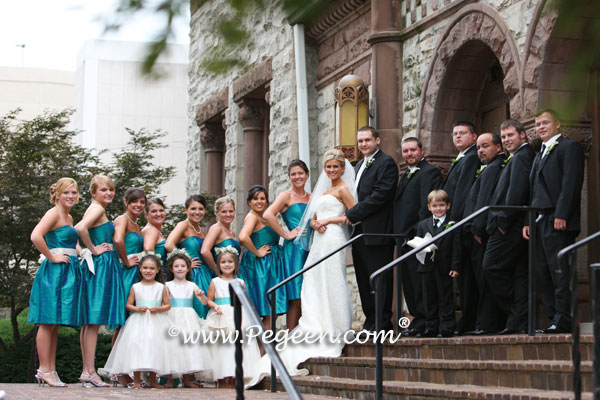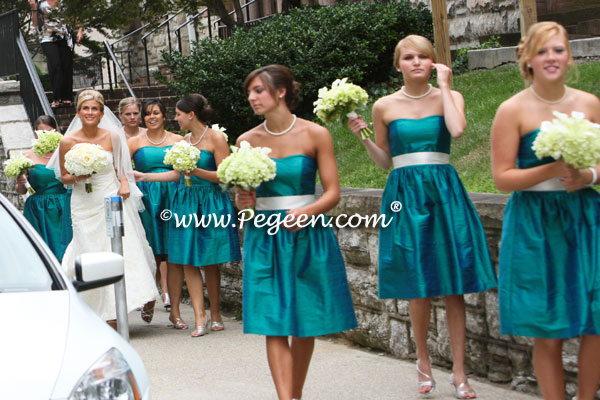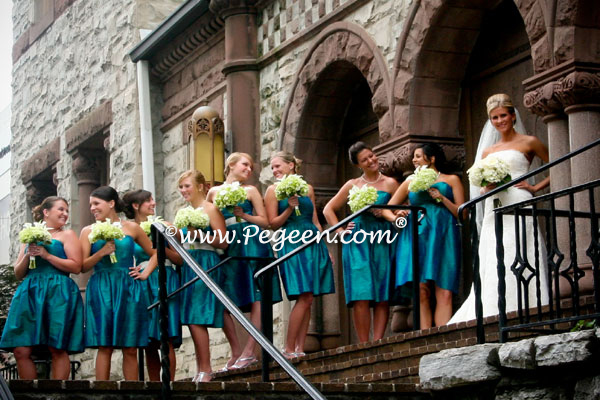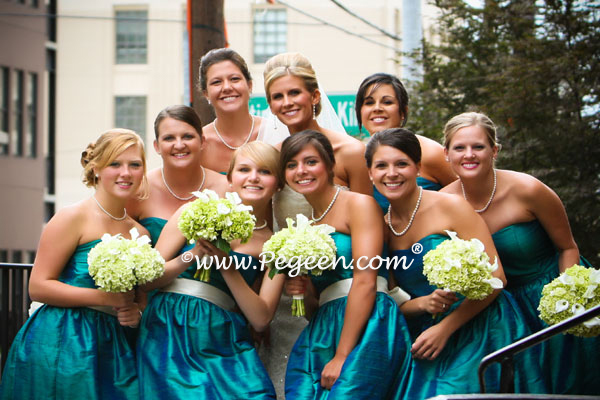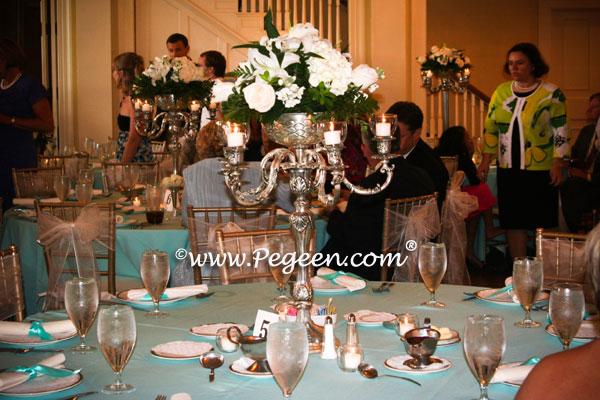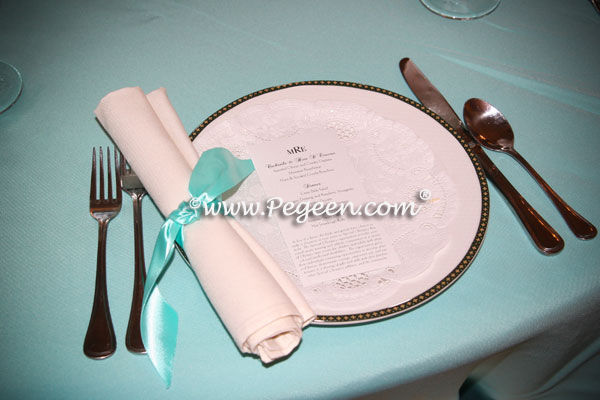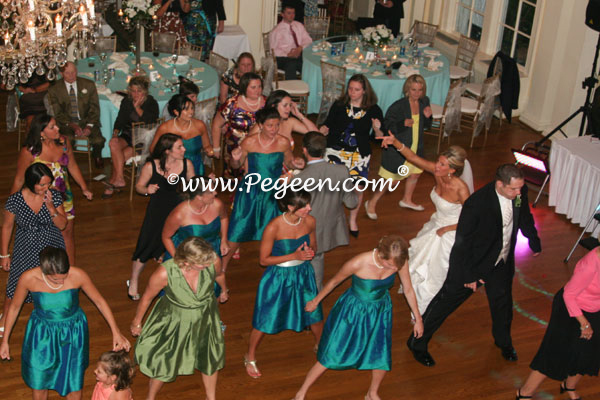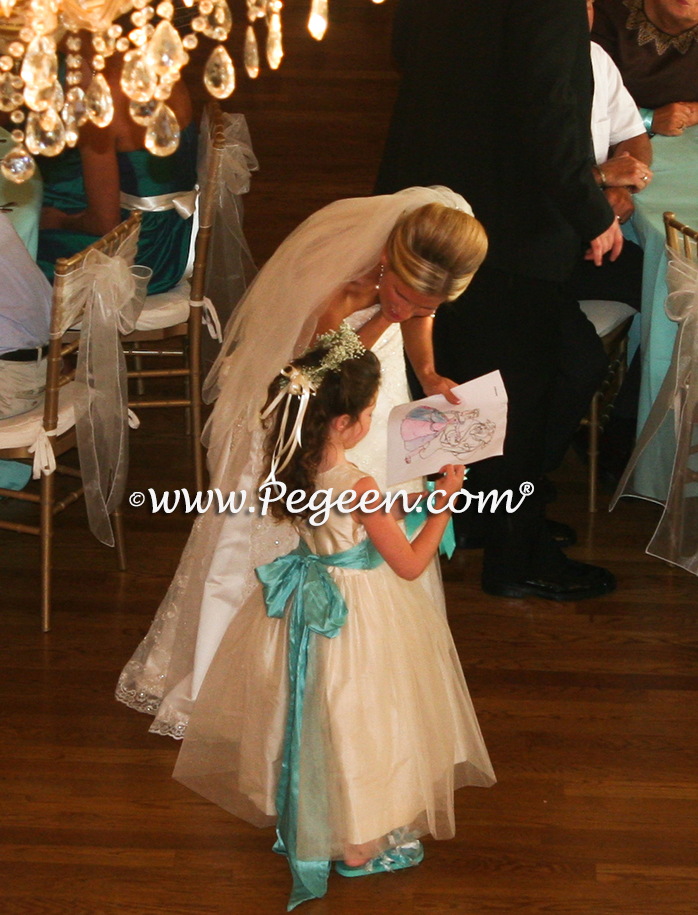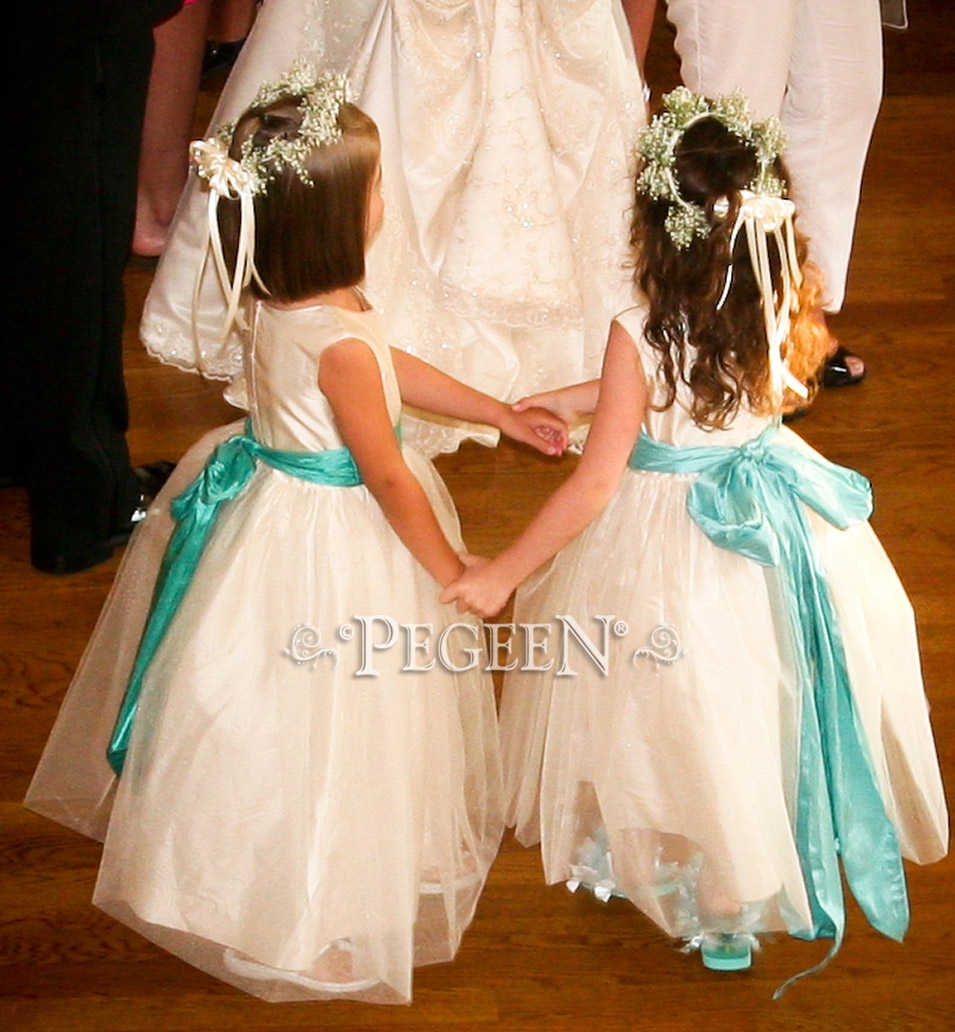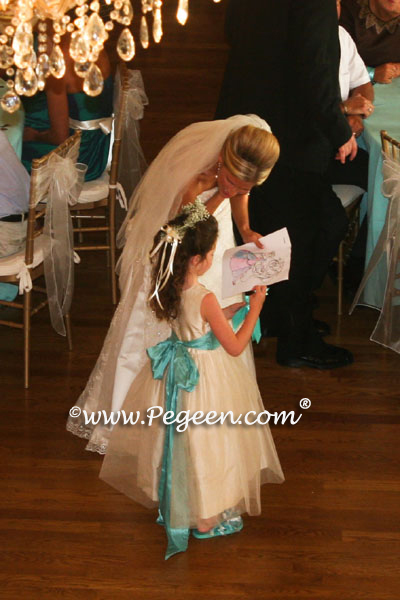 Vendor List
VENDOR LIST
Photography: Heather Ransdell of Chicks that Click Photography, Harrodsburg, Kentucky 859-734-5555
chicksthatclickphotography.com
Flowers: Crist Creona Designs, Lexington, Kentucky 859-252-6833
cristcreonadesigns.com
Ceremony Location: Central Christian Church, Lexington, Kentucky 859-233-1551
centralchristianlex.org
Reception and Catering: The Lexington Country Club, Lexington, Kentucky 859-299-6243
lexingtoncc.com
Wedding & Groom's Cakes: The Sugar Forest, Brenda Renner, Nicholasville, Kentucky 859-881-0887
sugarforest.com
Invitations: Birchcraft Studios
birchcraftstudios.com
Programs, Menu Cards, Place Cards: Minuteman Press, Danville, Kentucky 859-236-4655
danville.minutemanpress.com
Wedding Dress: La Sposa "Galilea"- from European Bridal, Reading, Ohio 513-821-6505
EuropeanBridal.com
DJ: "On Your Mark, Get Set, Music", Mark Stutte, Lexington, Kentucky
gigmasters.com
Tuxedos: Ralph Lauren- Geno's Formal Affair, Lexington, Kentucky 1-800-432-9275
gfatux.com
Linens: Purdon's Rental Sales, Lexington, Kentucky 859-266-1197
purdonrental.com
Calligraphy: Megan Dowdy Ralston (Bride)
Ceremony Musicians: Organ & Piano- Mr. Michael Rintamaa (of Central Christian Church); Trumpet- Mr. Dan Smith; Vocalists- Ms. AnneDean Watkins and Mrs. Jamie Wise Maloney
Hair Design: Erika Evans of Alure Salon and Spa, Lexington, Kentucky 859-519-2100
aluresalonandspa.com.
Make Up Design: MAC Cosmetics- Macy's; Bobbi Brown Cosmetics- Macy's, Lexington, Kentucky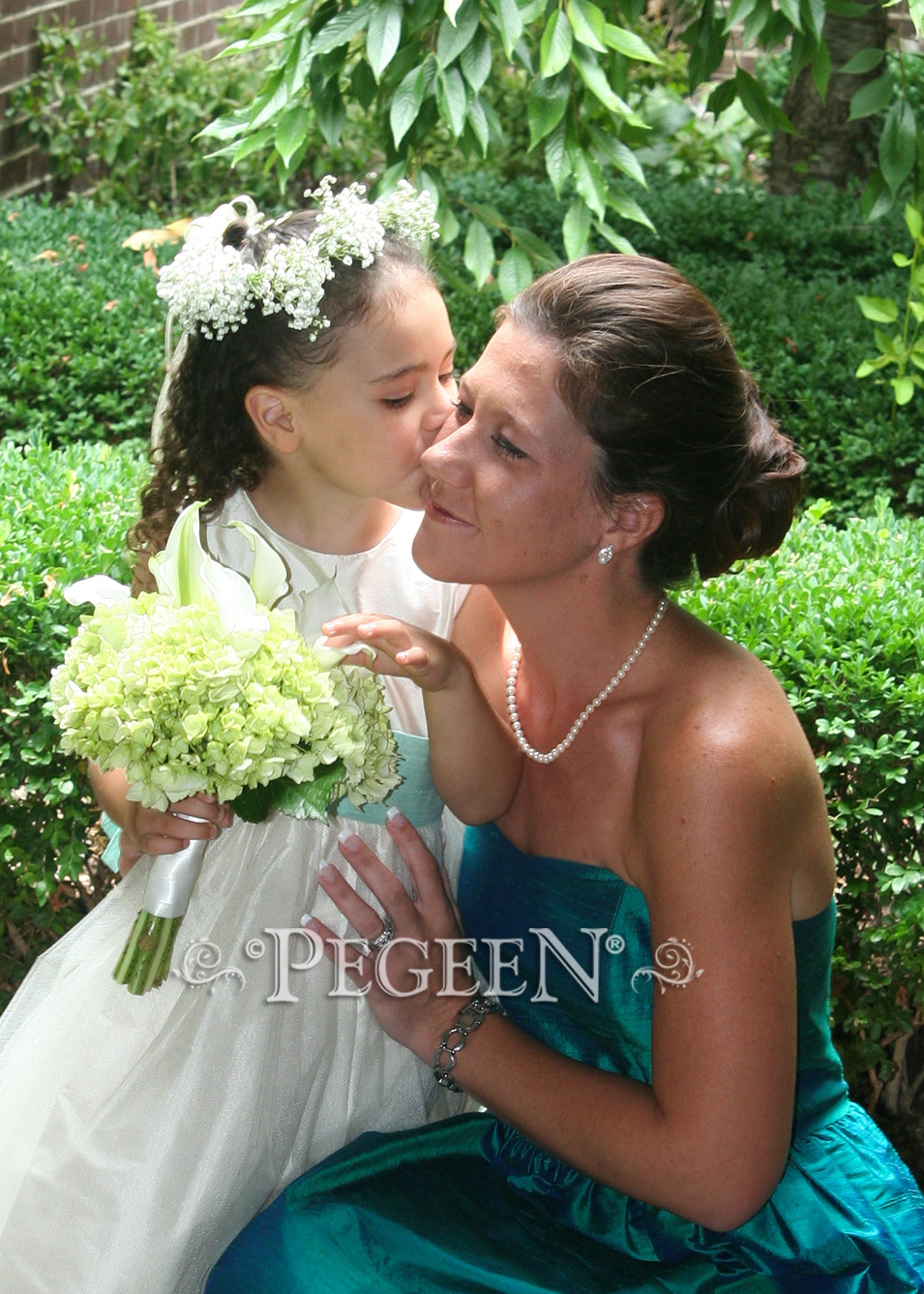 Photography: Heather Ransdell of Chicks that Click Photography, Harrodsburg, Kentucky 859-734-5555

chicksthatclickphotography.com

Pegeen Flower Girl Dress Company ~ 9147 State Rd 535 Orlando, FL 32836 ~ Shipping World Wide Since 1982