Recent Reviews of Pegeen.com - Page 27
"I can not thank you and your team enough getting this dress to me so quickly when others failed. I will never buy from one of those "fake" Chinese sites again and promise to check out "Buyers Beware's" website and facebook page."



---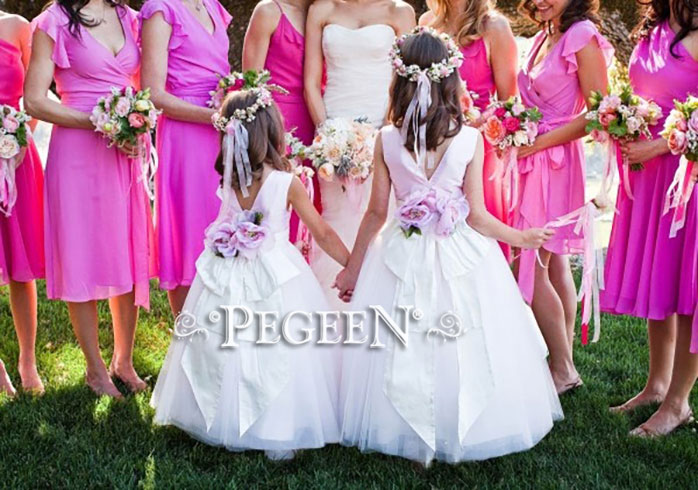 This page displays our customers' styles for occasions like Bat Mitzvahs, Communions, flower girls, and ring bearers, along with their heartfelt feedback and customer reviews about their Pegeen experience.
ABOVE:
Style 402 is a stunning flower girl dress that combines elegant white and peony pink silk, creating a lovely contrast. The dress is further enhanced with vibrant hot pink flowers, adding a pop of color and charm to this enchanting ensemble, making it perfect for special occasions. Its timeless design ensures that your flower girl will look both elegant and adorable.
---
BELOW
Bat Mitzvah Dress Style 933 is a dazzling choice, featuring raspberry sequins that catch the light beautifully. The dress is elevated with multi-colored tulle in various shades of hot pink, adding a playful and vibrant touch to the design. It's a perfect ensemble for a Bat Mitzvah celebration, combining elegance with a touch of youthful exuberance.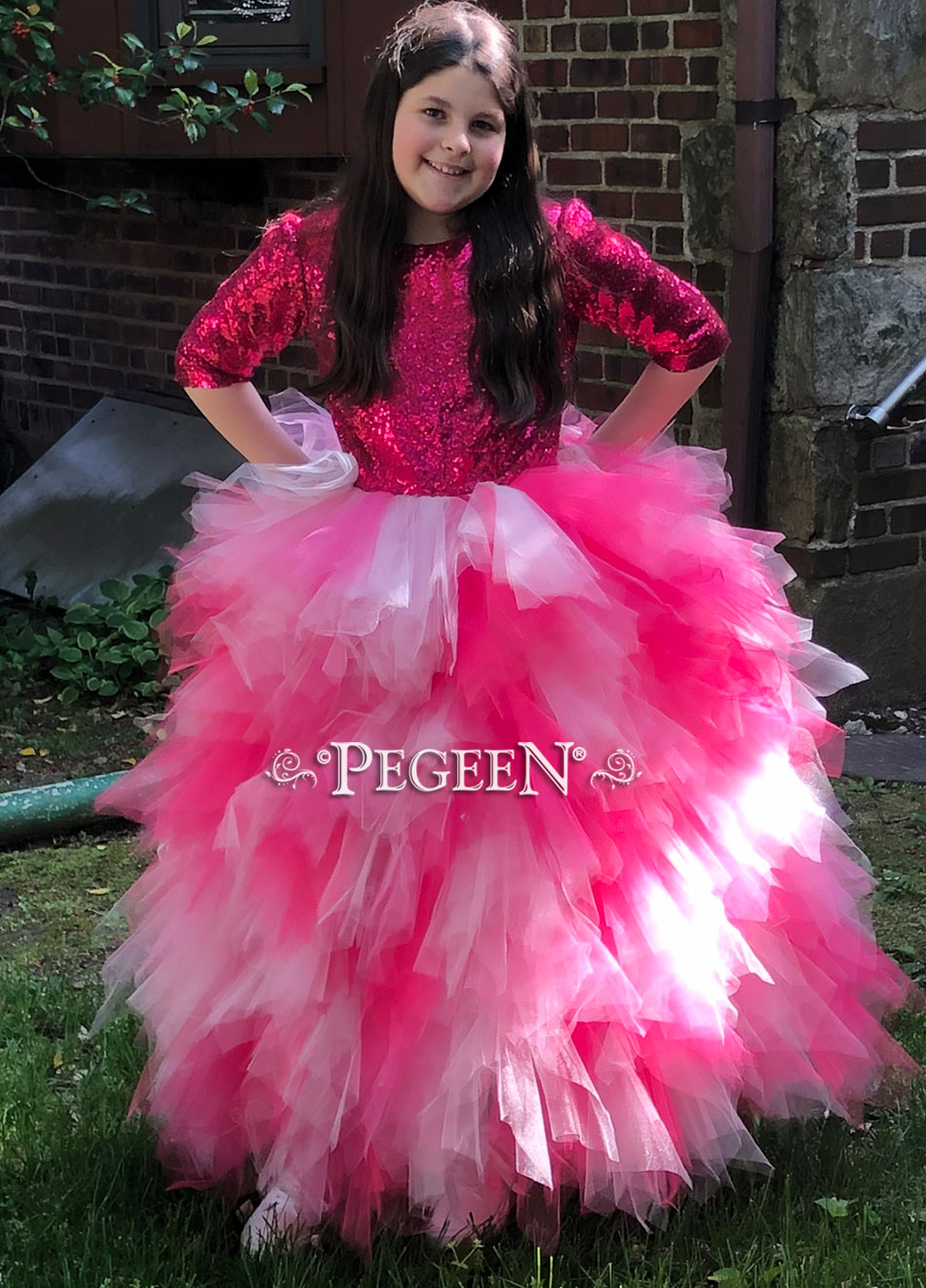 "Thank you! She got soooo many compliments on the dress! It was gorgeous!" Rachel B
BELOW
Silk Flower Girl Dress Style 402 exudes charm with its radiant cerise pink silk fabric. It's complemented by a delightful bubblegum sash that cinches the waist, adding a pop of contrasting color. The addition of tulle completes the look, making it a sweet and enchanting choice for any flower girl.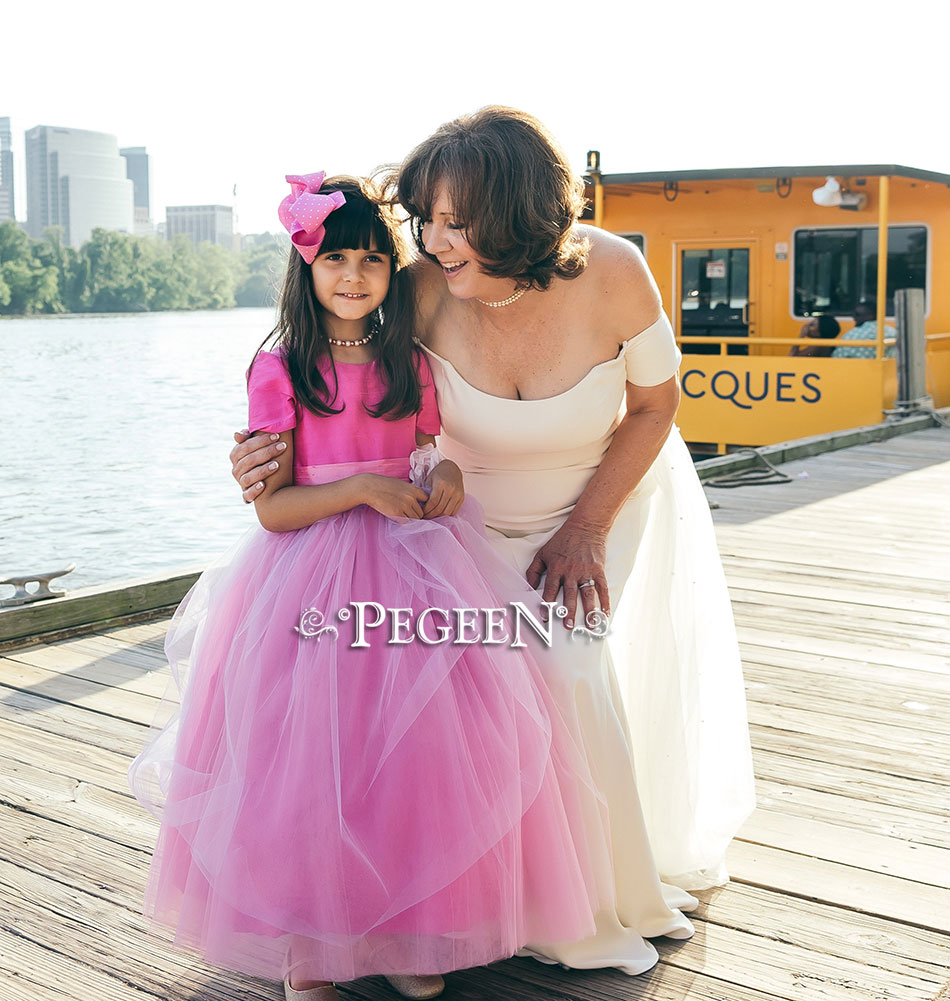 BELOW
The Audrey Hepburn-inspired Silk, Sequin, and Tulle Flower Girl Dress in Style 428 embodies timeless elegance and sophistication. Crafted with attention to detail, it combines silk, sequins, and tulle to create a dress that captures the essence of a classic era. Style 428 is the perfect choice to make your flower girl feel like a little starlet on your special day.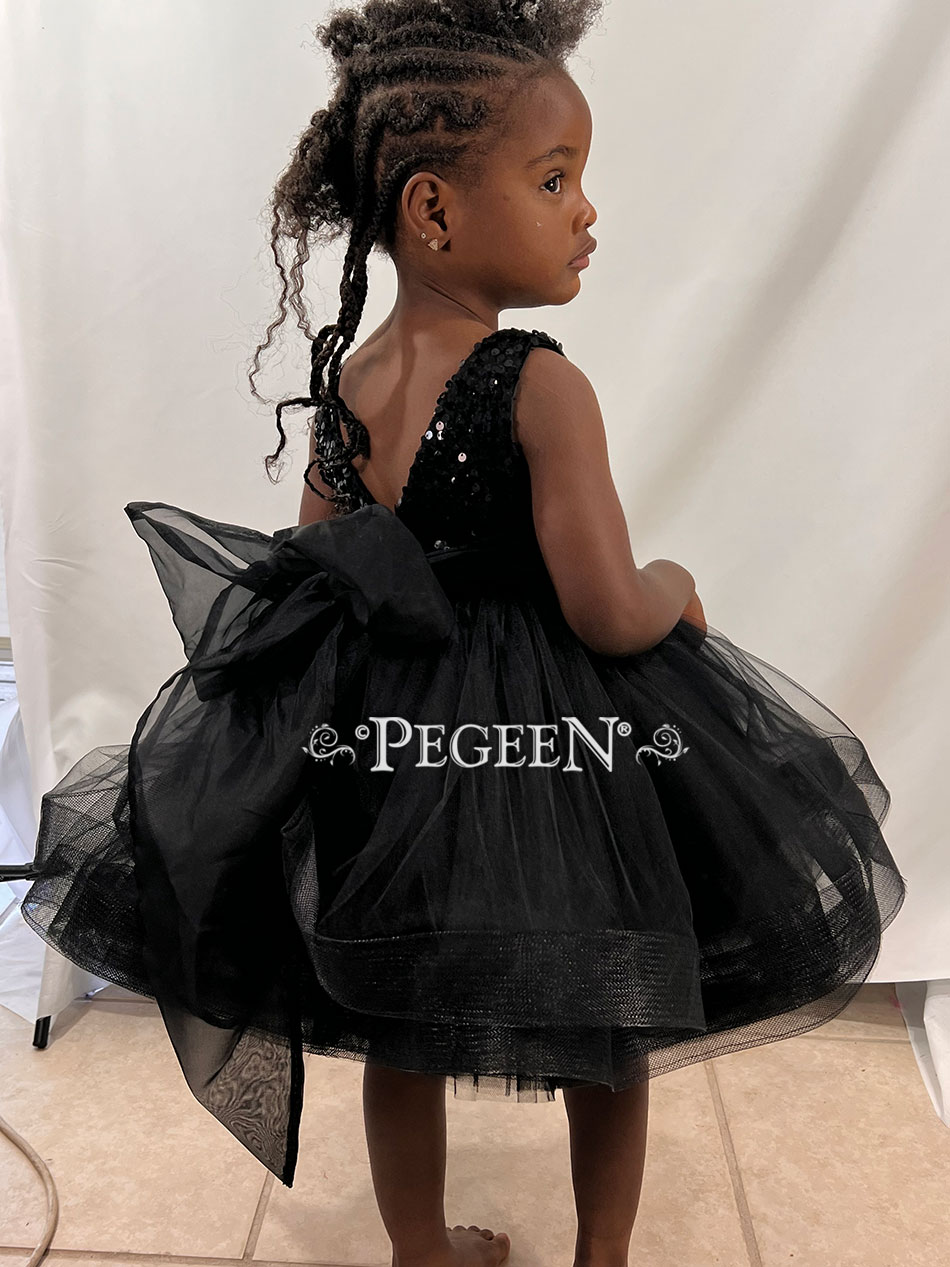 BELOW
Style 398 is a stunning Black and Slate Blue Silk Flower Girl Dress, blending classic elegance with a modern touch. The juxtaposition of black and slate blue silk creates a striking and unique color palette. This dress is perfect for a sophisticated and chic look, ensuring your flower girl stands out beautifully on any special occasion.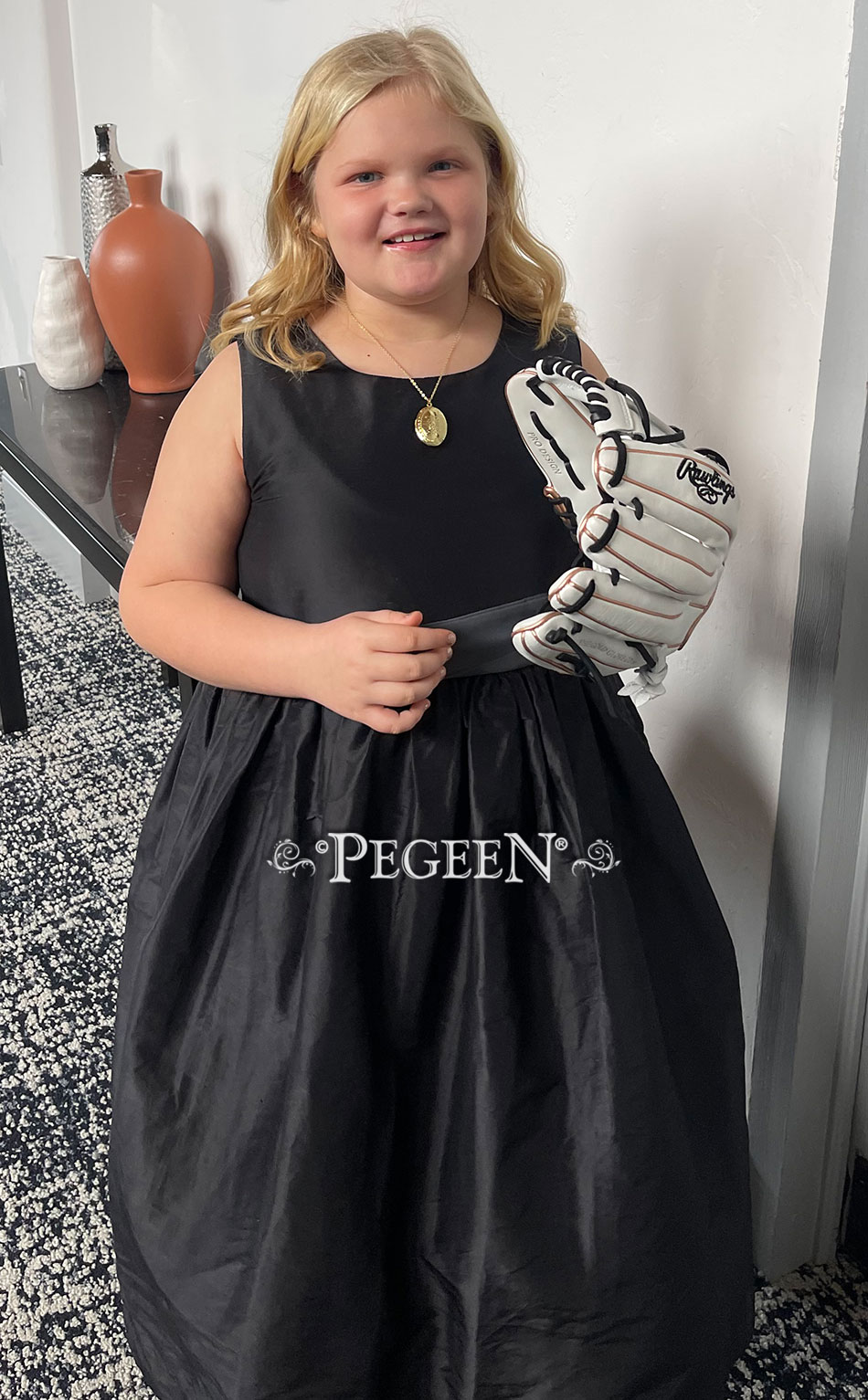 BELOW
Pegeen's Style 413 Jr Bridesmaids Dress combines the serene beauty of cloud blue silk with delicate Alençon lace detailing. The result is an enchanting ensemble that exudes grace and sophistication, making it an ideal choice for junior bridesmaids. The addition of tulle adds an ethereal touch, ensuring that young members of the bridal party feel like they're part of a fairy-tale wedding.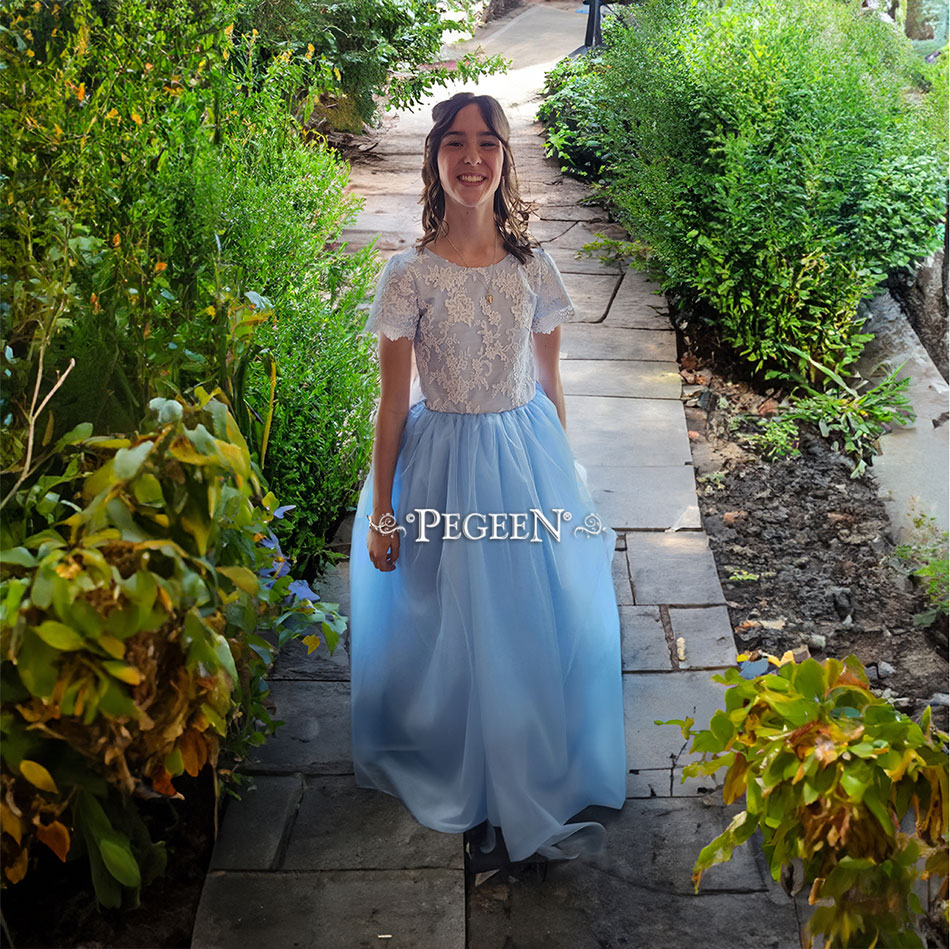 "I have been so busy but wanted to let you know, ky girls were the best dressed at the wedding in May. Thank you for everything. Katy (3rd time customer)"
BELOW
Pegeen's Style 305 Jr Bridesmaids Dress is a timeless choice in rich sapphire blue silk. Its classic design exudes elegance, making it a perfect pick for junior bridesmaids. With its graceful silhouette, this dress adds a touch of sophistication to any bridal party.
BELOW
Pegeen's Style 413 dress combines luxurious sapphire blue silk with delicate gold Alençon lace and tulle for a truly enchanting look. The rich blue silk provides a regal backdrop, while the gold lace adds a touch of glamour and sophistication. This dress is a captivating choice for special occasions, blending timeless elegance with modern charm.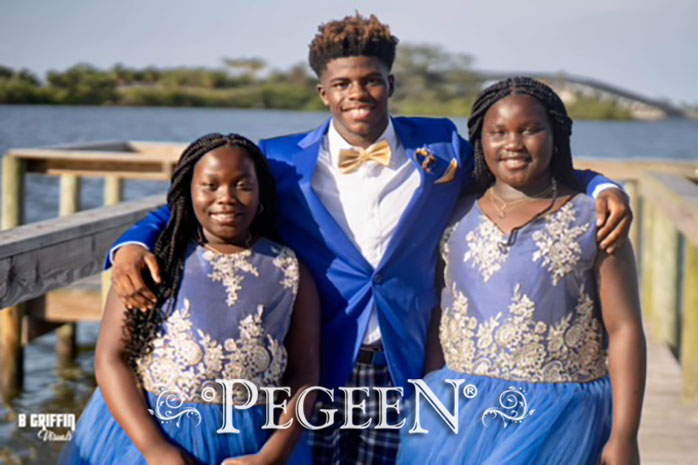 BELOW
Pegeen's Style 402 in sherbet and peach silk and tulle is a delightful choice that exudes sweetness and charm. The combination of sherbet and peach hues creates a soft and enchanting color palette, perfect for flower girls. With its airy tulle and playful design, this dress captures the essence of innocence and beauty, making it an ideal selection for any special occasion.m.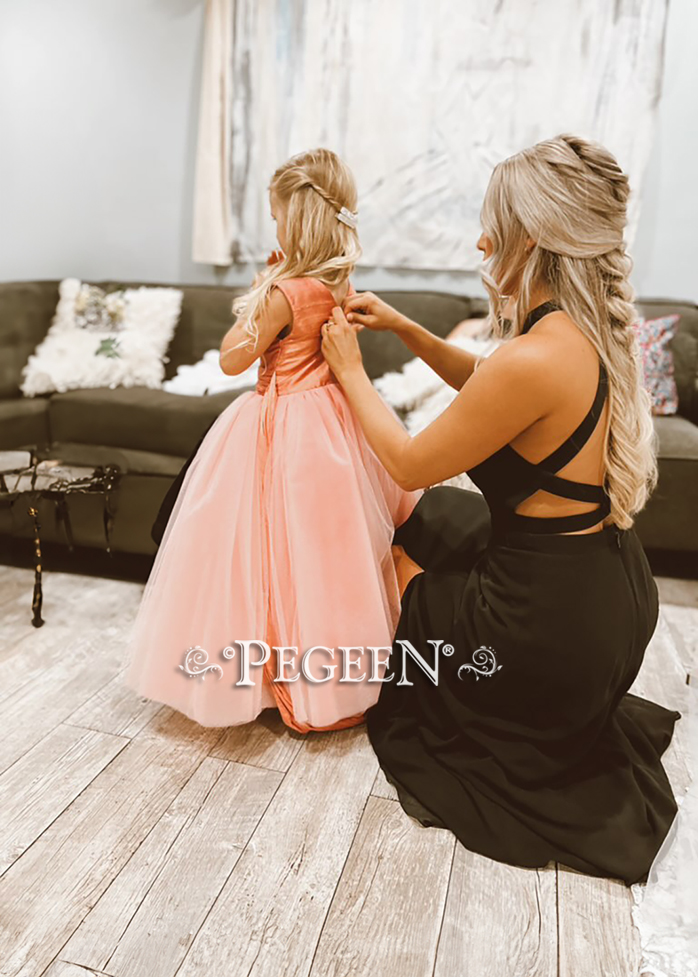 "Good Morning! We loved the dress! Bailey forwarded me your email and unfortunately, we have not received pictures yet from the photographer but we are waiting impatiently lol! I do have this snapshot. As soon as we get wedding photos we will send those too!" Carol
BELOW
Pegeen's Style 809 Elena of Avalor Disney Inspired Dress captures the magic and spirit of this beloved character. With intricate detailing and vibrant colors, this dress is a perfect choice for fans of Elena of Avalor. Whether it's for a themed event or simply to bring a touch of Disney magic to any occasion, Style 809 is sure to delight and enchant.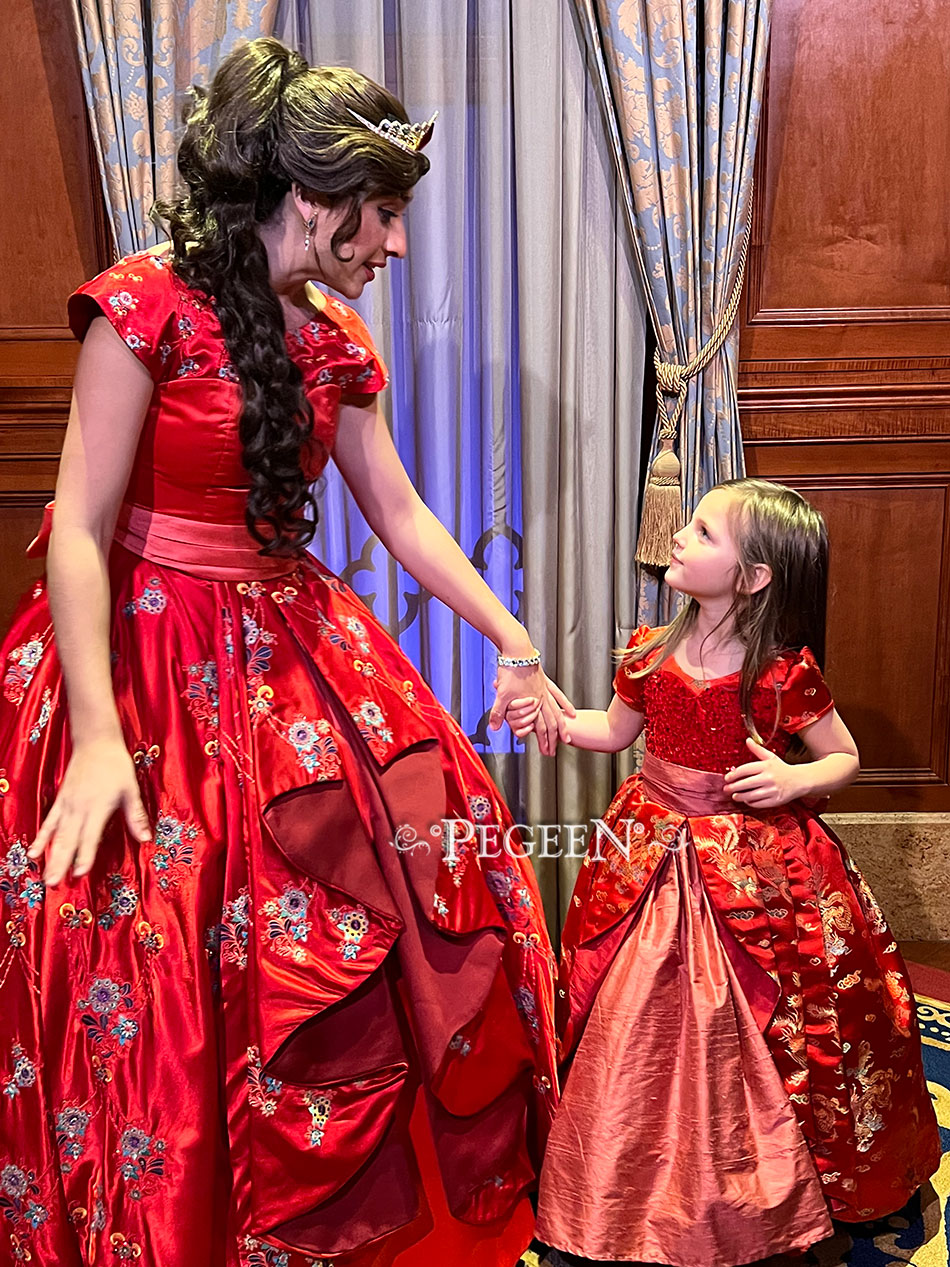 "Oh, my goodness! Look at you! Everything is perfect" Elena Disney Princess (she was stunned)
BELOW
Pegeen's Heirloom Style 2-Piece Dress with English Nottingham lace trim is a timeless and elegant choice for flower girls. Available in a range of silk colors, this dress can be customized to match any wedding color scheme. The addition of delicate pintucks and fancy lace bloomers beneath the dress adds an extra layer of sophistication, making it a truly exquisite ensemble for young flower girls.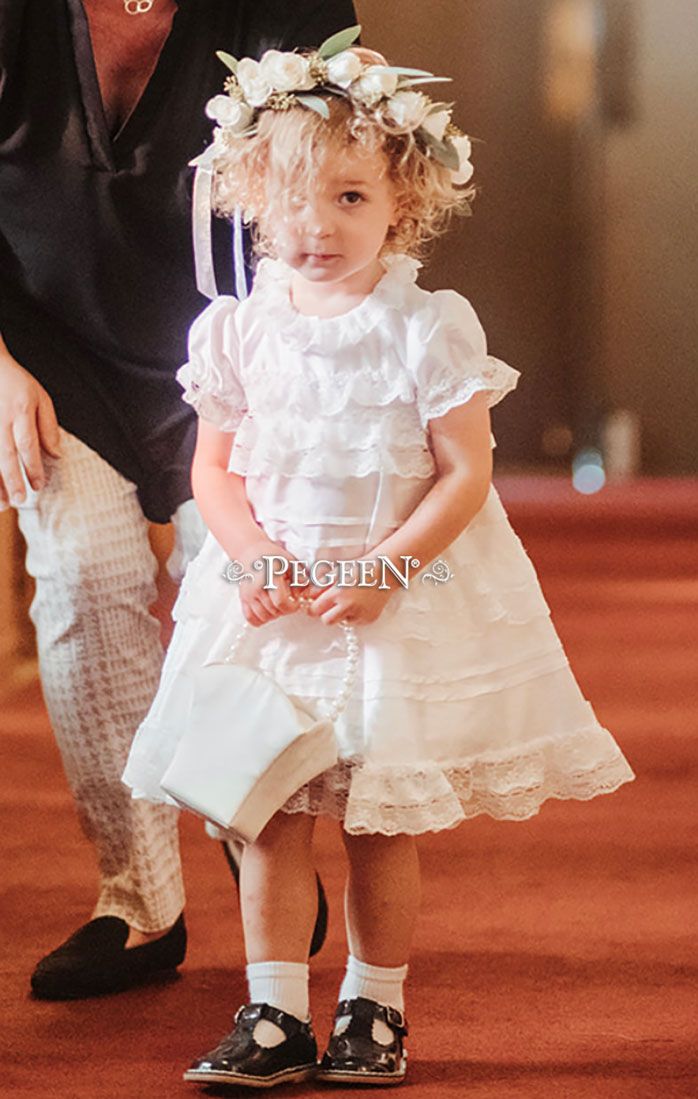 "You continue to out-do your selves with each dress we purchase! Five Stars from this Momma!" Betsy
BELOW
Pegeen's Couture Flower Girl Dress in Autumn Silk and Tulle, Style 402, captures the essence of the fall season with its warm and rich hues. This dress is a perfect choice for autumn weddings, blending the beauty of autumnal colors with the elegance of silk and tulle. With its timeless design and seasonal charm, Style 402 ensures that flower girls play a special role in celebrating the beauty of fall weddings.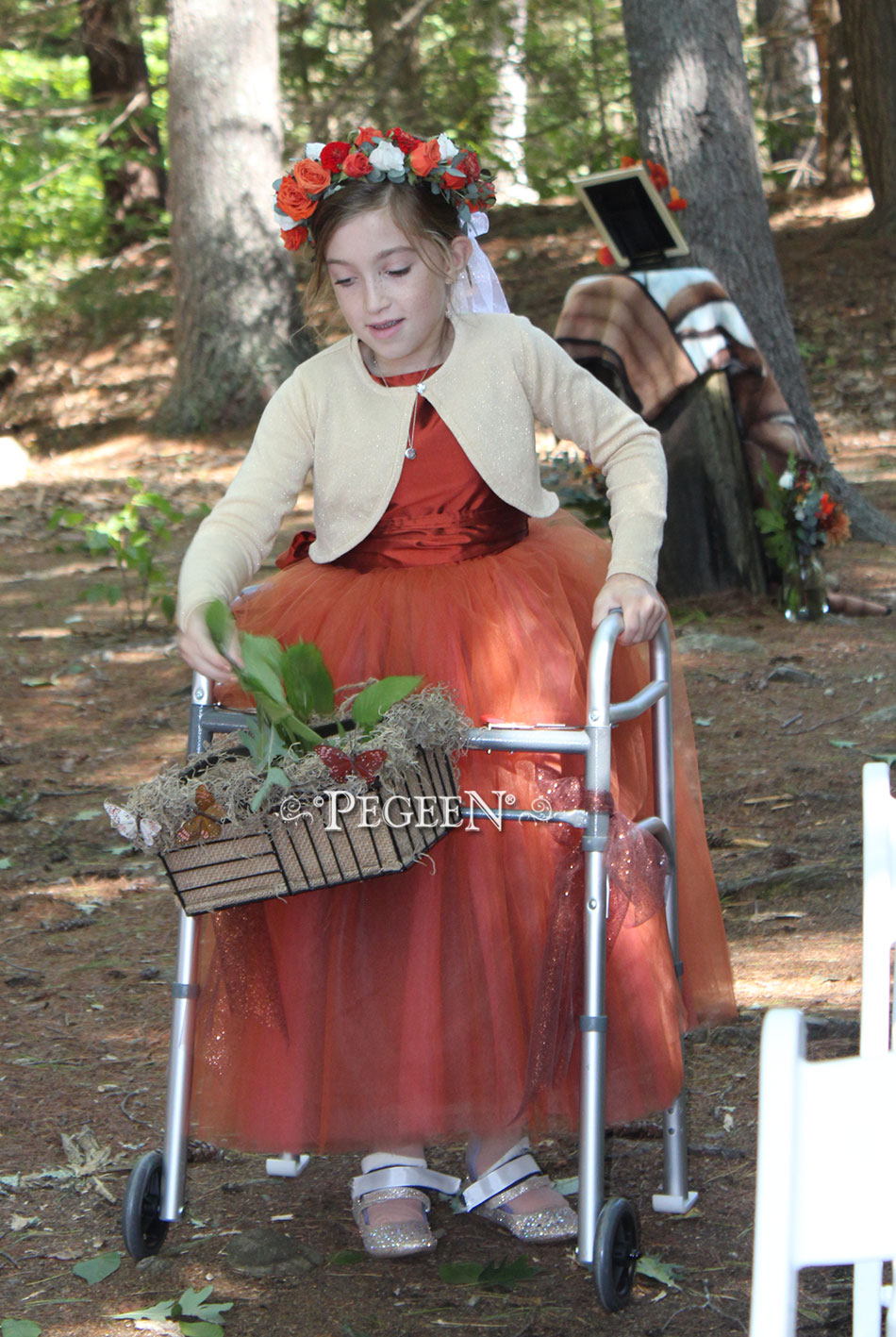 "So happy to review PEGEEN.COM because everything you did for us was just amazing!" Nancy
BELOW
Pegeen's Bat Mitzvah Dress Style 435 in Watermelon Pink Silk and Tulle is a vibrant and youthful choice, perfect for celebrating this significant milestone. The combination of watermelon pink silk and airy tulle creates a playful and elegant ensemble. This dress exudes grace and charm, making it a standout choice for a Bat Mitzvah celebration.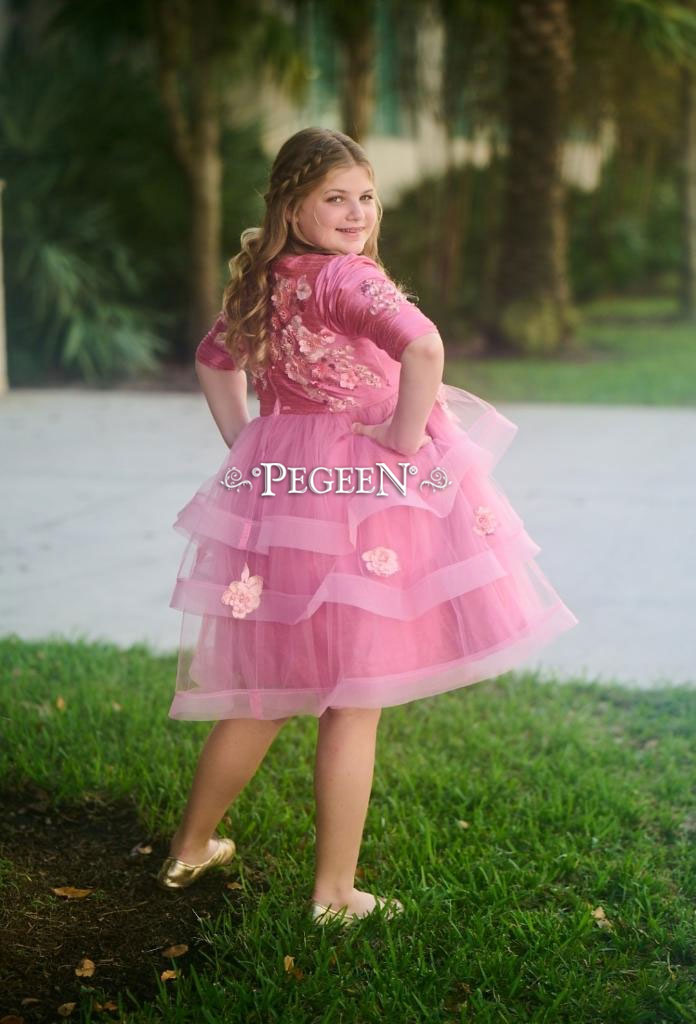 "Marg and crew, Goldie was thrilled as were my two girls previously. My only sorry is that eventually they will be too big for your scrumptous dresses." Miriam
BELOW
The Gorgeous Mountain Fall Silk Flower Girl Dress, adorned with a bisque and ginger sash, radiates the beauty of a mountain autumn landscape. This dress captures the essence of the season with its rich, earthy colors and elegant design. Perfect for fall weddings, it adds a touch of natural charm and sophistication to any bridal party.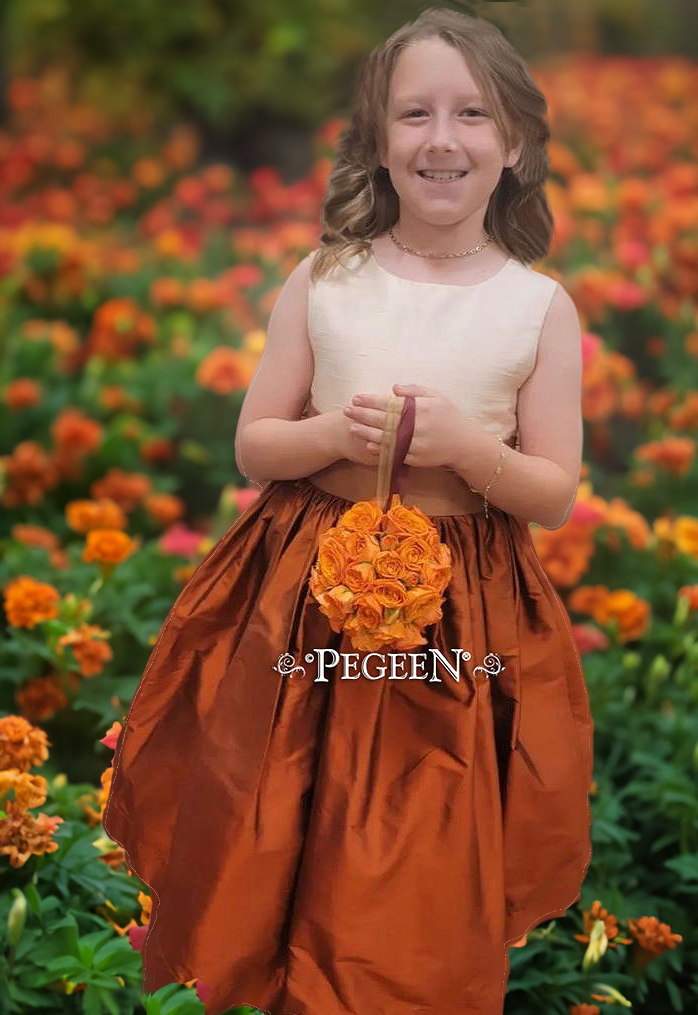 "The flower girl dress was absolutely stunning. We kept looking at it hanging there and she was so excited to finally show off her beautiful dress". Sheila
---
Pegeen Flower Girl Dress Company ~ 9147 State Rd 535 Orlando, FL 32836 ~ Shipping World Wide Since 1982