Pegeen Flower Girl Dress Testimonials pg 18
The dresses were adorable!! The girls loved them and said they felt like princesses
I just wanted to say thank you very much for your excellent and prompt work.
The girls did not want to take them off. Im sure will will need you in the future. Best Regards, Tina & Andrew March 1, 2014 Wedding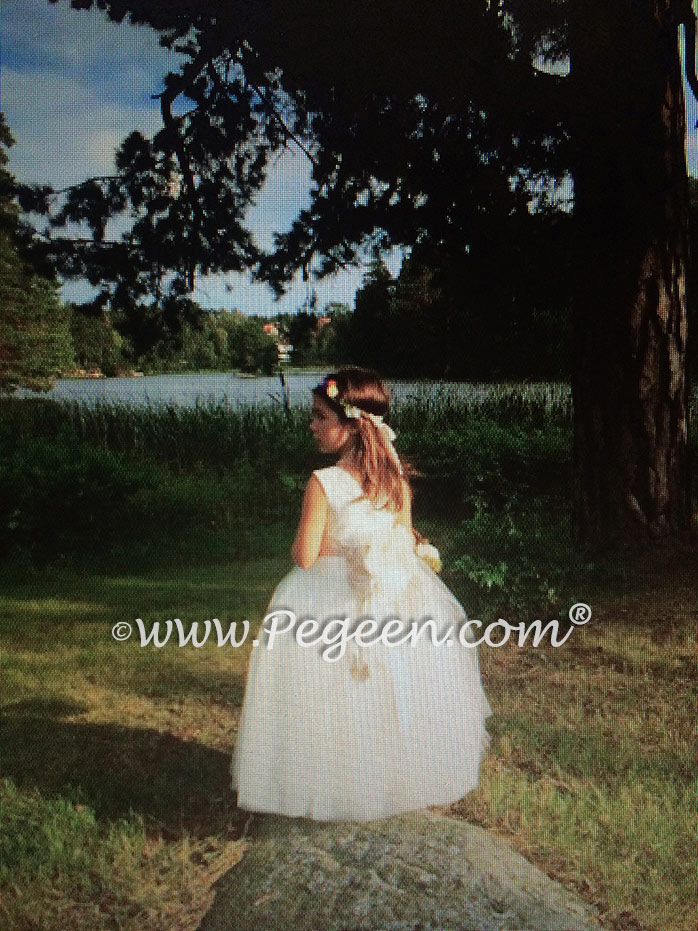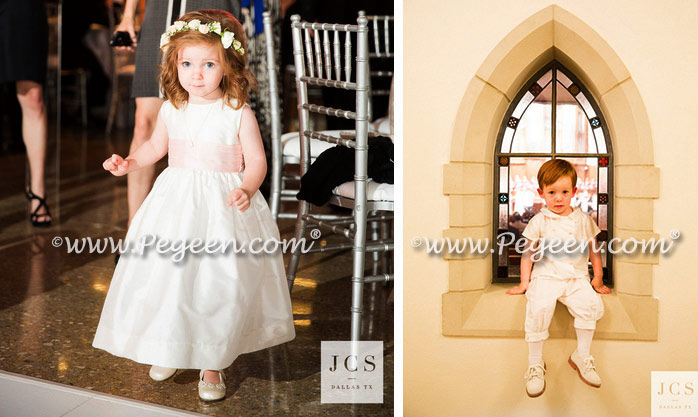 Matching pink and ivory flower girl dress and ring bearer suit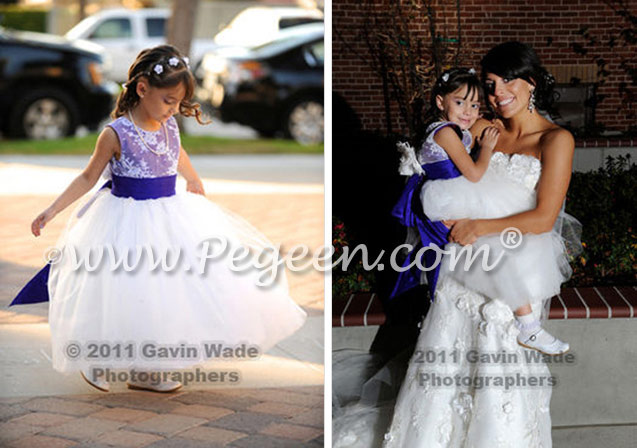 This customer above chose to base her flower girl dresses on style 697 and chose royal purple for her bodice top, white tulle for the skirt and white aloncon lace.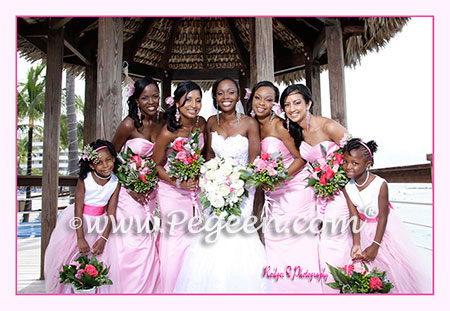 Antique White, Rose and Shock Pink Silk and Organza Dress with self tie bow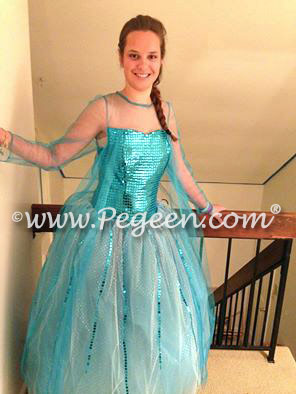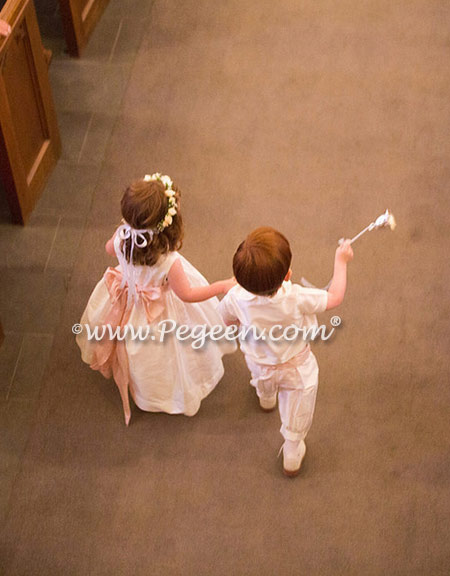 Antique White and Navy Silk and Organza Dress with Cinderella Bow
Probably the nicest thing we have ever heard from a customer's daughter (above) "You made my dream come true"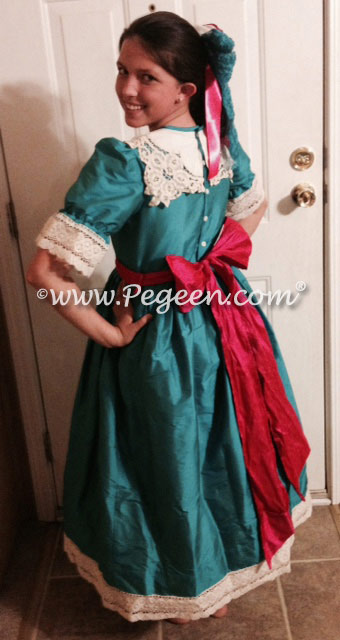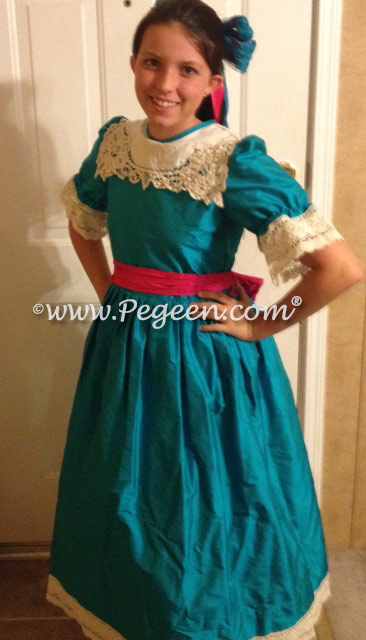 Antique White and Navy Silk and Organza Dress with Cinderella Bow - Style 394
DRESS
Antique White and Navy Silk and Organza Dress with Cinderella Bow
Thank you again for what you do. I hope you know how special it was to have my niece is your dress.
She loved it! Her little sister now wears it!
You have created something that didn't just make one day special, but has made every day they wear it special! :)
I'm sooo happy!! The dresses arrived! They're so beautifull! Just love them!!!
Thank you so much for everything, and keeping me informed. I will tell others about you and your service! Vanessa from Holland
Thank you the dress is beautiful and fits like a glove!!!!
The dresses matched perfect and looked stunning with the theme and decoration of the wedding
Claret SILK DRESS FOR FLOWER GIRL by Pegeen Style 397
We were so pleased with the beautiful custom made flower girl dresses that you designed for our nieces!
Dear Marg and crew.... Cecelia's dress for her first communion was incredible! Thank you again!
The dress looks adorable on my youngest flower girl! Perfect fit! Linda, Marina Del Ray
Thank you ! They arrived yesterday and look amazing!!
Antique White silk First Communion style dresses trimmed Peter Pan Collar - Style 388
Last fall you made the flower girl dress for my wedding. The dress turned out really great, and fit my daughter very well.
We were married in Napa in December. The Dress Is Beautiful! I just wanted to thank you so much for Olivias beautiful dress!
This is the second time that we have used your company for our daughters communion and we are extremely pleased with the quality that is put into the dresses that you make.
Thank you again for making our girls day the best it could be.
ntique White Jr Bridesmaids Dress - Pegeen Classics
I sent you pictures of my daughter Kelly in the beautiful Communion dress you made especially for her with her name embroidered on her Bow a few months ago. To my surprise when I went on your website today my daughters Kellys smiling face was there!! Thank You again for making Kellys day so very specail!! Your dress is truly a work of art and will remebered as a specail part of her day! Thank you Debra of Rockville Centre NY
I must tell you that the dresses we're absolutely incredible and all our guests commented about how precious the flower girls looked that day! I am extremely happy with my decision to use Pegeen.com and have recommended it to everyone I know with little children!
Antique White silk First Communion style dress (l) Toffee and Navy Silk flower girl dress style 326 (r)
Navy and Pure Gold & New Ivory Silk Flower Girl Dresses
Iris and Toffee Silk Flower Girl Dresses Style 359
Clara Nightgown from The Nutcracker Ballet - Style 762
Pegeen Flower Girl Dress Company ~ 9147 State Rd 535 Orlando, FL 32836 ~ Shipping World Wide Since 1982
hidden
Back to Top