Jr Bridesmaids Dress Style 306 for a Key West Wedding
Certainly! When a valued customer, known for her impeccable taste, approached us with the request to craft two junior bridesmaids dresses in the serene hue of aqualine, we were thrilled to be part of her vision for a Key West wedding. This collaboration marked another milestone in our journey of turning dreams into reality through exquisite custom dresses.
The chosen color, aqualine, evokes the tranquil beauty of the ocean, making it a perfect choice for a destination wedding in the tropical paradise of Key West. It embodies the serenity of calm waters, echoing the spirit of love and unity. To bring this vision to life, we selected our elegant Pegeen Couture Style 306, a dress popular for the thirteen year olds. This strapless style was the perfect canvas to showcase the gentle charm of aqualine.
A delicate beaded pin was added to the bodice, creating a subtle shimmer reminiscent of sunlight dancing on water. The dresses offer a touch of modernity to the classic silhouette. The short skirt was perfect for the beach wedding which was held on the Key West shoreline. These dresses became a harmonious part of the breathtaking Key West backdrop, reminding us that beauty lies in the union of vision, craftsmanship, and nature's splendor.
There were no additional charges for this flower girl dress. Optional prices are subject to change. Check menus for current prices.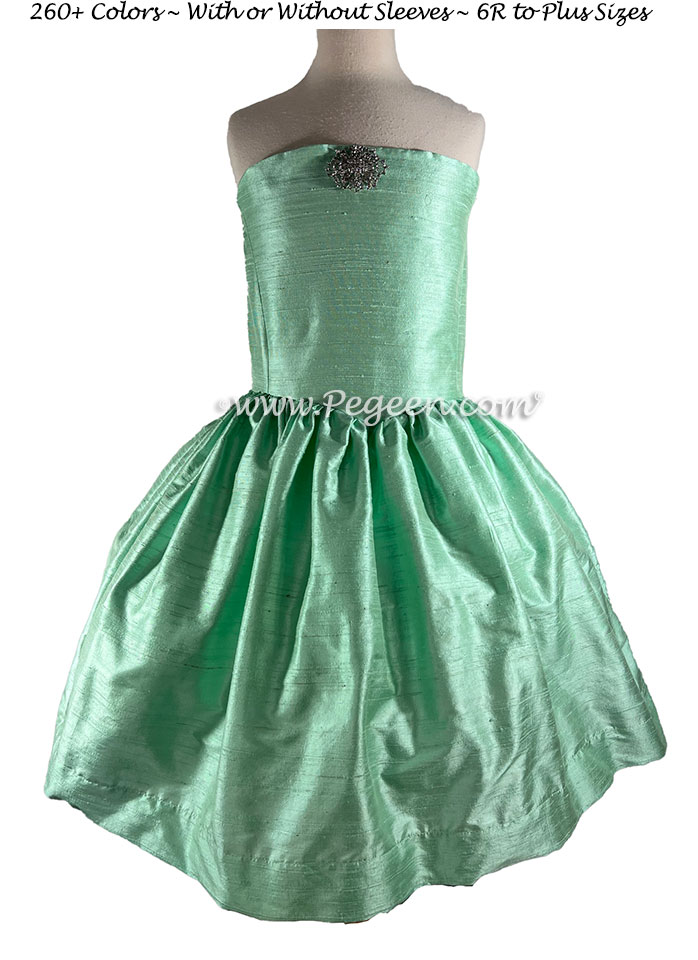 Pegeen Flower Girl Dress Company ~ 9147 State Rd 535 Orlando, FL 32836 ~ Shipping World Wide Since 1982