3-D Floral Embroidered Flower Girl Dress in Champagne
For this particular order of flower girl dresses, our customer embarked on a creative journey to craft something truly exceptional. The focal point of these dresses was the exquisite 3D flowers adorning a delicate netting fabric. These floral embellishments added a charming and unique touch to the attire, making it stand out in the world of flower girl dresses. But the creativity didn't stop there.
To enhance the overall beauty of the dresses, our customer opted for intricate beading on the back. These carefully placed beads added an element of sophistication and shimmer to the ensemble, making it even more captivating. Furthermore, the choice of a large open, circle back design brought an element of playfulness and uniqueness to the dresses, setting them apart from conventional flower girl attire.
The magic of these dresses extended to the tulle layers as well. Delicate flowers were sewn onto the tulle, creating a mesmerizing 2D effect. What's more, tiny sequins were meticulously sewn onto these flowers, adding a touch of glamour and ensuring that the dresses glistened in the light. To give the dresses their fullness and structure, horsehair and tulle were incorporated into the design. This not only added volume but also ensured that the dresses had a graceful and elegant silhouette.
One of the outstanding features of these flower girl dresses was the degree of personalization available. Customers could choose to have the bodice lined or unlined, depending on their preference. Additionally, the option to include or omit the circle back design allowed for a tailored approach to suit individual tastes. In the world of custom flower girl dresses, this creation was a testament to the beauty of collaboration between our skilled designers and a customer with a discerning vision. The result was a set of flower girl dresses that were more than just garments; they were wearable works of art, each telling a unique story of elegance, charm, and personalized style.
There were no additional charges for this flower girl dress. Optional prices are subject to change. Check menus for current prices.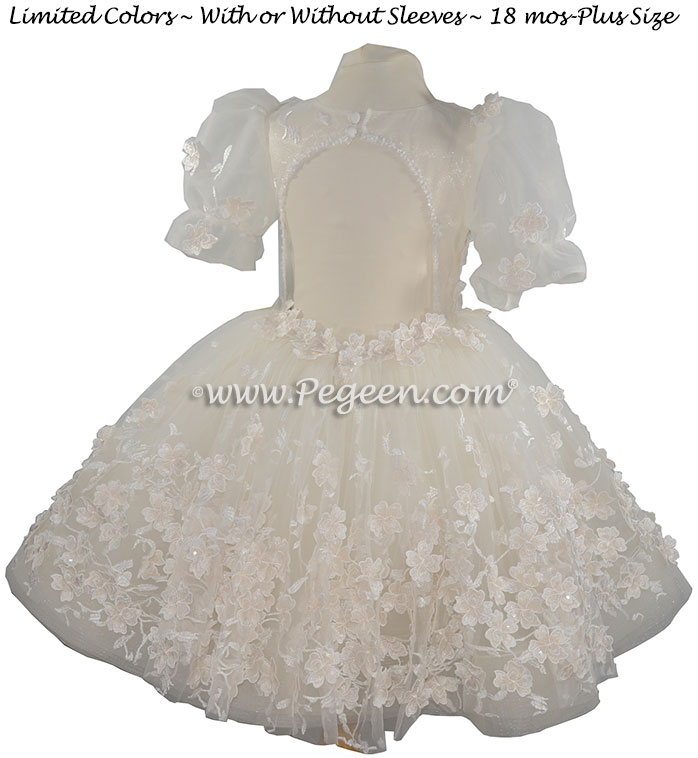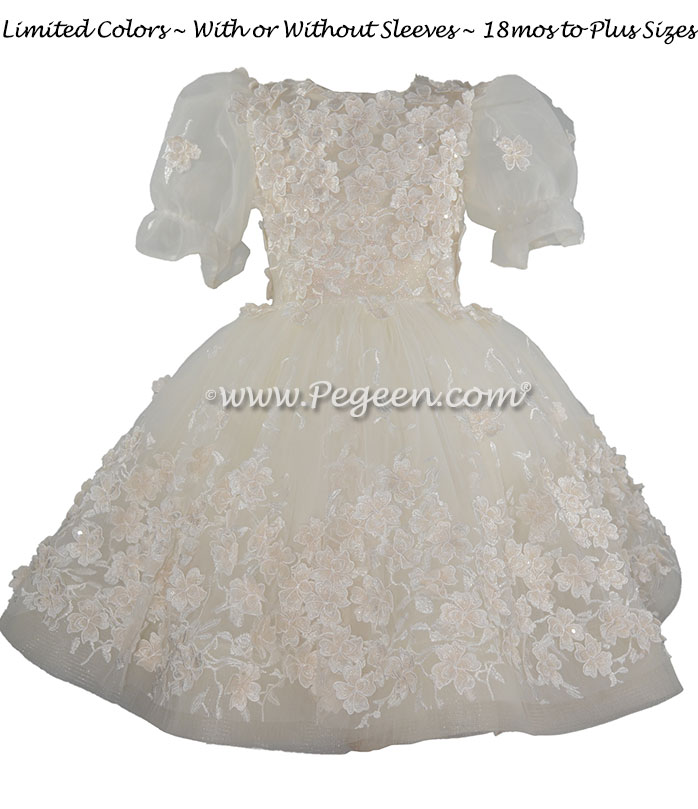 Pegeen Flower Girl Dress Company ~ 9147 State Rd 535 Orlando, FL 32836 ~ Shipping World Wide Since 1982