Style 934 Bat Mitzvah Dress in Turquoise and Shades of Teal Tulle
Rimma, our valued customer, faced a pressing timeline in her quest for the perfect dresses for her daughter's Bat Mitzvah and her younger daughter. With less than 10 days to the event, the pressure was on, but we at Pegeen Couture thrive on challenges. We embarked on an intensive journey to create two stunning dresses, one of which was destined for Rimma's older daughter, the Bat Mitzvah honoree herself. Her only charge was +50 for each of the dresses due to the rush delivery.
The enchanting Style 934 emerged as the ideal choice for the Bat Mitzvah dress, and Rimma's creativity knew no bounds. She envisioned a dress that would sparkle and shimmer, capturing the essence of celebration. The result was a breathtaking dress adorned with Turquoise Sequins, creating an iridescent glow that reflected the significance of the occasion. To complement the vibrant sequins, layers of shades of Teal Tulle and a silver spider tulle were added, giving the dress a sense of depth and dimension. To tie the look together, a sash in Polar Ice was the finishing touch, enhancing the dress's regal quality.
Rimma's vision, coupled with our dedication to excellence, culminated in a Bat Mitzvah dress that was nothing short of spectacular. It stood as a testament to the magic that can happen when creativity and craftsmanship intersect. At Pegeen Couture, we understand the importance of such milestones, and our commitment to creating personalized, awe-inspiring dresses remains unwavering. We were delighted to be a part of Rimma's special day, crafting dresses that mirrored the joy and significance of her daughter's Bat Mitzvah celebration.
There were no additional charges for this Bat Mitzvah dress. Optional prices are subject to change. Check menus for current prices.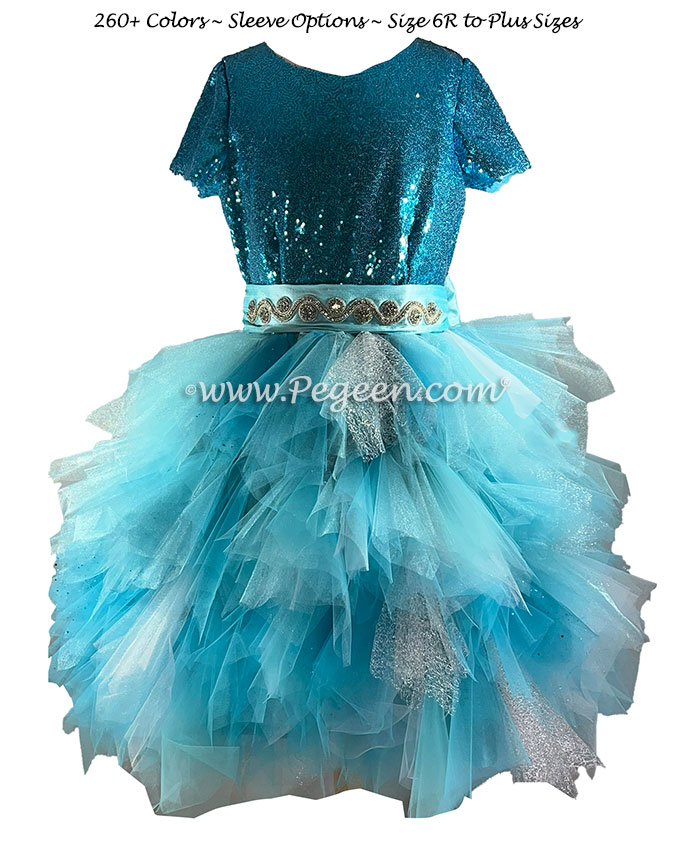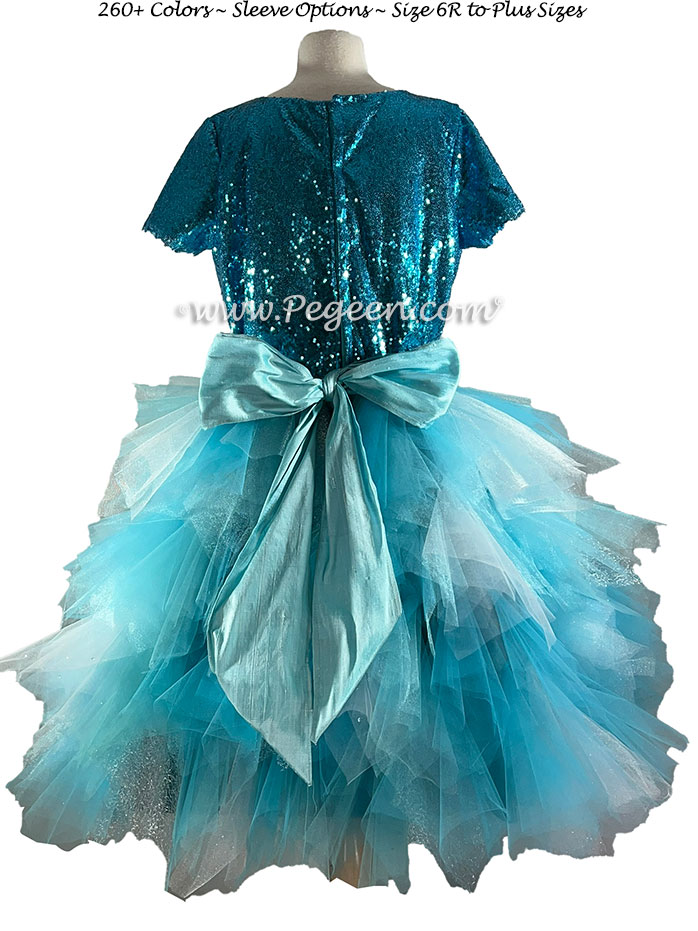 Pegeen Flower Girl Dress Company ~ 9147 State Rd 535 Orlando, FL 32836 ~ Shipping World Wide Since 1982