Beach Wedding with Flower Girl Dress in Sunflower Yellow Silk
Custom Flower Girl Dresses in Sunflower Yellow Silk in Style 318
The sun-kissed Maryland shores provided the perfect backdrop for a dreamy beach wedding, adorned with a charming flower girl dresses in sunflower yellow silk. The joyful little flower girl,s with their radiant smile, added a touch of enchantment as the girls gracefully scattered flower petals along the sandy aisle.
For this beach wedding, the bride chose Pegeen's Style 318, a delightful flower girl dress that exuded the essence of sunshine and happiness. The sunflower yellow silk complemented the picturesque coastal setting, creating a striking contrast against the azure sky and the sparkling ocean waves. The dress featured delicate details like a large back bow and a softly flowing skirt, evoking a sense of whimsy and wonder that perfectly embodied the carefree spirit of the seaside celebration.
As the flower girls made their way down the sandy aisle, guests couldn't help but be captivated by their adorable charm. The sunflower yellow dress caught the sunlight, illuminating the entire scene with a warm and radiant glow. It was a heartwarming moment, filled with joy and love, as everyone witnessed the little girls play their essential role in bringing this beach wedding to life and even more so, afterwards, playing at the water's edge of the Atlantic Ocean.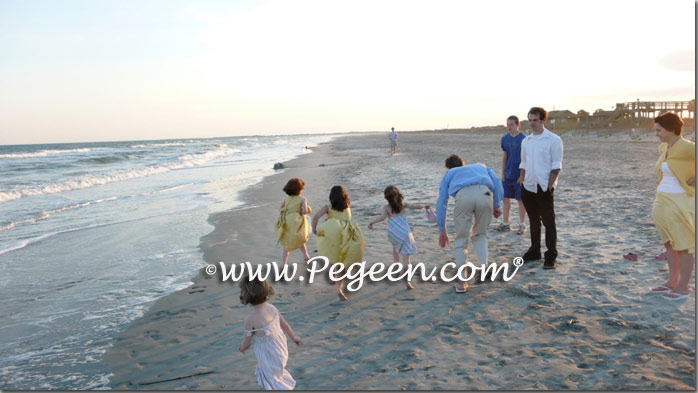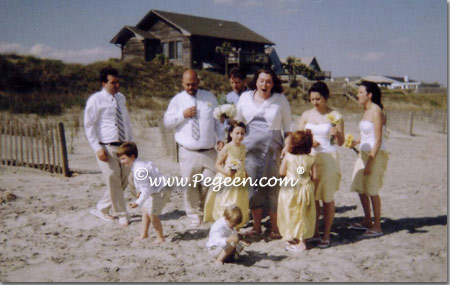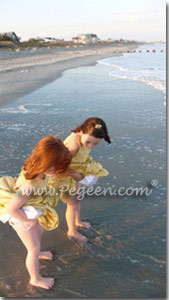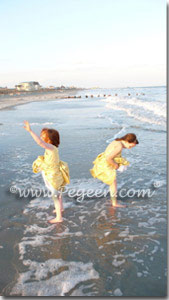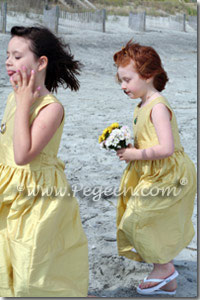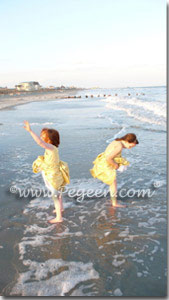 Pegeen Flower Girl Dress Company ~ 9147 State Rd 535 Orlando, FL 32836 ~ Shipping World Wide Since 1982