Flower Girl Dress in black and raspberry in silk with tiny crystals
A formal wedding with a black, white and raspberry pink silk flower girl dress
The setting for this formal wedding was a picturesque family farm in Mansfield, GA, where love and tradition converged. The flower girl dress, an elegant combination of black, white, and raspberry pink silk, beautifully complemented the wedding's color palette and exuded timeless charm. As the bride's special tribute to her beloved grandfather, the choice of venue held deep sentimental value, adding an extra layer of significance to the occasion.
Amidst the rolling fields and rustic surroundings, the flower girl looked resplendent in her charming ensemble. The black and white silk formed a sophisticated base, while the touches of raspberry pink added a touch of youthful vibrancy. The carefully crafted dress captured the essence of the event - a perfect blend of elegance and joy. As she walked down the aisle, the little flower girl became a focal point of affection, symbolizing the bond between generations and the continuity of love across time.
The family farm, steeped in heritage, became an enchanting backdrop for the wedding, resonating with warmth and nostalgia. Against this scenic tapestry, the flower girl's radiant dress stood out, illuminating the celebration with its graceful presence. The black, white, and raspberry pink hues danced harmoniously, evoking a sense of unity and harmony. As the bride's special day unfolded, the bride paid homage to her family's legacy and embraced the promise of a beautiful future.

Flower Girl Dresses of the Month in black and raspberry Style 355
ALL PHOTOGRAPHY Javon Longieliere Photography l longieliere.com l 866-377-4686 l javon@longieliere.com
---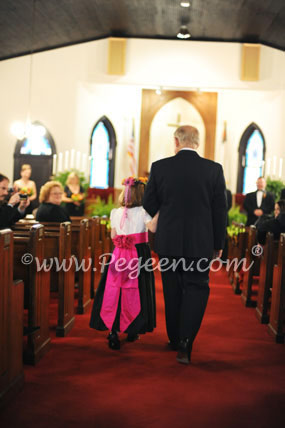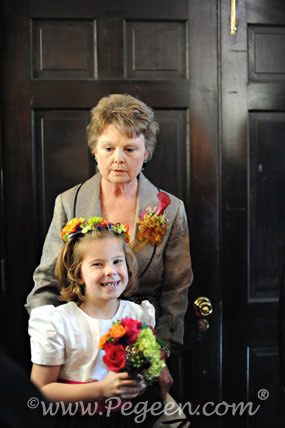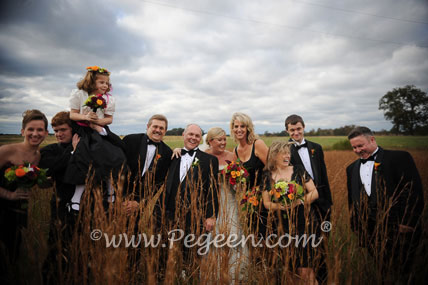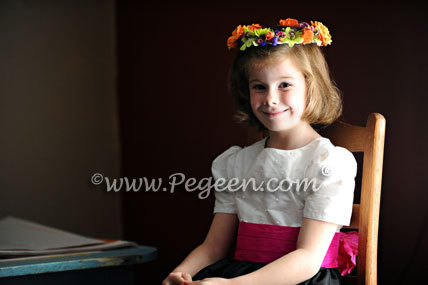 Vendors

Our vendors were: Photographer: Javon Longieliere Caterer: Carole Parks Catering Floral: Sherwood's Flowers and Gifts Bridal Gown and Veil: Bridals by Lori, Atlanta Rivini Thirteen, gown Melissa Sweet, veil Daughter's Gown: Pegeen Custom Church: Mansfield United Methodist Church Mansfield, GA DJ: Eddie Whitehead Our photographs were taken at my grand-father's farm in Mansfield, GA. He was a black angus cattle farmer when he was alive. My family still lives on that land. The decor in the Church (the wreaths and pew wreaths) were all made by me. I also made the decor for the Reception Hall (lanterns, floral, black and white photos of old weddings etc.).

Pegeen Flower Girl Dress Company ~ 9147 State Rd 535 Orlando, FL 32836 ~ Shipping World Wide Since 1982