Heritage Flower Girl Dress in Dandelion & Clan Plaid
Flower Girl Dresses For a Heritage Wedding in Dandelion and Irish Clan Print.
In this special feature, we celebrated a wedding that beautifully showcased the family's heritage through their clan colors. The flower girl dresses were elegantly adorned in a striking yellow gold hue, creating a captivating contrast against the bridesmaids' marine blue attire. The thoughtful use of these colors added depth and meaning to the overall wedding theme, symbolizing the bond of family and tradition.
The flower girls looked radiant in their golden ensembles, adding a touch of charm and innocence to the ceremony. The choice of marine blue for the bridesmaids created a stunning visual harmony, perfectly capturing the essence of the sea and sky. The coordination of colors between the flower girls and bridesmaids brought a sense of unity and togetherness, reflecting the close-knit nature of the couple's loved ones.
As the ceremony unfolded, the flower girls gracefully walked down the aisle, each step accentuating the beauty of their dresses. The blend of yellow gold and marine blue created an enchanting ambiance, setting the stage for a wedding filled with love and tradition. The thoughtful incorporation of clan colors made this wedding truly memorable, honoring the family's legacy and creating cherished moments that will last a lifetime.

---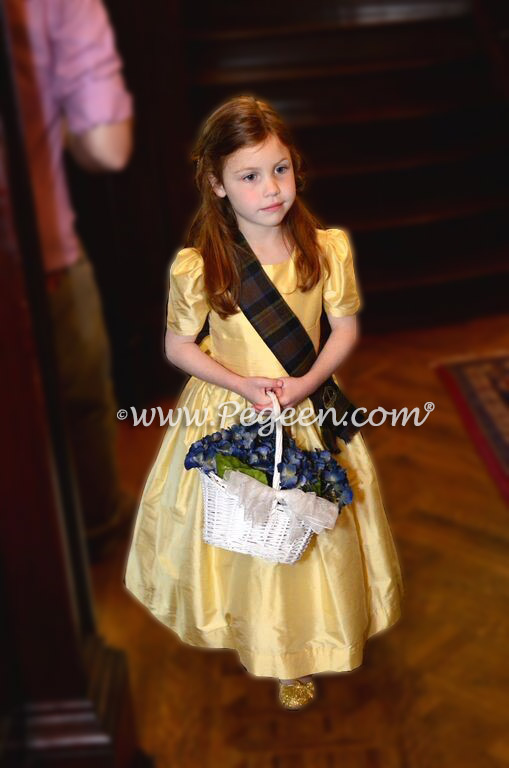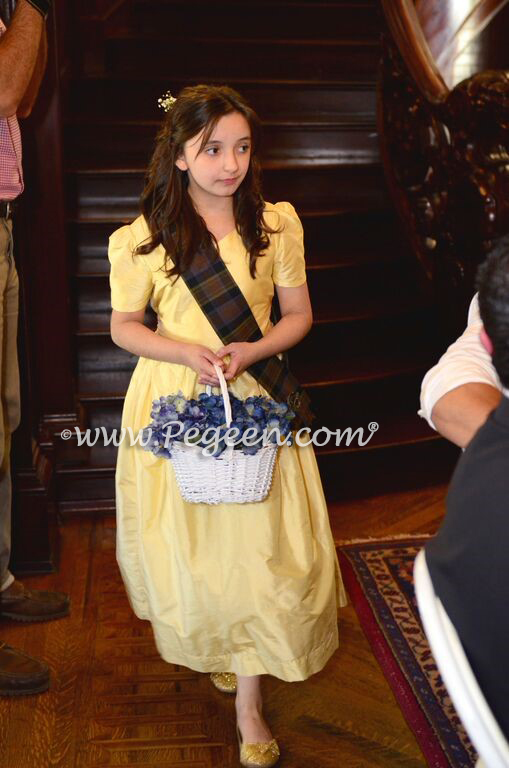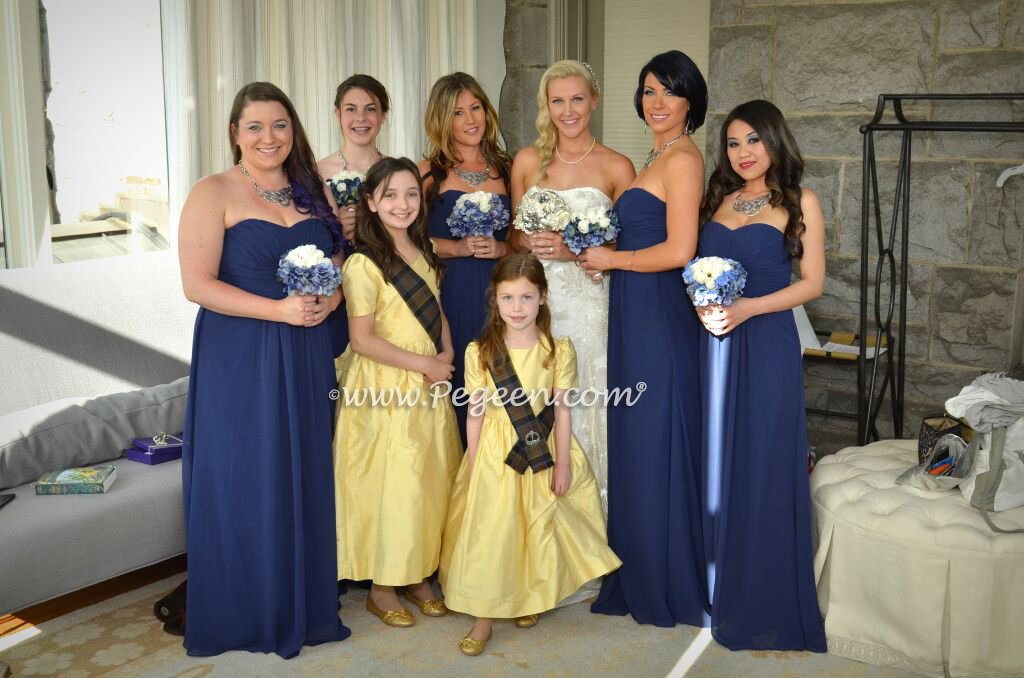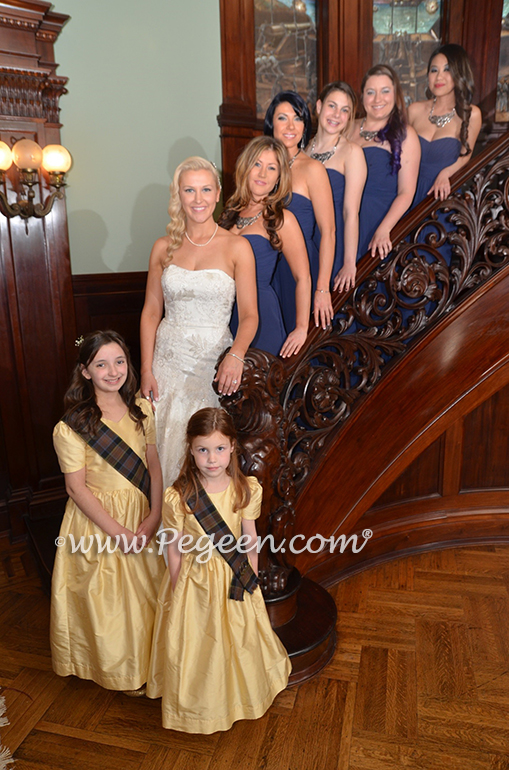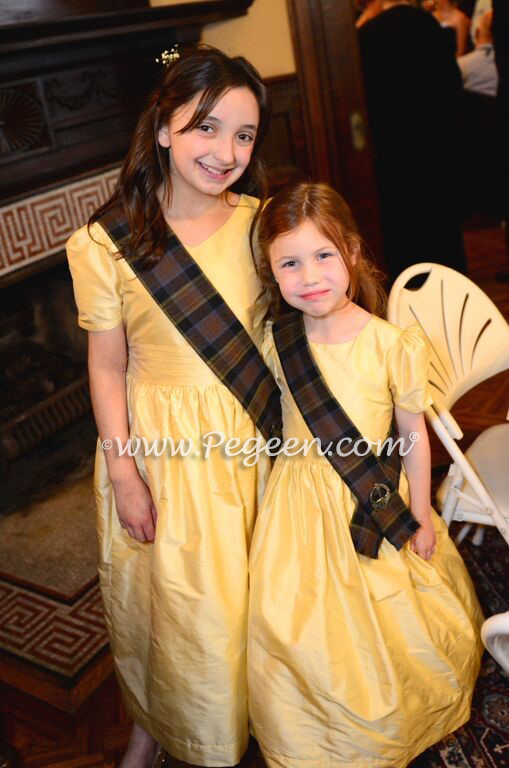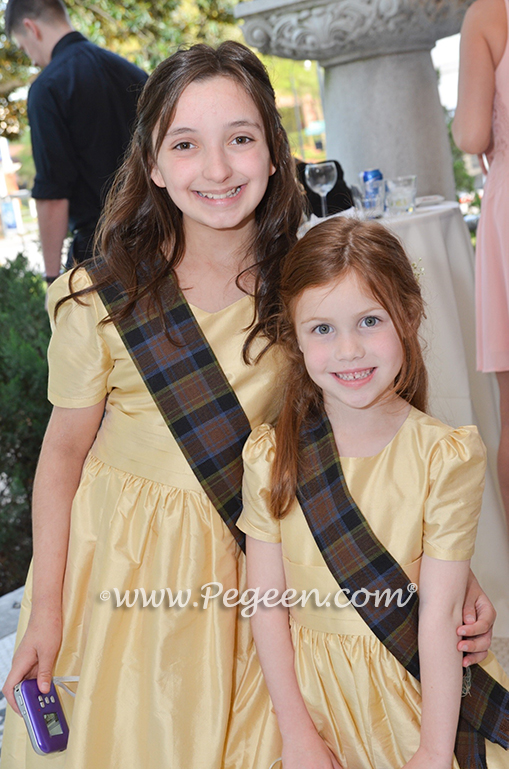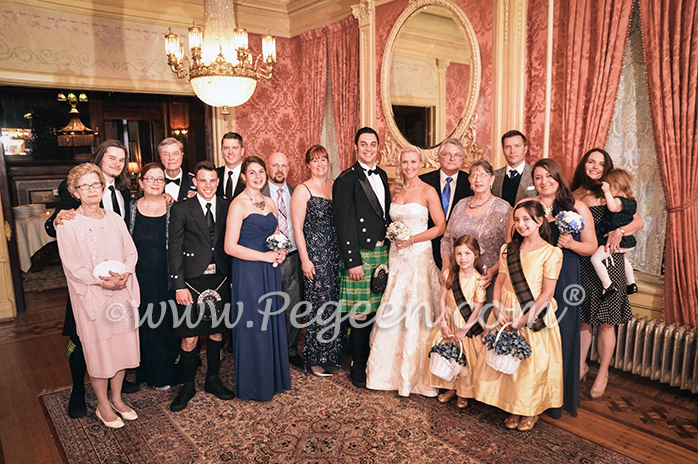 My daughter's wedding was in mid-April. We weren't sure how all the dresses and wedding touches would look together but they were beautiful! We used our family Irish tartan for the sashes that the girls wore attached with a Celtic pin in green enamel. There was a tiny gold line as part of the tartan that picked up the color of the dresses. My grand-daughter has reddish hair which really looked great with the dresses. I think having the dandelion gold for the dresses was a good decision.
Thank you.

Christy Jolle | Atlanta, GA

Pegeen Flower Girl Dress Company ~ 9147 State Rd 535 Orlando, FL 32836 ~ Shipping World Wide Since 1982