Flower Girl Dress of the Year 2010 - Runner Up
Announcing the 2009 - 2010 Pegeen Flower Girl Dresses: Wedding of the Year runner up!
Our FLOWER GIRL DRESS OF THE YEAR!
We couldn't resist: In 2009, we had over 8500 brides submit photographs from their weddings. It was the hardest year to make a decision. This year, we were close to naming THREE weddings as the Wedding of the Year! So instead, we have three categories - our Pegeen PRACTICAL DIY Wedding/Flower Girl Dresses of the Year, Our RUNNER-UP Flower Girl Dress of the Year (here) and our OVER THE TOP & FABULOUS Wedding of the Year.
This bride, Sarah, chose style 357 for her flower girl dresses in peach and baby blue silk with a V-Back and Criss Cross Trellis silk top and velvet back flowers.
For details on this year's Wedding of the Year, click.... and for our DIY Pegeen Wedding of the Year, click

Photography by: Eliesa Johnson l Photogen Inc. l eliesa@photogen-inc.com l 651.494.2257
would like to thank you for making my wedding day such a special day... I was so satisfied with my order it was everything I imagined...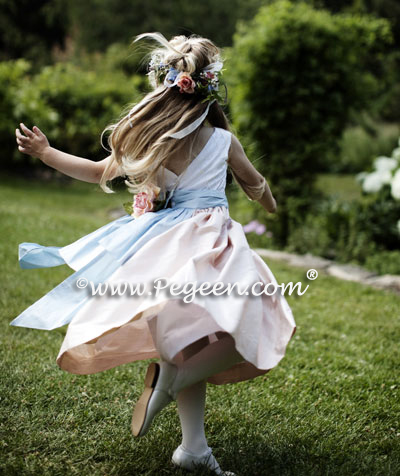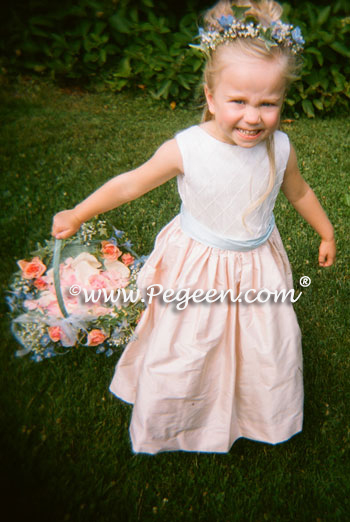 Flower girl dress DETAILS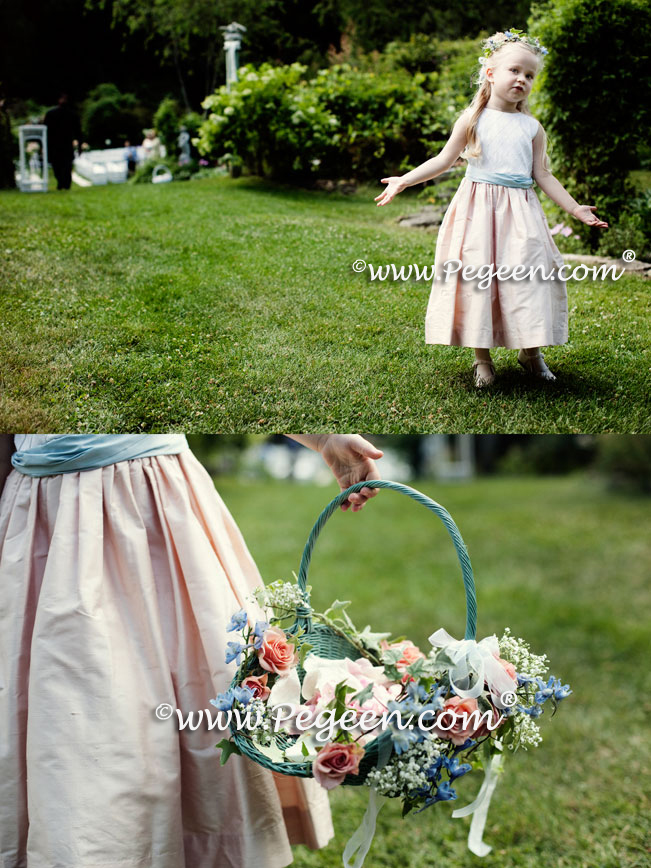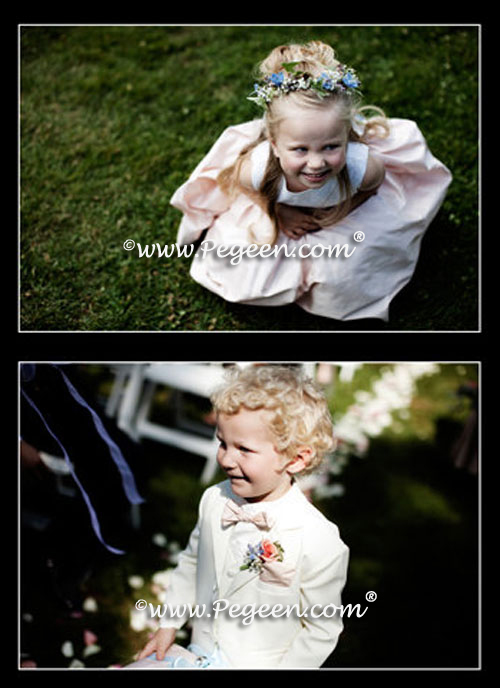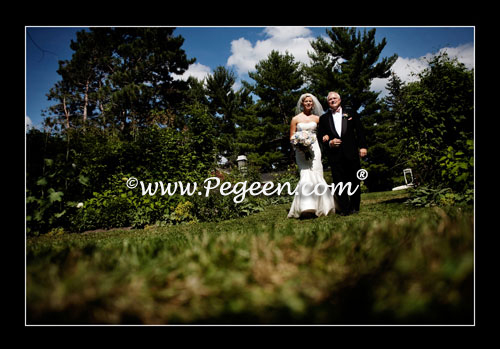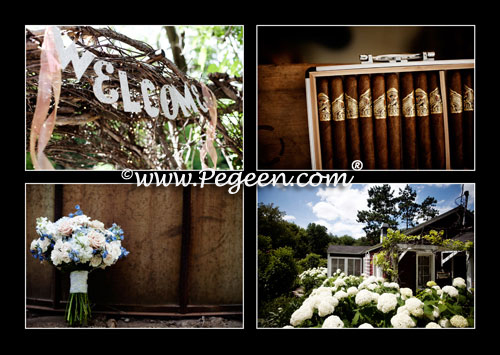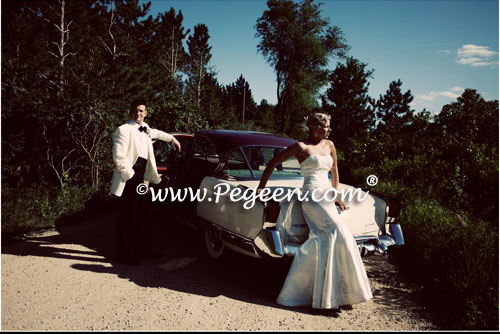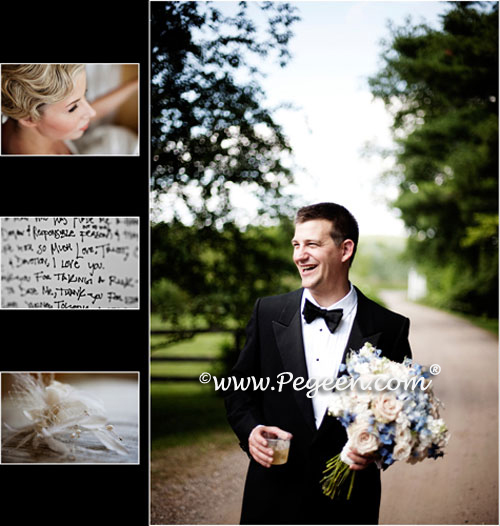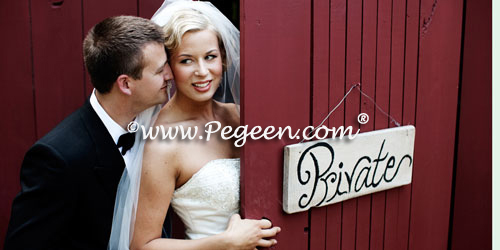 Wedding vendors:
Eliesa Johnson Owner/Lead Photographer Photogen Inc. eliesa@photogen-inc.com www.photogen-inc.com 651.494.2257
Bridal Dress: Demitrios
Groom's accessories and white dinner jacket: from Hemies Haberdashery in Downtown St. Paul
Wedding and reception site: Camrose Hill Farm in Stillwater, Minnesota
Flowers: Cindie Sinclair, owner of Camrose Hill Farm and Flowers
Wedding cake: woullets bakery in St. Paul
Photo Booth: The traveling Photo Booth
Lady of Honor dress: Dessy
Lady of Honor and Bride jewelry accessories: Brides of France in Minnesota
Veil and hair comb: Brides of France
Rentals: AARCEE Party Rental
Catered by: Lake Elmo Inn in Stillwater
8 piece Big Band Music: Maud Hixson and her Band
Vintage 1957 Kaiser car: Loaned by personal friend of the Groom
Hair and Makeup: La Grande Salon and Day Spa; Heidi Sommers (Bride and Lady of Honor hair) Desi Ochs (Flowergirl Hair) Corina Duran (Make up)
Christopher and I both knew we wanted an outdoor wedding. Having both lived around Stillwater, we fell in love with Cindie Sinclair's old 1800s dairy farm she has turned into a flower farm. We added romance with a vintage flair throughout the wedding and reception. Guests had fun using a black and white photo booth from the traveling photo booth that allowed guests to keep one strip of photos from themselves and paste the other strip with a message in the wedding guest book. Cones made from vintage print paper were made and filled with flower petals to be tossed at the bride and groom as they went down the aisle as husband and wife. From the paper cones, to the flowers, to the tables everything was mix and match, nothing was quite the same.
Vintage silver teapots and creamers served as vases for table floral arrangements, roses in bright peach, pinks and creams were highlighted with blue flowers, white hydrangea, and eucalyptus spray painted silver. Ribbons in silver, white, peach and salmon adorned the wreath in the hair of the flowergirl, along flower arrangements lining the aisle, hanging from chandeliers, trees, and the arbor. Maud Hixson and her Big Band sang out classics such as "Night and Day" and "Fever", tables were enriched with wine classes, silver ornate silverware, peach damask napkins and pin tucked silk beige tablecloths, the pintucks mimicking the pintucks on the bodice of Brooke's flowergirl dress.
Since the groom Christopher is a chef, we supplied guests with four delicate hors d'ouvres and a four course dinner by Lake Elmo Inn. Cigars were offered to the gentlemen with blue match boxes indicating "the perfect match". Lanterns in clear, peach, blues and pinks hung with candles at various levels on the arbor and the vines were growing up the openings of the 3-sided pavilion where the reception was held. All in all, Cindie Sinclair transformed her Camrose Hill farm into a vintage whimsical, midsummer's evening for us.


I hoped that help give you a better picture of our wedding!
Pegeen Flower Girl Dress Company ~ 9147 State Rd 535 Orlando, FL 32836 ~ Shipping World Wide Since 1982
hidden
Back to Top