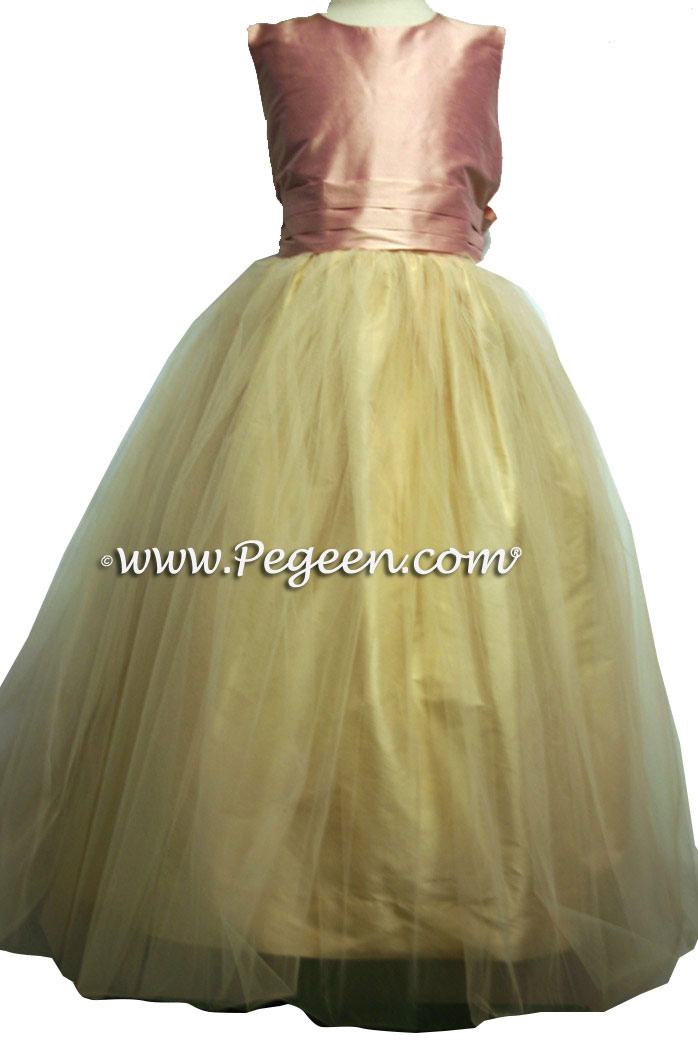 A different color combination for a summer wedding made us smile
These adorable flower girls were absolutely delighted as they twirled around in their vibrant yellow and pink tulle flower girl dresses. Our client had a unique vision for the dresses, aiming to coordinate them with the enchanting colors of the venue. After careful consideration, we determined that a soft, buttercream yellow would perfectly complement the venue's ambiance. As for the pink hue, our Lotus Pink shade added a touch of elegance with its subtle beige undertones, creating a sophisticated yet playful look.
The selection process for the dresses involved the two little girls actively participating and expressing their preferences. Together, they enthusiastically chose our style 356, a dress that captured their hearts. However, since the older girl had a more solid build, we employed our Plus Size Flower Girl Dress method, known as Special Fit Bodices, to ensure the perfect fit. This technique involved sending a cotton bodice by mail beforehand, allowing us to tailor the dress precisely to her measurements and guarantee her comfort on the big day.
Our dedication to ensuring an impeccable fit demonstrates our commitment to delivering dresses that make little girls feel confident and beautiful. We understand that each child is unique, and their happiness and comfort are of utmost importance. By employing our Special Fit Bodices, we were able to accommodate the older girl's specific needs, ensuring that both flower girls would feel their best as they embarked on their role in the wedding procession.
Seeing these vibrant yellow and pink tulle dresses in motion, and witnessing the joy and excitement radiating from the flower girls, was a true delight. The dresses perfectly captured their playful spirits and added a whimsical touch to the overall aesthetic of the wedding. We take great pride in creating not only visually stunning dresses but also garments that allow children to move freely and enjoy every moment of the special day.
At our core, we strive to make the dress selection process as seamless and enjoyable as possible, ensuring that every detail is tailored to our clients' desires. By incorporating their vision and utilizing our expertise, we create magical moments and treasured memories for both the children and their families. It is through our meticulous attention to detail and our commitment to providing exceptional service that we bring dreams to life and make each flower girl feel like the princess she truly is.
Our customer used our older form of Pegeen Dress Dreamer, now updated of course. At first, the bride's two girls were bent on having a SORBET PINk sash and we humoured them by having them build it in the Pegeen Dress Dreamer, and toned down the colors from Sorbet Pink and Watermelon, changing to the Lotus Pink. However, once the dresses came in the way the bride wanted them, they were delighted with their dresses.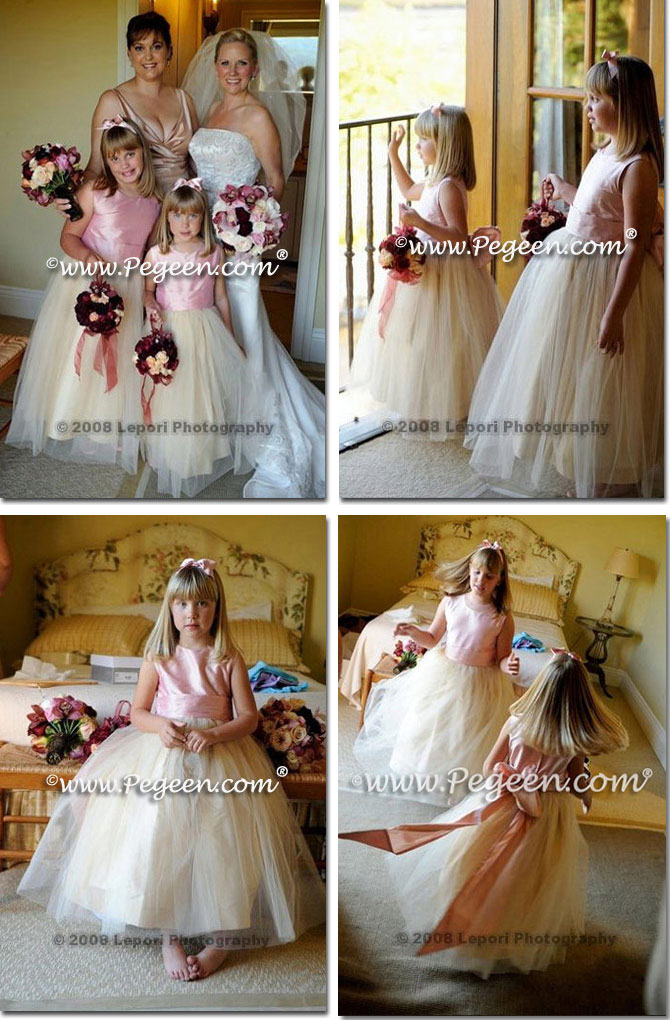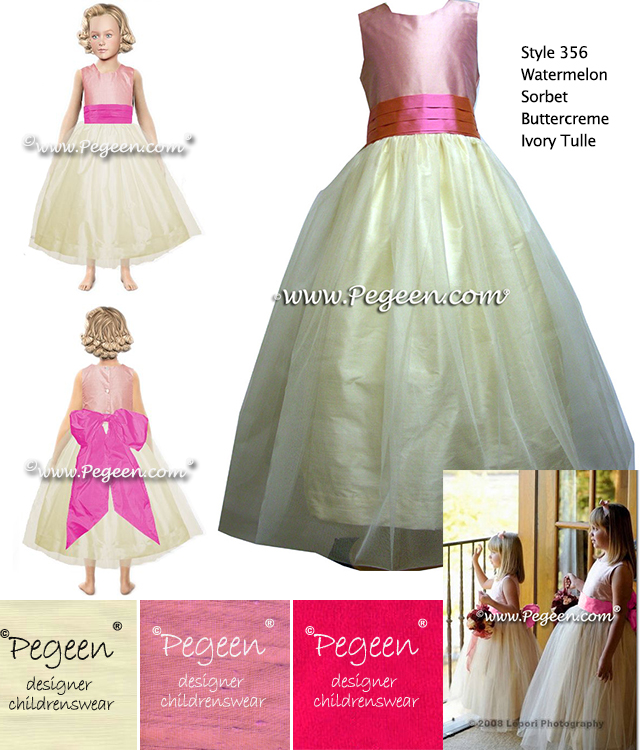 This featured flower girl dress is style 356 Lotus Pink, buttercreme and Ivory Tulle
PEGEEN CLASSIC STYLE 356 Custom Silk Flower Girl Dress with a pleated silk sash and tulle overskirt. Choose up to 3 colors, for the bodice (top), skirt and sash which is available in 200+ Mix and Match Color choices and mother of pearl button closure. Dress has a full gathered skirt with a pleated sash in front of the dress and a large sash that you tie in a bow. Dress includes white or ivory tulle overskirt or our "Color with Tulle" option for an additional charge. All of our skirt lengths are ballet length, meaning just three or four inches above the ankle which can be customized as well. Includes your choice of short sleeves or sleeveless tank, other options available such as longer sleeves or flowers at a slightly higher price. See options below. Available from Infant through Plus Sizes, attached crinoline/petticoat and lined with silk.