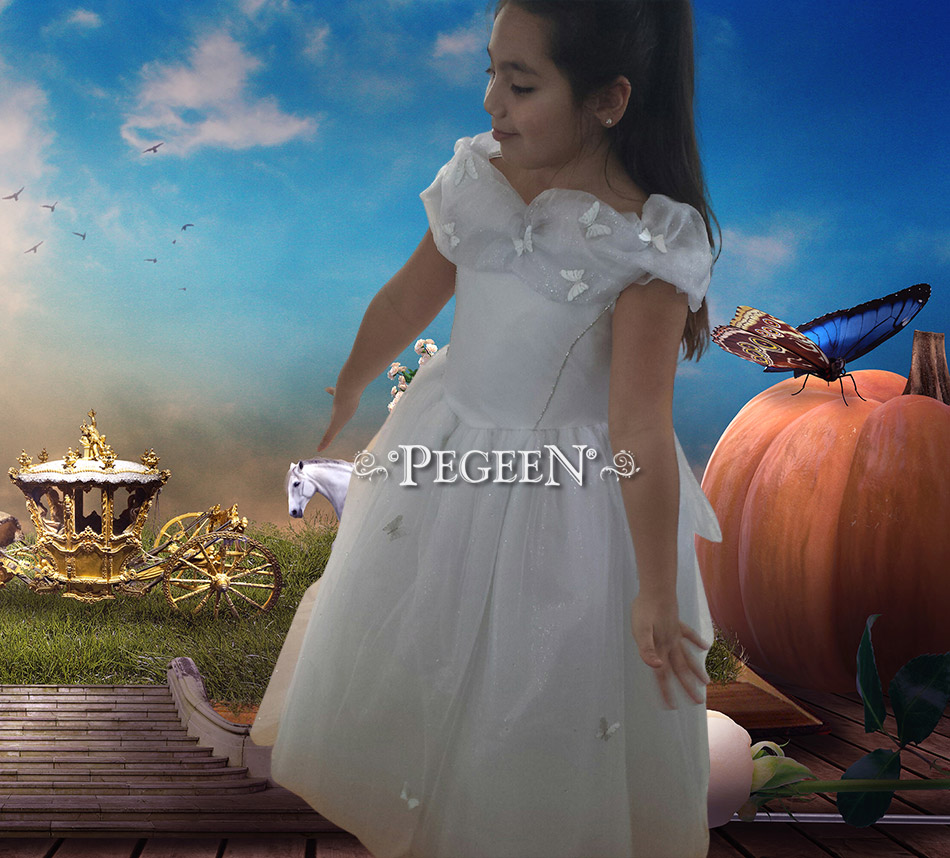 Want to be a Princess Everyday with these Disney inspired girl's dresses?
Pegeen.com is thrilled to unveil our latest dress collection, designed to make selecting the perfect dress for any occasion easier than ever before. We have redefined our wedding creations into two distinct categories: Princess Everyday and Princess Special Days.
With our Princess Everyday collection, we have crafted enchanting dresses inspired by fairy tales and storybooks. These dresses are perfect for little girls who desire comfort and convenience (and for you, mom, easy washing!). Now your princess can feel like royalty every day, whether she's exploring theme parks, attending school and playtime, celebrating birthdays, or even enjoying a relaxing Sunday. These dresses are made to withstand the rigors of everyday adventures, as they are machine washable and quick to dry, ensuring durability without sacrificing style.
Our Princess Special Days collection is dedicated to those extraordinary occasions when your little one deserves a dress fit for a princess. These dresses exude elegance, sophistication, and timeless beauty, making them the ideal choice for weddings, formal events, and other memorable celebrations. Impeccably crafted with attention to detail, these dresses capture the essence of enchantment, allowing your princess to shine her brightest on those truly special days.
At Pegeen, we take pride in offering dresses that not only make little girls feel like princesses but also cater to the practical needs of busy parents. We understand the importance of durability, convenience, and easy maintenance, which is why our dresses are designed to be machine washable and ready for hand drying. This way, you can ensure that your little one's dress remains as fresh and beautiful as the day she first wore it.
With our new collection, we invite you to explore the magical world of Pegeen and discover the perfect dress for every occasion. Whether it's a day of everyday adventures or a momentous event, our dresses are crafted with love and attention to detail, ensuring that your little princess looks and feels her best. Let Pegeen be your trusted companion in creating cherished memories and turning ordinary moments into extraordinary ones.
Looking for Disney bound dresses? We are here for you!
Are you Disney Bound? Need to dress your little princess? Princess-inspired flower girl dresses from our Princess Everyday Dress Collection are just what you need. What makes it even more special? Pegeen is located just one mile from Disney and ships your fairy tale dust worldwide.
We have an Alice in Wonderland inspired dress called Through the Looking Glass which is part of our Storybook Princess Everyday Collection. It features a slip-over-the-head top with a ruffled tulle, shorter, knee length unlined skirt. The top has an adorable print with all your favorite characters such as Alice, of course, the Cheshire Cat, the Mad Hatter, the Queen of Hearts, and others from the beloved children's classic story.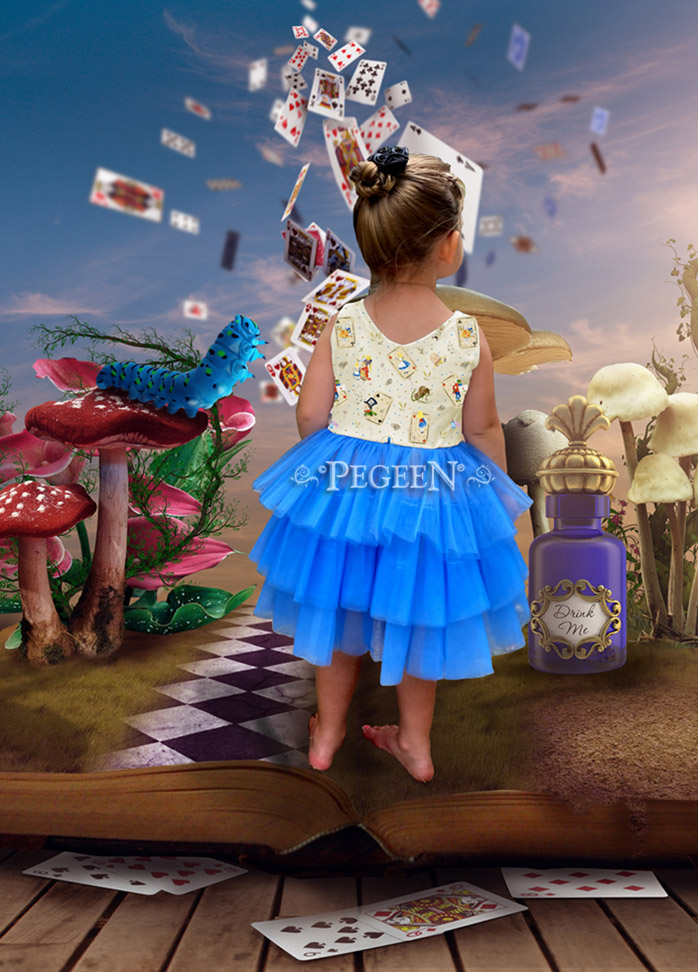 Another style in the collection is the Beauty and the Beast dress. Originally written in 1740, this story transcends time as Belle, the Beauty, falls in love with the Beast. The golden yellow tank top features the same slip-over-the-head function and is replete with illustrations of Belle, the Beast, the enchanted candlestick and red rose. Your little princess can wear this dress at the ball, at the parks to get in the spirit, at a birthday party, on Sunday, or for any occasion.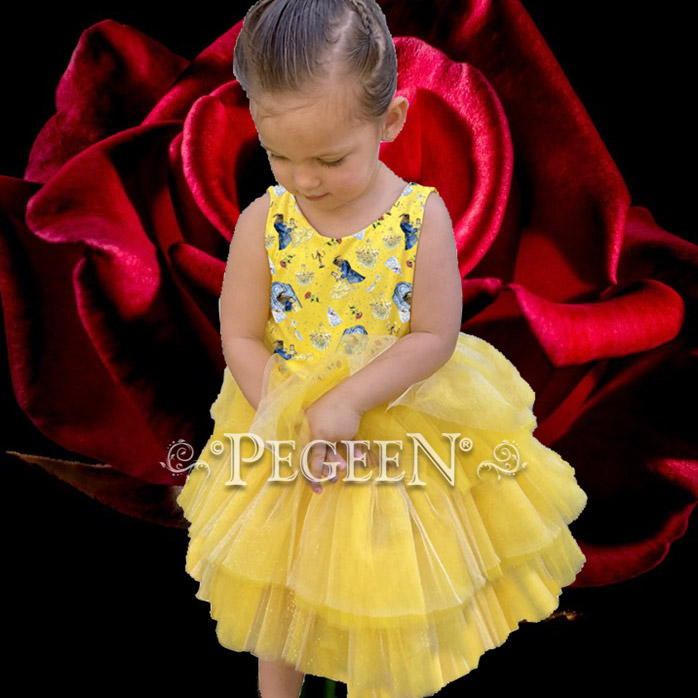 It is hard to pick a favorite here with so many gorgeous styles, but Cinderella is a favorite princess for so many. See the lovely rags-to-riches young lady in her signature sparkling blue ballgown and her cinder dress, her magic carriage, and the footmen mice in a blue, fairy godmother swirled magical top. All of the Princess Everyday dresses come with unlined, triple tulle skirt and matching modesty shorts.
These are just a few of the many styles of Princess Everyday dresses, please check out our other collections such as our silk Fairytale Collection, our silk Flower Girl Dresses, Ringbearer Suits, Ballet Costumes, Bat Mitzvah dresses and much more.