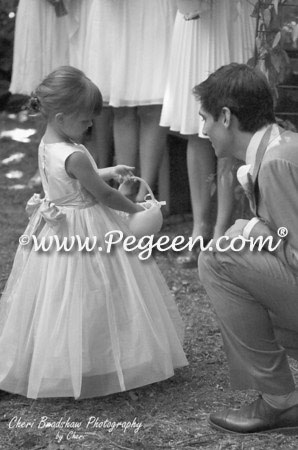 How cute is this couple's exit on a bicycle for two?
Flower girl dress in lilac and bisque silk with tulle
It was absolutely delightful to witness the bride and groom make their grand exit from the reception on a charming bicycle built for two! The sight was truly heartwarming, and amidst the joyous atmosphere, one couldn't help but notice the adorable little girl, adorned in a mesmerizing lilac silk dress. Her presence added an extra touch of sweetness to the already enchanting outdoor wedding.
The wedding itself was held at the picturesque Sand Rock Farm B&B in Historic Aptos, CA. This idyllic location provided the perfect backdrop for the celebration of love and unity. To complement the overall aesthetic, the bride chose a soft lilac color for the flower girl's dress, exuding a sense of elegance and grace.
At Pegeen Classics, we take pride in offering a wide range of options for flower girl dresses, including the lovely lilac silk dress featured in this wedding. This particular style, known as style 356, was expertly created using our innovative Pegeen Dress Dreamer tool. This user-friendly platform allows our customers to effortlessly customize their desired dress, ensuring that it aligns perfectly with their vision and preferences.
The lilac silk dress itself was crafted with meticulous attention to detail, featuring two exquisite colors: Victorian lilac and Bisque ivory. This combination resulted in a harmonious blend of hues that beautifully complemented the wedding's overall color palette. The soft lilac shade exuded a sense of femininity and sophistication, while the ivory undertones added a touch of timelessness and elegance.
For more detailed information about this wedding and the stunning lilac flower girl dress from Pegeen Classics, we invite you to explore our excellent blog post dedicated to this memorable occasion. The blog post delves into the enchanting details of the wedding, offering valuable insights and inspiration for couples planning their own special day. found here
We are thrilled to have been a part of this beautiful celebration and are grateful for the opportunity to contribute to the bride's vision. Our goal at Pegeen Classics is to provide exceptional dresses that make every flower girl feel like a princess, and we are delighted that our lilac silk dress played a role in creating a magical and unforgettable wedding experience.