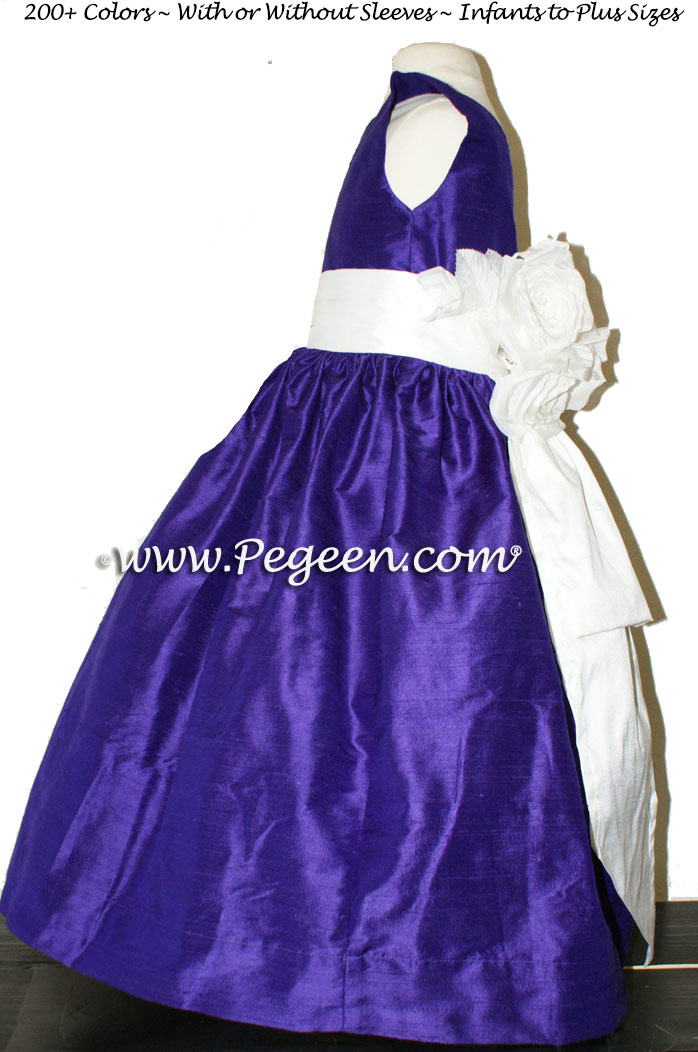 Purple and White Silk Flower Girl Dresses with Pegeen Signature Bustle
A simple yet gorgeous silk flower girl dress was enhanced when we added a Pegeen Signature Bustle. Any dress can have changes made to the sash and it's simple if you build it at first in our Pegeen Dress Dreamer. When pricing out your dress, the Dress Dreamer will give you real time cost so that you may decide what options to add to your flower girl dress.
PEGEEN CLASSIC STYLE 383 Flower Girl Dress with back flowers
silk dress with a back bustle sash. Choose up to 3 colors, for the bodice (top) and sash and skirt, all of which is available in 200+ Mix and Match Color choices and mother of pearl button closure, and choice of silk back flower in 50+ colors of hand made, delicate silk flowers from fine habotai silk. Dress has a full gathered skirt with bustle cummerbund trimmed with a pair of real silk flowers. Sash is sewn into the skirt. All of our skirt lengths are ballet length, meaning just three or four inches above the ankle which can be customized as well. Includes your choice of short sleeves or sleeveless tank, other options available such as longer sleeves or flowers at a slightly higher price. Available from Infant through Plus Sizes, attached crinoline/petticoat and lined with silk.