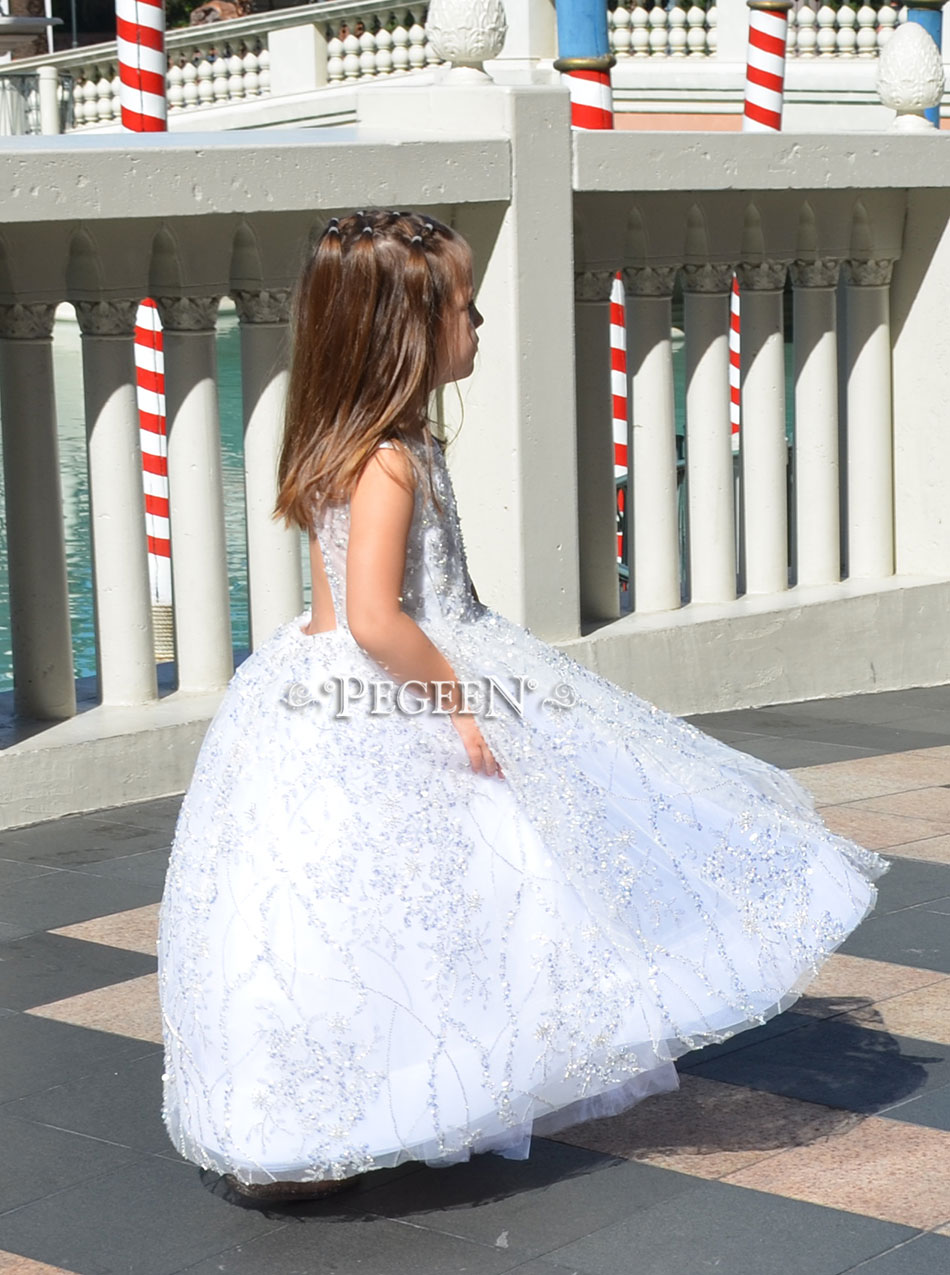 What to Consider When Buying A Flower Girl Dress doe your 2023 wedding?
Every guest at a wedding loves to see children walking down the aisle because they know that the child means something special to the bride or groom; a niece, a former student, a daughter, or a best friends little girl, the children sometimes steal the day. ! A little girl dressed to the nines looks adorable walking down the aisle.With a perfect fit and an elegant flower girl dress your flower girl can be a stunner.
Consider buying one of the best fitting flower girl dresses in the industry to make your little girl feel comfortable and stunning at the same time.
There are a few things to consider when shopping for a flower girl dress; here are some!
1. 260+ Color Options!
with Pegeen.com You are not stuck with boring ivory or white. If shopping for a flower girl dress from us, you have a huge pallet of 200 scrumptious color from which to pick and that's up to three colors per dress: the top or bodice, the skirt and the sash. What's more, many of our styles mean you have a choice in the top layer of organza or tulle as well, or even a flower! You can consider choosing a color that matches the bridesmaid's dress color. Some consider matching the color of the flower girl dress with the overall theme or only with the bride. Other choices? Coordinate with the event venue, your wedding theme to pick the perfect color for a flower girl dress. If it is a beach wedding, consider choosing a flower girl dress style to accent tropical flowers or even one of our styles with sea shells hand picked from our Florida shores.
2. Choose a Flower Girl Dress Style That Is Age Appropriate!
A flower girl dress can be both elegant and age-appropriate. Although not ALWAYS recommended by us, find out what your girl, or girls think would be their ideal style to wear. It can backfire on you, trust us we know and we have plenty of stories to share. That's why we recommend you call us or chat with us on line for thoughts or ideas. We do feel that when asking a soon to be stepdaughter or preteen to be involved in the choice it somehow smooths over the bumps and tears you may come across. more on that below. a Styles aside, choose the right length. We do allow custom lengths and MOST of our styles come ballet length which is standard, meaning 3-4 inches off the ground. The proper length flower girl dress prevents tripping, especially with tiny ones, but where you can still see their shoes. You can ask for floor length or even short lengths from Pegeen.
3. Luxury fabrics are standard with Pegeen!
When choosing our flower girl dresses you can be sure we use only the finest imported fabrics, laces and trims. A designer flower girl dress company such as ours, use high-quality fabrics. Silk, tulle,, or lace from world wide suppliers are what we are known for. It's quality and the best fabric options make for a gorgeous flower girl dress.
4. Ask the Little Girl!
You can take the little girl about what she would like to wear. It helps you avoid your flower girl throwing tantrums on the big day. Never force the flower girl to wear what you think is perfect for her. Take the little girl's opinion and convince her to avoid last-minute tears! ! It may not be the best option to give her (or them) free rein to choose from or entire collection but by pairing down to a fewer number of styles from which you or the bride pre-approve is not a bad idea. Work together to buy the best that make the little flower girl feel her opinion counts.
5. How long Before Your Wedding Should You Order?
After manufacturing over 40 plus years you know we are experts in sizing. So much so, we guarantee it. So, ordering in advance from us means we reserve the fabric you will need far in advance along with your time in what we call the production and cut list. Close to your wedding, about 8 weeks in advance we will ask for a remeasure. then we go and make your dress (es). Especially now with supply chain worries (URGH how we hate that phrase) we suggest ordering early keeps prices from rising and ensures you get the exact color you need. Order a flower girl dress closer to the wedding may mean higher prices (sorry) or the color won't be in stock for the date you need.
6. Make Little Flower Girl Feel Special!
Kids may feel nervous about walking down the aisle! Whether your flower girl is a relative or family friend, make the little one feel comfortable. Find ways to make the little flower girl less apprehensive walking down the aisle alone. Sometime going with her mommy or daddy or brother helps.. It helps build a bond between the little flower girl, you, and your bridesmaids. Try to have an early rehearsal and party so the attendants, big and tiny, don't get scared when faced with a big number of guests sudddely staring at them, are comfortable and have a good time. Like the old saying goes, kids will be kids. Let the Flower Girl Shine!
We hope a few of our tips will help you pick the perfect flower girl dress for your wedding. A beautiful flower girl dress can help the little girl steal the show. If you need help getting the fit just right or our help designing what your vision is, simply pick up the phone. We pride ourselves on being available to you and do answer the call, sometimes in the strangest places, because we are after all, a company that understand children. If you hear kids in the background, well, that's usually where we are, because we are after all, a flower girl dress company. Rely on Pegeen! We are a reputable flower girl dress company that ships worldwide!