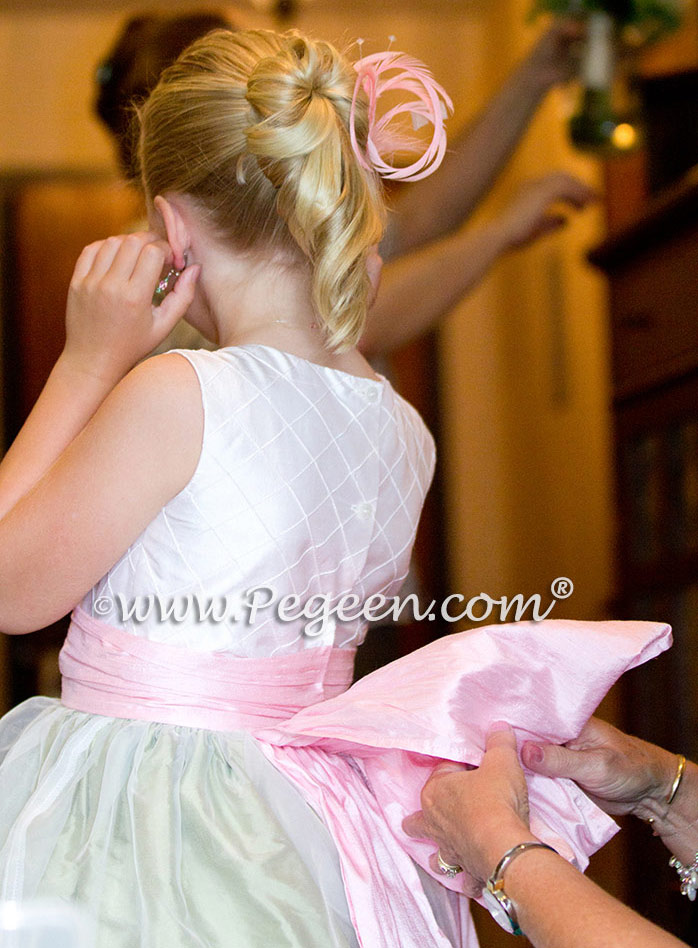 The flower girl is one of the most important persons in the wedding ceremony. That's because she walks directly before the bride, often throwing beautiful flower petals on the bride's path to the alter.
All eyes are on the little flower girl as she walks down the aisle, tossing petals, and smiling adorably. Wearing the perfect dress makes her feel special and confident throughout the big day.
When deciding about choosing flower girl dresses, we've prepared a few tips for you.
Let's now talk about some ideas on how to choose flower girl dresses.
Dress match the wedding theme - The design of her dress usually depends on the theme of the wedding. If the wedding is on the beach, then the flower girl dresses should be in the light and airy colours, and simple designs. If the wedding is in a ballroom setting, then pick a fancy dress for your flower girl.
Select the appropriate color scheme - We say, "anything but a white dress" and Pegeen offers over 200 colors of silk and more to really make it different and interesting for not just the wedding party but for those who attend your wedding. See our color selection here,. You can choose flower girl dresses in a similar hue to the bridesmaids' dresses. If you are a bit confused about the look of the flower girl dresses, take the opinion of flower girl, especially if she is a little bit older as they have plenty of opinions.
Comfort is extremely crucial - The last thing anyone wants is the little one throwing a tantrum on the wedding day because her outfit is itchy or uncomfortable. So before buying the dress, make sure she's happy about everything from fit to fabric. The flower girl usually moves around while wearing the gown, so it is better to choose something that resists wrinkles and rips. Silk is a great fabric for that and although we offer 200 silk colors we also have a number of soft knit and imported synthetic fabrics too, especially in our new budget collection starting at $99.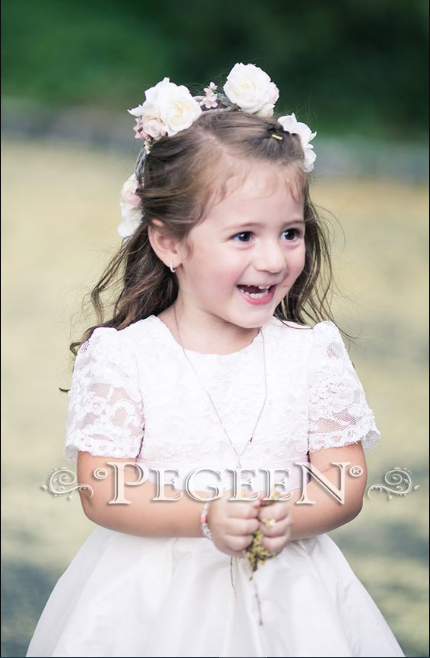 Choose the right length - Most flower girl dresses are either floor-length or what we call ballet-length. Ballet-length, which is about 4" or so above the ankle dresses better suits the toddlers, as they won't drag on the ground or create a tripping hazard for younger flower girls. Floor-length dresses tend to look more formal and elegant, and it better suits the young teenager and are most requested for our Jewish clientele.
Always consider the Budget - You can choose to shop online for your flower girl dresses, especially now with covid. Pegeen has been in business since 1982 but was one of the first 40,000 companies on the internet and has developed great tools for purchasing online. We are experts in sizing children with over 2 million dresses made so far and give a sizing guarantee.
If you prefer individuality and want more flexibility, then you should come to Pegeen. We have been manufacturing dresses here in the USA since our inception and take great pride in our quality and care in every garment we make. Surprisingly, our pricing is much cheaper than you would think to make a custom flower girl dress. Spending time on finding the perfect fit, designs, and color, by calling us or chatting with us on our website to insure you choose custom flower girl dresses to ensure the flower girls' look unique and beautiful.