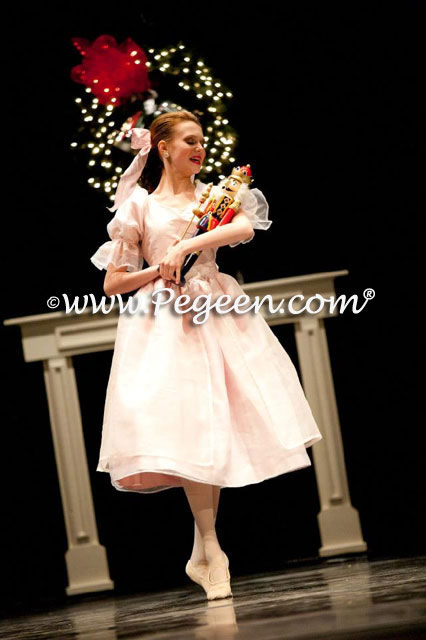 The Nutcracker's Clara: An Inspiring Role for Every Aspiring Ballerina
The Nutcracker is more than just a ballet performance, it's a timeless Christmas tradition that has captured the hearts of millions. And at the center of this beloved story is Clara, the lead girl dancer who brings the enchanting tale to life on stage.
For every little ballerina, the dream of one day being chosen to play Clara is one that fuels their passion and dedication to the art of dance. It's a role that requires not only technical precision but also emotional depth and an ability to connect with the audience. But Clara isn't just a role, she's a symbol of bravery and imagination. Through her journey in the story, she shows us the importance of facing our fears and embracing the magic of the world around us.
As the Christmas season approaches, The Nutcracker takes center stage in theaters across the world, bringing joy and wonder to audiences of all ages. And for the young dancers who dream of being Clara, it's a reminder that hard work and dedication can make even the biggest dreams come true.
For aspiring ballerinas, the role of Clara in The Nutcracker is the ultimate dream. And at Pegeen, we understand the importance of creating a dress that not only looks beautiful but also feels comfortable and allows the dancer to move with ease.
Our team of skilled designers and seamstresses work tirelessly to create custom Nutcracker dresses that perfectly capture the magic and spirit of the season. Whether it's a classic Clara dress or a costume for the party scene, Pegeen has the expertise and attention to detail to bring your vision to life.
With a wide range of fabrics, colors, and styles to choose from, every Pegeen dress is truly unique and tailored to the dancer's individual needs. And with our commitment to sustainability and ethical manufacturing practices, you can feel good about choosing a Pegeen dress for your Nutcracker performance.
So whether you're a young dancer dreaming of playing Clara or a choreographer in search of the perfect costumes, Pegeen is here to help you bring the magic of The Nutcracker to life. Let us create the perfect dress or costume for your production and make this holiday season one to remember.
Nutcracker – Holiday Dress Style 755 PARTY SCENE DRESS Made in shorter knee length so you can dance but longer length is optional. Pink silk with sequins in pink only, Organza Over-skirt, Large Puff Sleeves. Side sashes. The sash is sewn into the skirt. Available from 6 through Plus Sizes, attached crinoline/petticoat and lined with silk. Mother of Pearl back button.