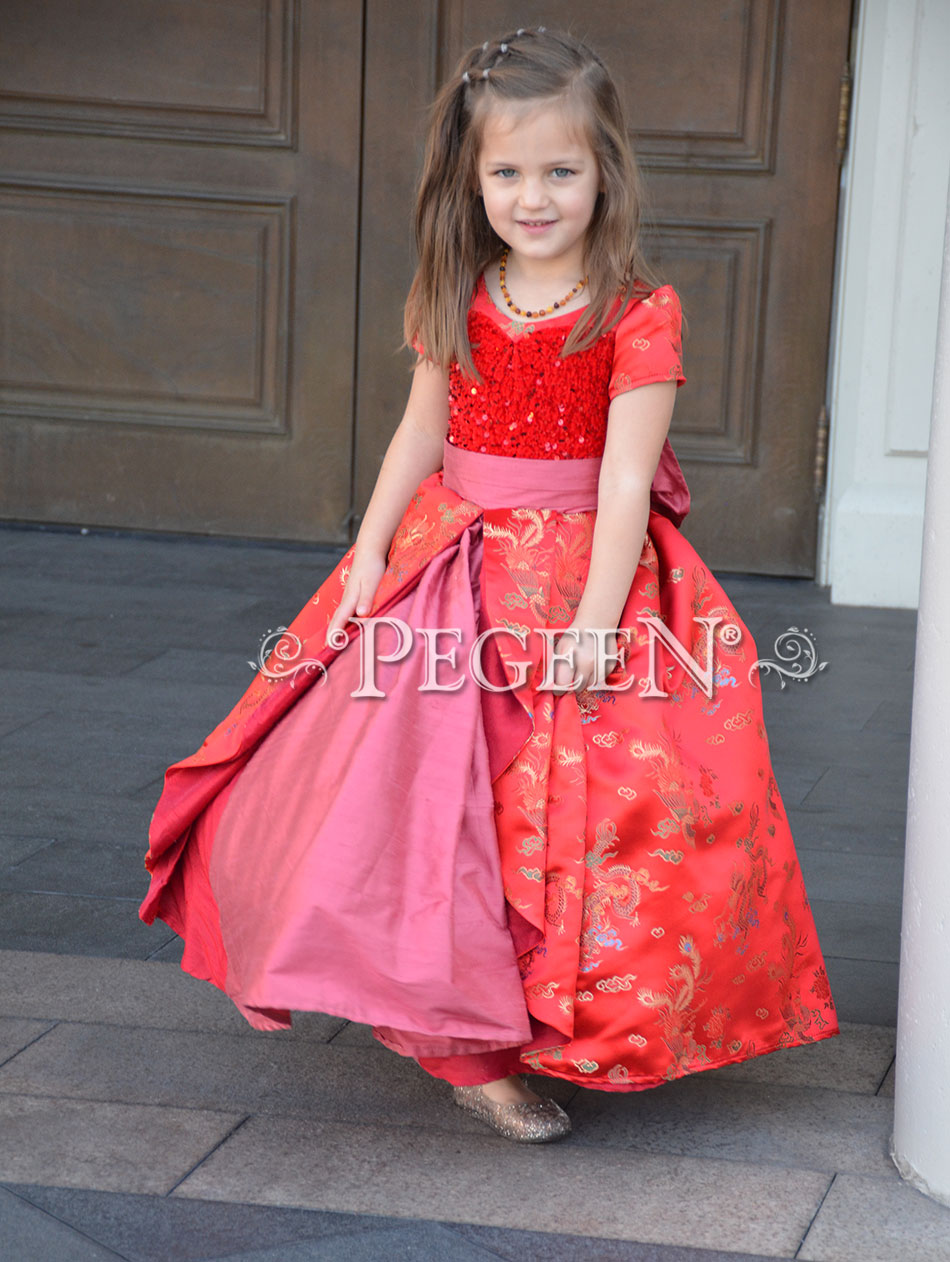 Elena of Avalor Inspired Ballroom Dress for a little girl now available for purchase!
As the Halloween season draws near, the enchanting magic of Disney takes center stage in a truly regal fashion. Princess Elena of Avalor, a beloved character celebrated for her unwavering strength, boundless compassion, and vivacious spirit, serves as the muse for a magnificent ballgown-style costume. This meticulously crafted ensemble is a heartfelt tribute to the fearless princess, rendering it the quintessential choice for an unforgettable Halloween night.
Yet, the allure of this costume transcends Halloween itself. For one young girl, it became an inseparable part of her life, adorning her not only on the spookiest of nights but also during her visits to the enchanting realm of Disney World. When she encountered her favorite Avalor Princess amidst the magic of Disney World, the bond was undeniable. Together, they twirled and danced, for the "real" Elena was profoundly impressed by Pegeen's exquisite creation. This costume, truly, is more than just a Halloween delight; it's a source of enchantment that transcends the calendar. Pegeen Fairytale Dress Style 809 to order.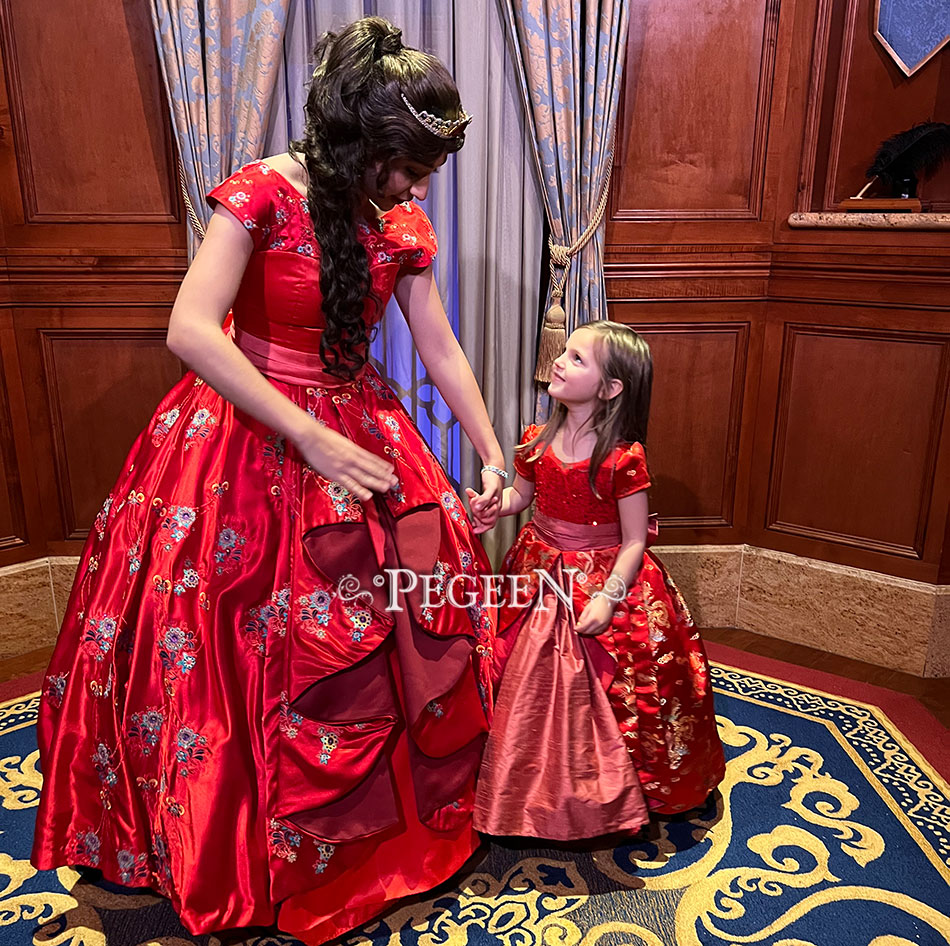 Elena's Embroidered Print Satin Top Skirt: The heart of this costume is the luxurious embroidered print satin top skirt. Every detail is meticulously crafted to capture the essence of Princess Elena. The silky smooth fabric boasts intricate embroidery that beautifully tells the story of Avalor. With the skirt lined in silk, it ensures not only comfort but also an unmistakable touch of elegance.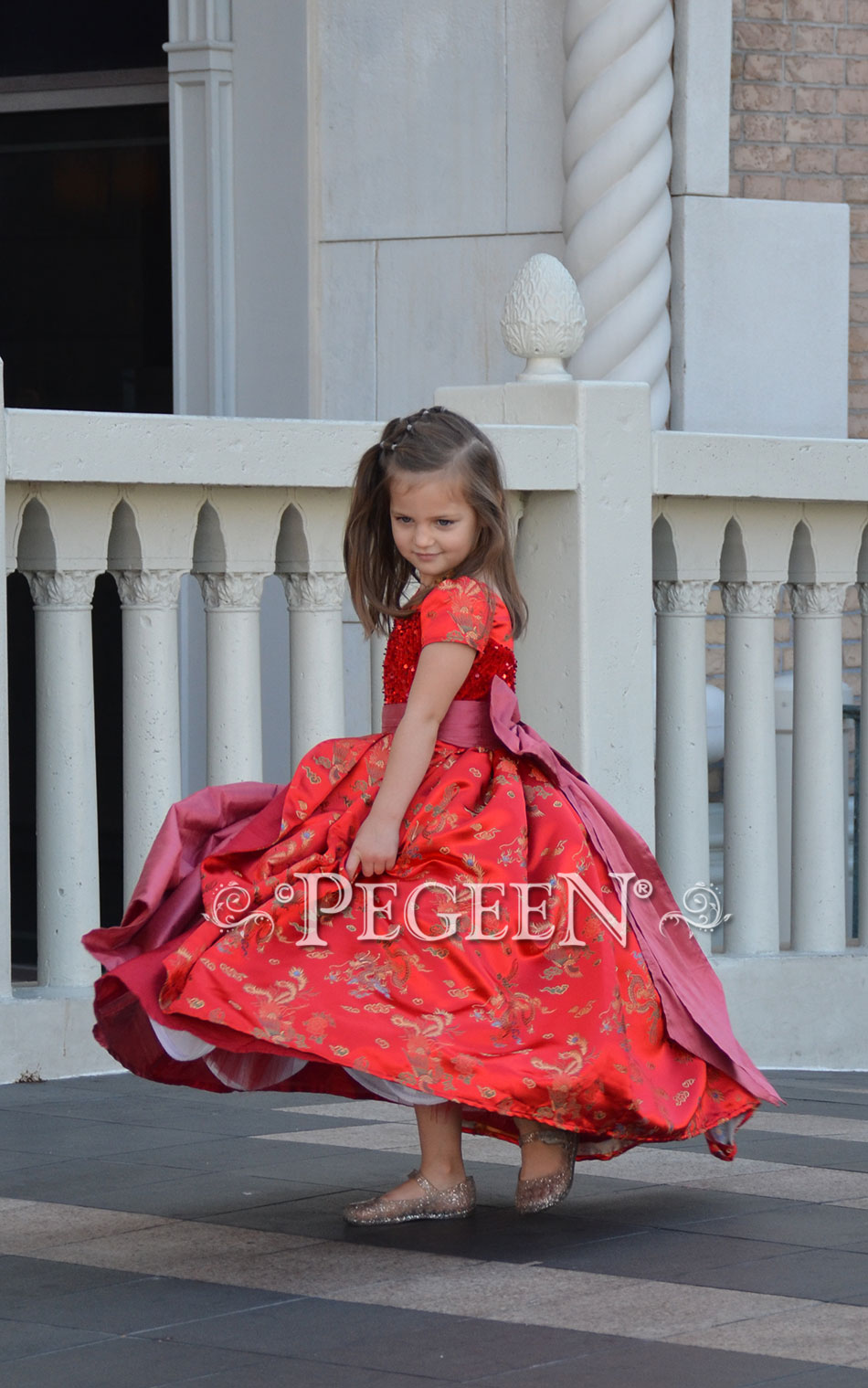 Layers of Color: Beneath the satin top skirt lies a stunning cascade of layers. The under skirt starts with a delicate pink silk, setting the stage for the fiery red silk that follows. The layers symbolize the vibrant spirit of Avalor, transitioning from softness to strength, just as Elena herself does in her adventures.
Sequin Velvet Bodice: Princess Elena is known for her radiance, and this costume stays true to that essence with a lower bodice made of sequin velvet. The sequins catch the light, reflecting the same radiant glow that defines this beloved character. The velvet not only adds a luxurious feel but also exudes an air of regality.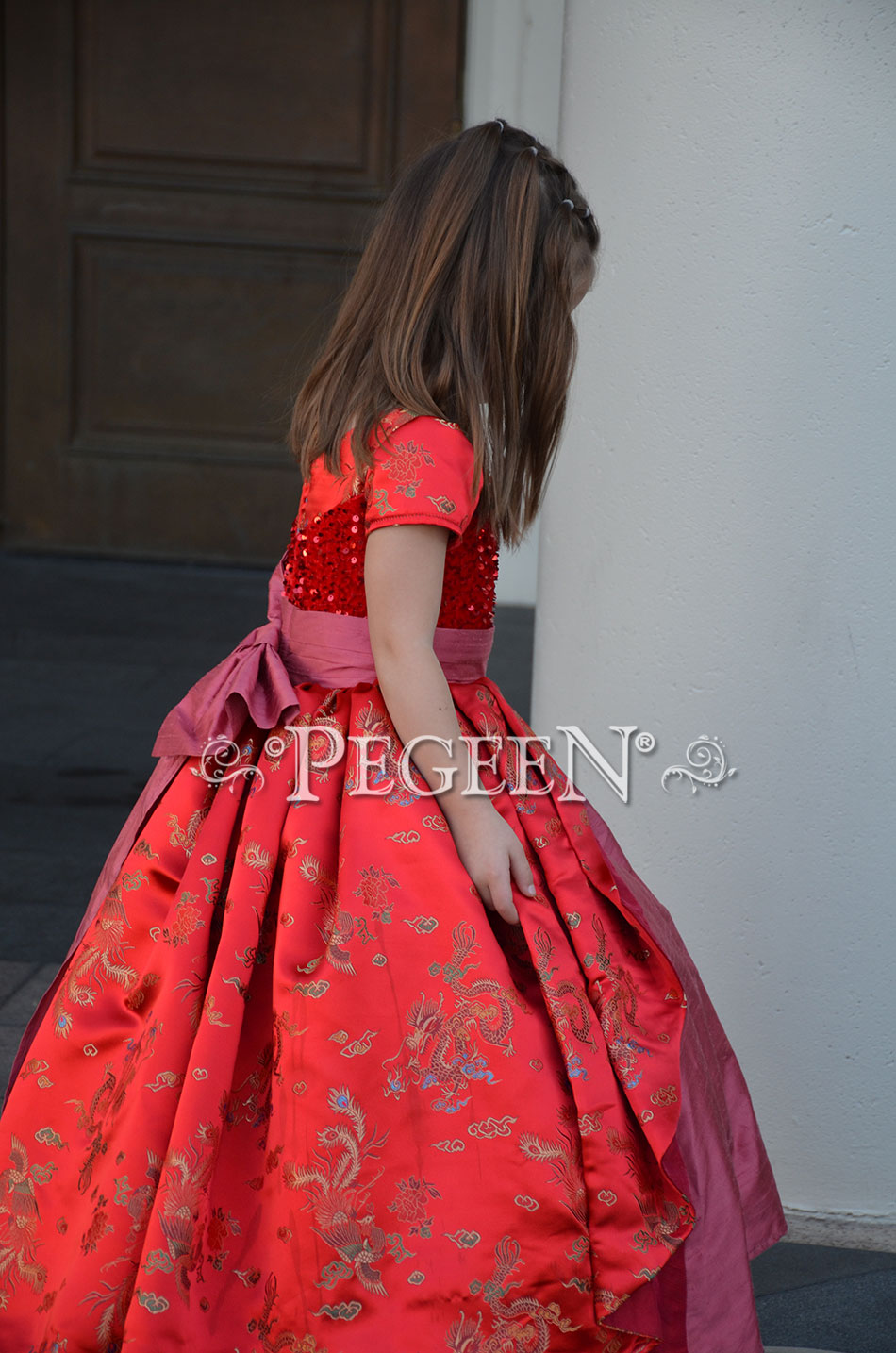 Fastening with Elegance: The back of the costume features a hook and eye fastening, designed to be as easy to wear as it is beautiful. Even when the party is over, this costume allows you to slip out of your royal attire effortlessly.
Pink Silk Sash and Bow: To complete the look, a graceful pink silk sash and bow are included. These accessories serve as the perfect accents to enhance the costume's regal charm. The sash cinches the waist elegantly, while the bow adds a touch of sophistication and playfulness.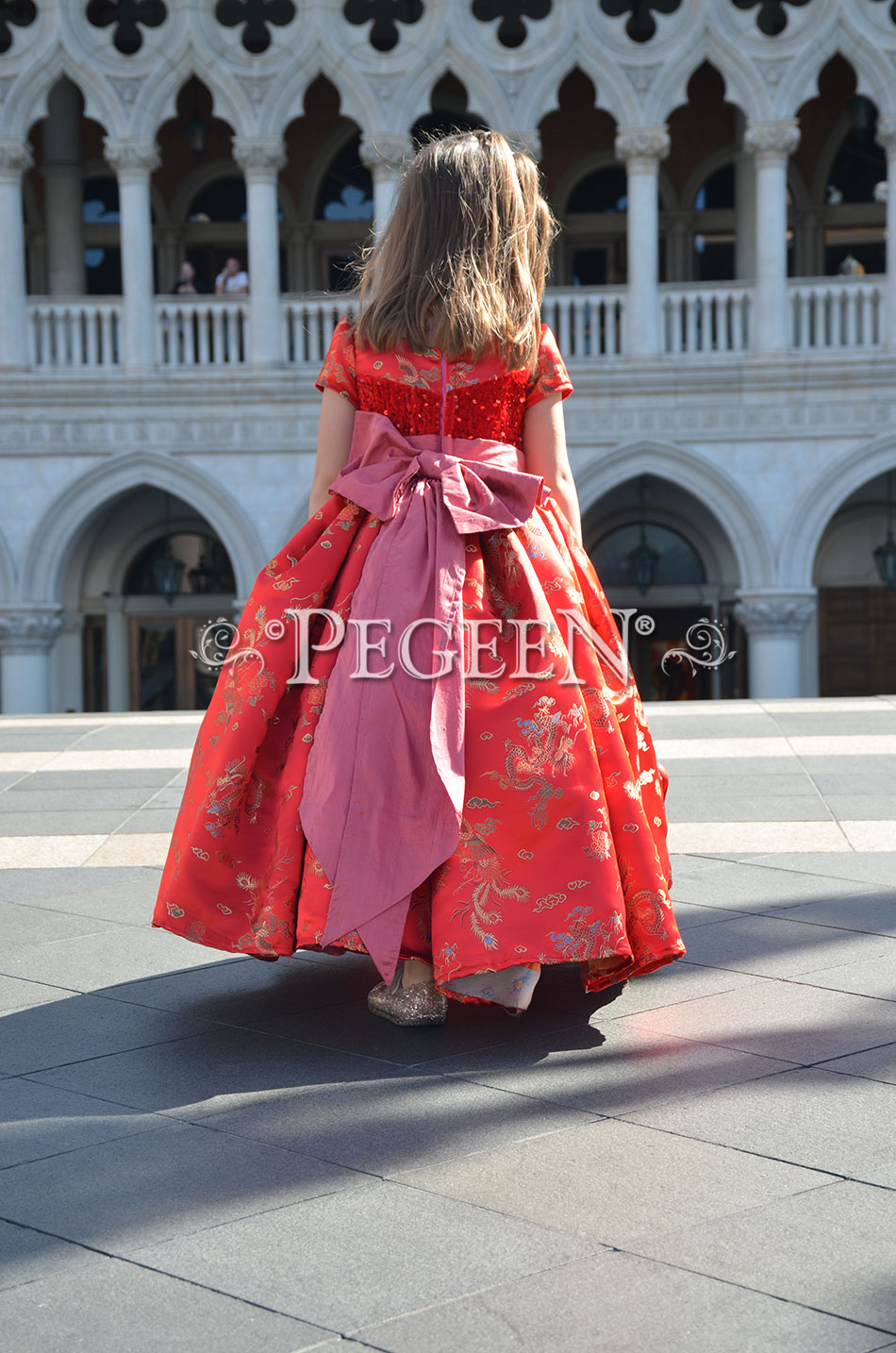 Red Tulle Petticoat with Hoop: For that quintessential princess ballgown silhouette, a red tulle petticoat with a hidden hoop has been incorporated. It adds volume to the skirt, ensuring that you'll be the belle of the Halloween ball. With each twirl, you'll embody the spirit of Princess Elena herself.
Sizes for Everyone: This enchanting Elena of Avalor-inspired costume is available in sizes ranging from 2T through plus sizes, so every aspiring princess can revel in the magic of Avalor.
Conclusion: This Halloween, step into the world of Disney with a costume fit for royalty. Princess Elena of Avalor's ballgown-inspired dress, with its embroidered satin top skirt, layers of vibrant silk, sequin velvet bodice, and all the regal accents, is the perfect way to channel your inner heroine. Let your inner princess shine as you embody the grace, strength, and spirit of Elena. With this costume, you'll create magical memories that will last a lifetime and enchant all those who have the privilege of seeing you in your Avalor-inspired splendor. Happy Halloween!