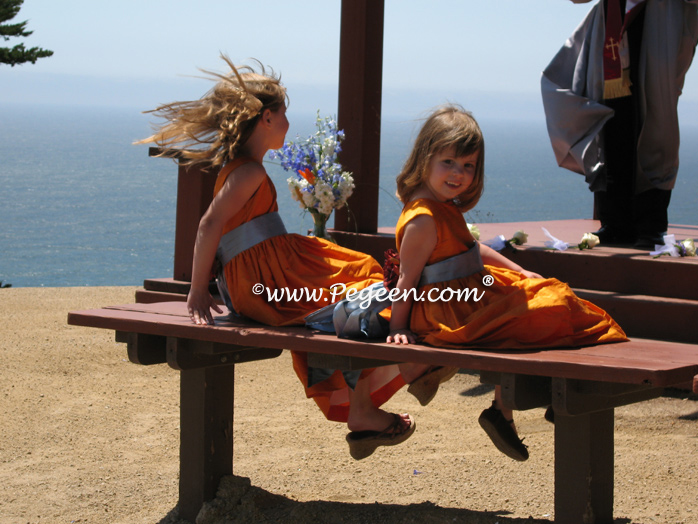 See this California Beach Inspired wedding
featuring Tangerine Orange and Powder Blue Silk Custom Flower Girl Dresses

This silk flower girl dress Style 383 was used for a California Beach-Styled Wedding in silk and accented with back flowers. It is still one of our favorite dresses to date! Experience the Charm of a California Beach Wedding with Vibrant Tangerine Orange and Powder Blue Custom Silk Flower Girl Dresses

We are thrilled to showcase a stunning California Beach-inspired wedding that captured the essence of coastal beauty. The highlight of this memorable occasion was the use of our exquisite silk flower girl dress Style 383, which perfectly complemented the beach theme. This dress, adorned with delicate floral accents at the back, remains one of our all-time favorites.

Step into a world of sun-kissed shores and ocean breezes as we take you through the mesmerizing details of this beach-styled wedding. The choice of vibrant Tangerine Orange and soothing Powder Blue for the custom silk flower girl dresses added a touch of coastal charm to the entire event. The colors effortlessly blended with the natural surroundings, creating a picturesque scene that exuded joy and elegance.

Our Style 383 silk flower girl dress became the epitome of grace and sophistication. Crafted with the finest silk fabric, it draped beautifully on the little flower girl, ensuring she felt comfortable and stylish throughout the festivities. The subtle yet captivating floral accents at the back added a whimsical touch, reminiscent of blooming flowers along the sandy shores.

Every detail of this California Beach-inspired wedding was carefully curated to reflect the serene ambiance and coastal vibes. The choice of our Style 383 silk flower girl dress perfectly captured the essence of the ocean, evoking a sense of tranquility and bliss. The combination of Tangerine Orange and Powder Blue hues harmonized flawlessly with the natural beauty of the beach, leaving a lasting impression on all who attended.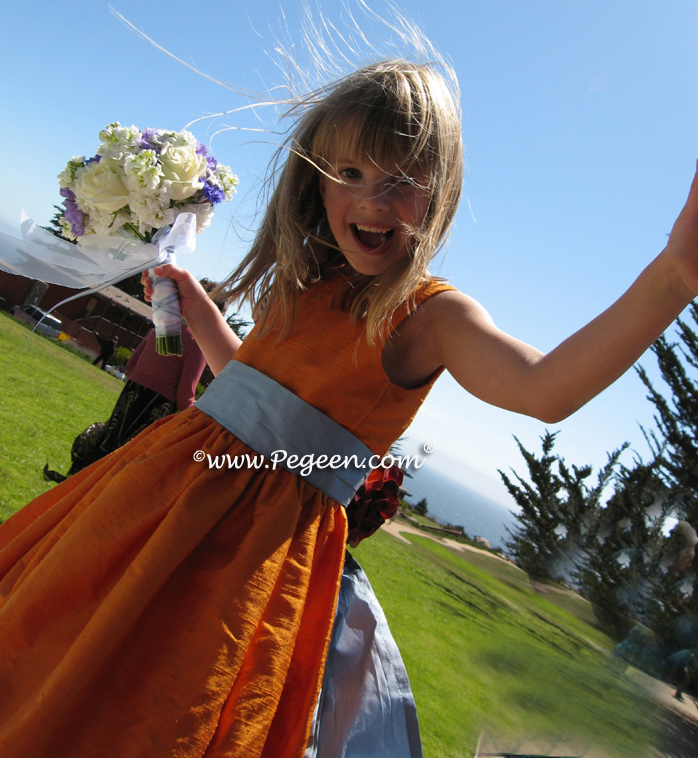 Witness the magic and allure of a California Beach wedding brought to life through our custom silk flower girl dresses. Immerse yourself in the vibrant colors, the soft caress of the silk fabric, and the joyous atmosphere that only a beach celebration can offer. Let us inspire you to create your own dream wedding, where every element, from the flower girl dresses to the decor, tells a story of love, nature, and the breathtaking allure of the coast.
Join us as we celebrate this unforgettable occasion, where our Style 383 silk flower girl dresses became the embodiment of elegance and beach-inspired enchantment. Be captivated by the beauty, the charm, and the pure bliss that radiates from every photograph and memory of this remarkable California Beach-styled wedding.
Build this in our Pegeen Dress Dreamer virtual closet.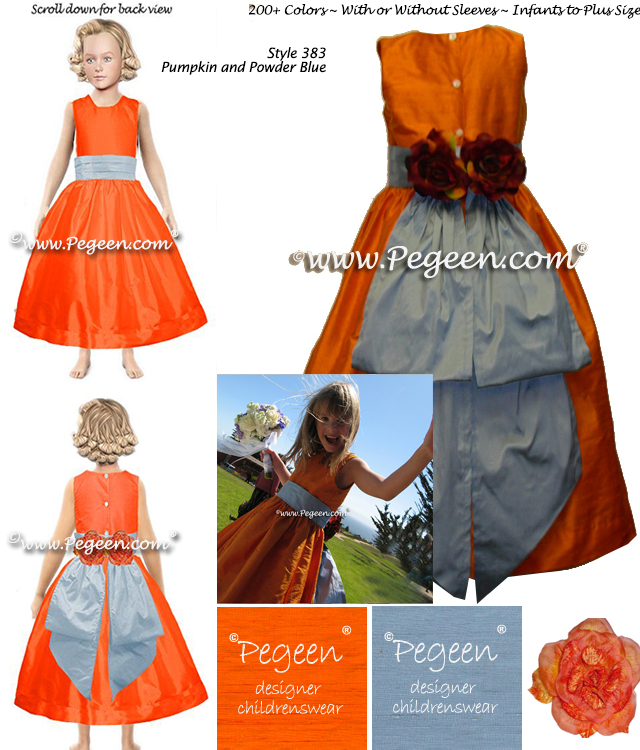 Featured flower girl dress is Pegeen Classic Style 383 in Pegeen Flower Girl Dress Style 383 in Tangerine Orange and Powder Blue Silk.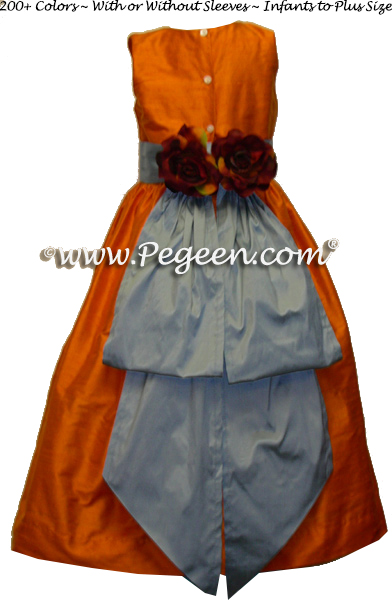 PEGEEN CLASSIC STYLE 383 Custom Silk Flower Girl Dress with a back bustle sash. Choose up to 3 colors, for the bodice (top) and sash and skirt, all of which is available in 200+ Mix and Match Color choices and mother of pearl button closure, and choice of silk back flower in 50+ colors of hand made, delicate silk flowers from fine habotai silk. Dress has a full gathered skirt with bustle cummerbund trimmed with a pair of real silk flowers. Sash is sewn into the skirt. All of our skirt lengths are ballet length, meaning just three or four inches above the ankle which can be customized as well. Includes your choice of short sleeves or sleeveless tank, other options available such as longer sleeves or flowers at a slightly higher price. Available from Infant through Plus Sizes, attached crinoline/petticoat and lined with silk.