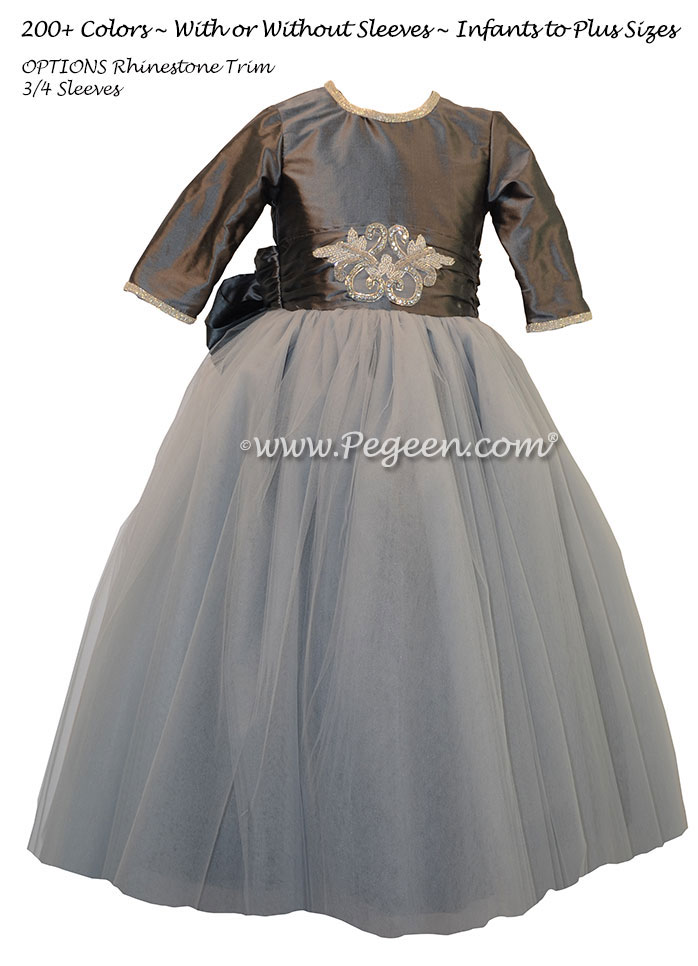 Since our offices are so close to Disney World, a visit to our Design Shop is welcomed!
I have to admit, when a customer comes to Disney World to visit and then takes a side trip to visit us, meeting the family is usually so nice for me. It's more than putting a face on a customer - it's more like becoming a friend, asking how the kids are doing - seeing pictures as they grow up. Such was a family that I got to meet at a place called Champion's Gate in Davenport FL. It used to be that we would take an excursion to a hotel or rental property to meet a customer. Luckily, we moved to a spot just a mile from Disney, in fact close enough to hear the train whistle and see the fireworks every day.
Such was a lovely family whereby several siblings all rented the same house and we measured all of the children. There were quite a few. The dress they ordered was this new style at the time, used for many Jewish weddings, with 3/4 sleeves as a no-cost option and plenty of bling. Our customer Dina however, changed a few things so that each of the styles for the different age groups were a bit different and including for her oldest daughter who was needing a special bodice fit. I LOVED that we put black tulle with the gray tulle and even a black bodice with pintucks and pearls, The staging of her girls was Dina's idea and I LOVED that as much as the dresses!!
We're delighted to showcase the elegance of gray tulle flower girl dresses, specifically designed for creating unforgettable moments in Jewish weddings. Join us as we delve into the details of these enchanting dresses available at Pegeen.com.
Captivating Gray Tulle Flower Girl Dresses
These flower girl dresses features a range of breathtaking gray tulle flower girl dresses that effortlessly blend sophistication and charm. The ethereal quality of tulle adds a touch of enchantment, making these dresses a perfect choice for Jewish weddings where timeless beauty is celebrated. We understand the significance of incorporating tradition into modern-day weddings. Our gray tulle flower girl dresses embrace this balance, paying homage to tradition while embracing contemporary elegance. The soft gray hue symbolizes grace and refinement, complementing the wedding ambiance with its understated beauty. This was accomplished by a few minor changes to Pegeen's Couture Style 931 - with sleeves and rhinestones appropriate to each age group.
Exceptional Craftsmanship and Attention to Detail
At Pegeen.com, we take pride in our commitment to craftsmanship and attention to detail. Each gray tulle flower girl dress is meticulously crafted by skilled artisans, ensuring the highest level of quality. Delicate embellishments, intricate lacework, and fine finishing touches adorn these dresses, resulting in creations that are true works of art.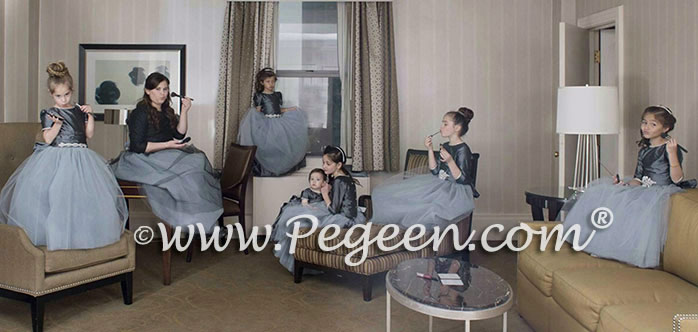 We understand the importance of comfort and freedom of movement for the flower girls. Our gray tulle dresses are designed with care to ensure that the little ones feel at ease throughout the wedding festivities. The lightweight and airy nature of tulle allows for effortless twirling and dancing, creating joyous moments that will be cherished forever.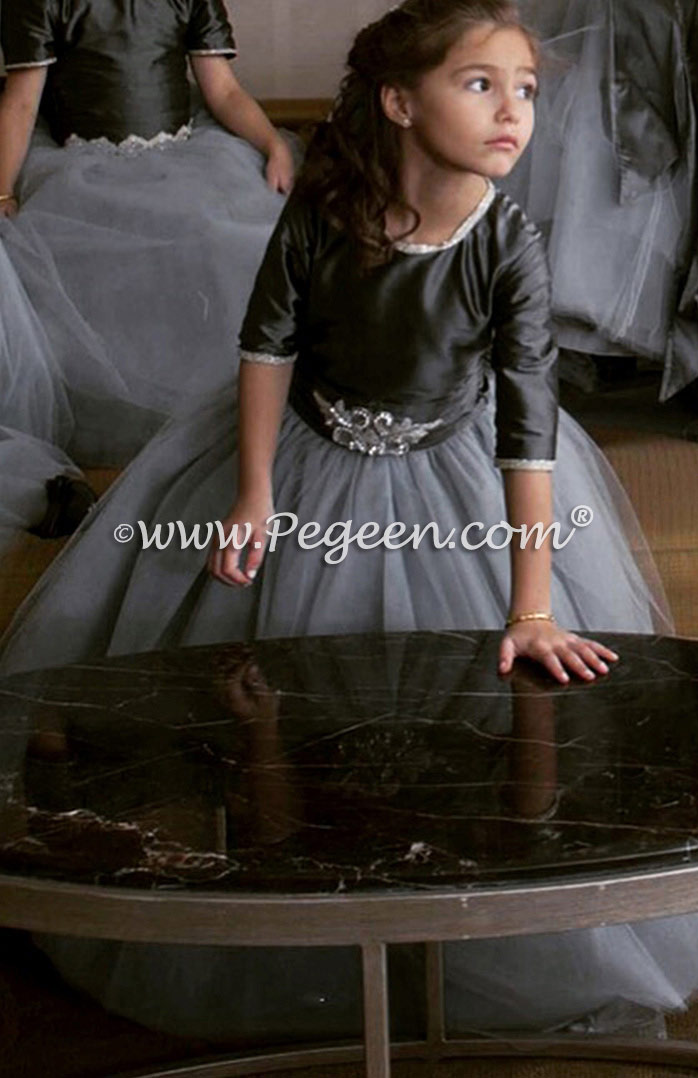 Gray tulle flower girl dresses harmonize beautifully with Jewish weddings, adding an element of grace and elegance. Whether it's a traditional ceremony or a modern celebration, these dresses seamlessly blend with the rich traditions and customs, becoming a charming part of the overall wedding experience.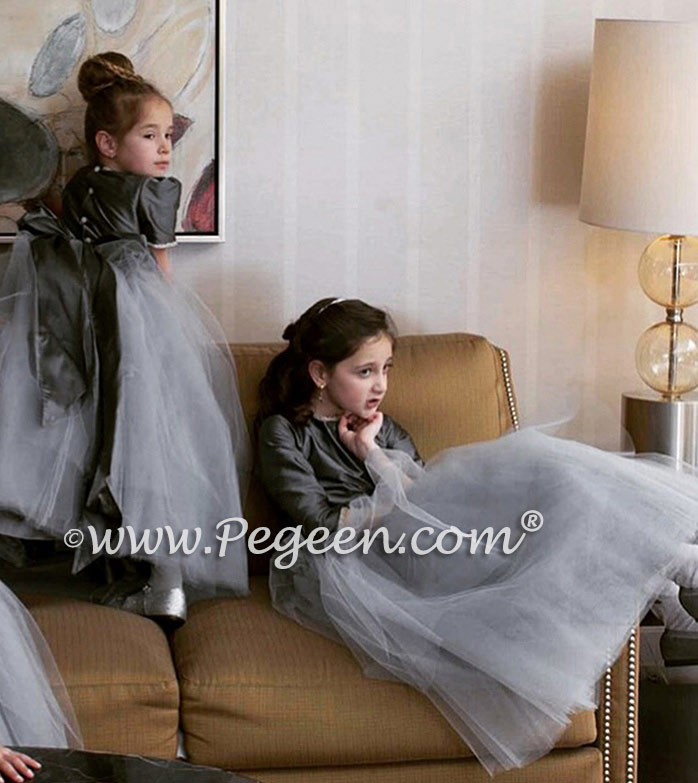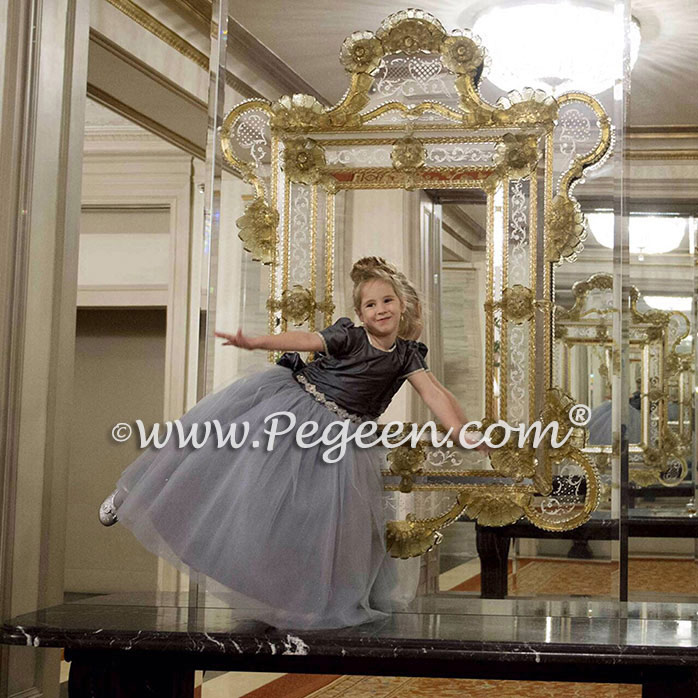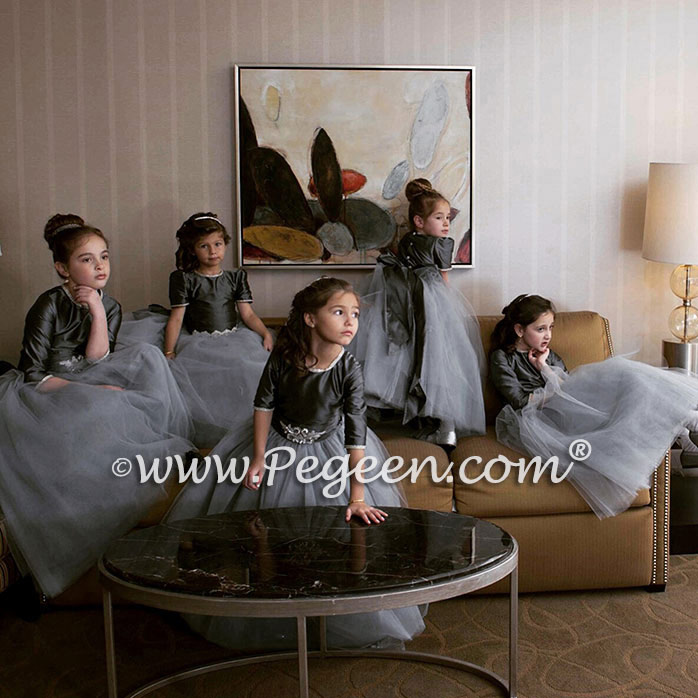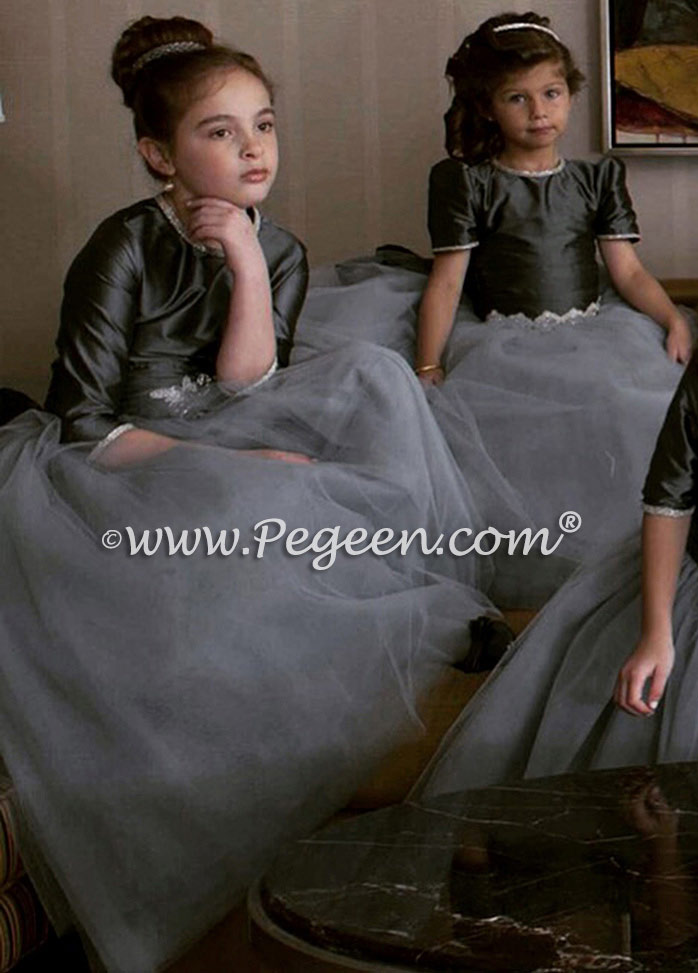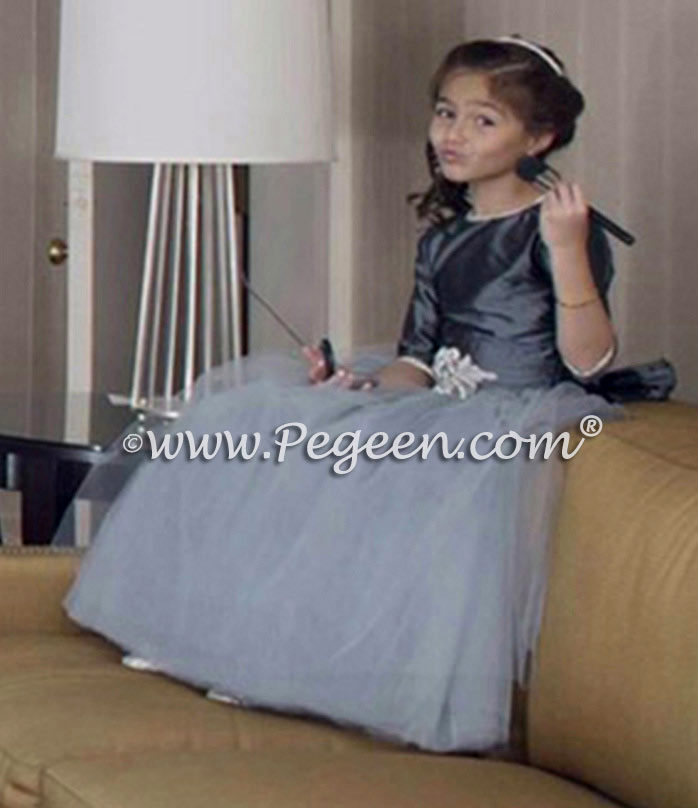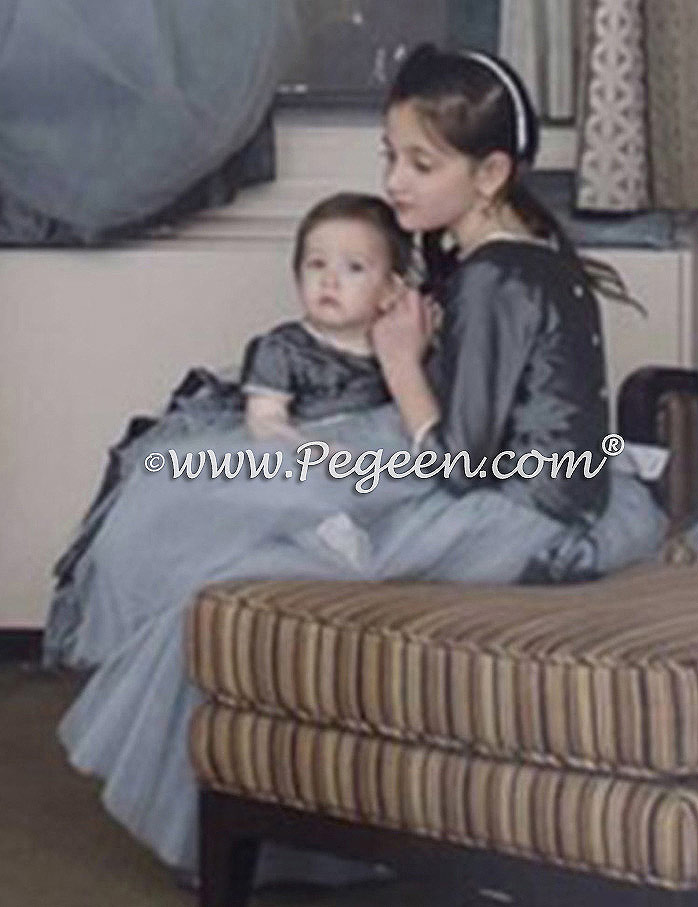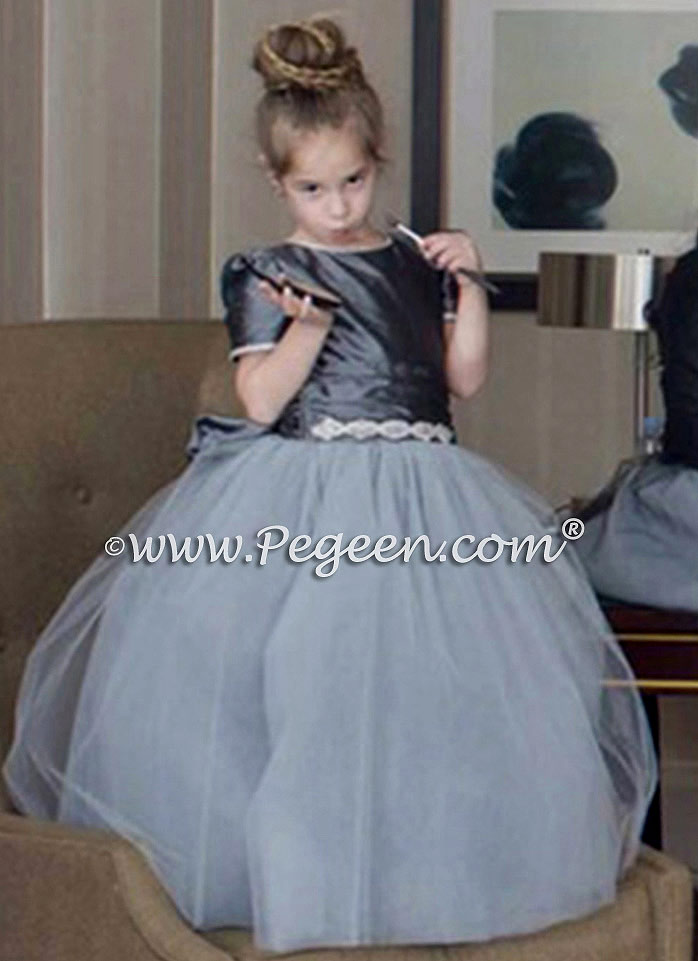 Visit Pegeen.com to explore our collection of gray tulle flower girl dresses and discover the perfect ensemble for your Jewish wedding. With our commitment to exceptional craftsmanship and attention to detail, we ensure that every dress exudes the essence of beauty and creates lasting memories for the flower girls and everyone involved in the celebration. Elevate your Jewish wedding with the captivating allure of gray tulle flower girl dresses. From the delicate layers of tulle to the exquisite craftsmanship, these dresses embody timeless beauty. Let Pegeen.com be your guide in creating extraordinary moments that will be cherished for a lifetime.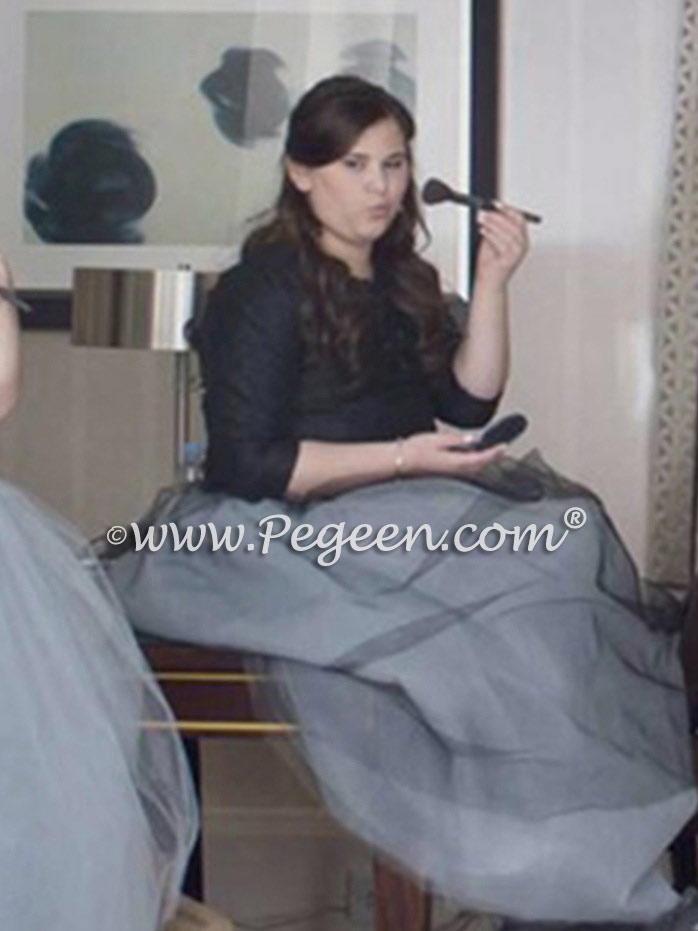 Pegeen Couture Style 931 Custom Silk flower girl dress with organza, silk base color with pleated sash. Junior Bridesmaids Dress with beaded trim at neck and sleeves with tulle skirt. Bodice is a drop waist. 3/4 sleeves. Sizes 6 - 16 only including plus sizes. Choose one color which is available in 260+ Mix and Match Color choices and attached crinoline/petticoat and lined with silk. Other options available such as longer sleeves or flowers at a slightly higher price
#pegeen #pegeendotcom #flowergirldress #tulleflowergirldress #kidscouture #princessdresses #americandesigner #batmitzvahdress #plussizegirl #weddings #jrbridesmaids #jewishwedding #girlsdresses #chupah #weddinginspiration #childrensphotography #weddingphotography #weddingday #juniorbridesmaids #littlegirlsdresses #littleprincess #bestflowergirlever #tulledress #juniordress #juniorbridesmaid #juniorbridesmaiddress