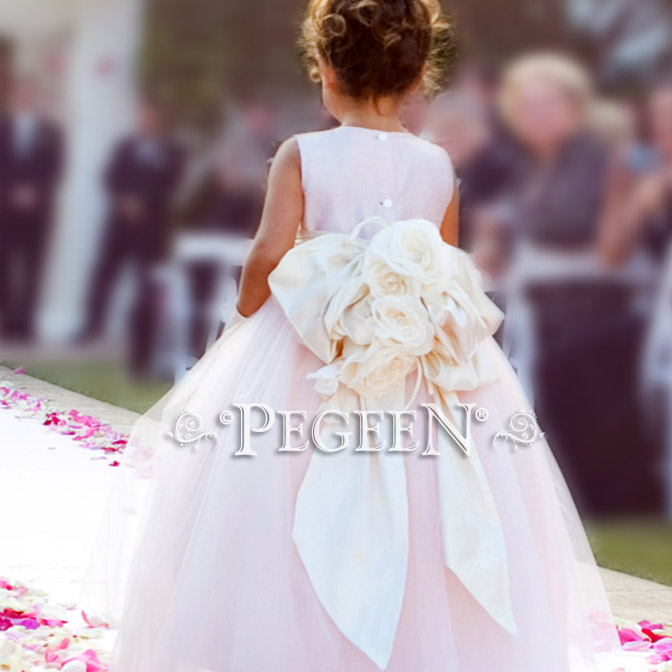 Pegeen Signature Bustle created for this special wedding
Our flower girl dress with multiple layers of tulle with a bisque Pegeen Signature Bustle is one of our most favorite flower girl dresses that we make.
When Pegeen works with a customer for their flower girl dresses for the wedding party, we make sure we ask about the time of year, time of day and importantly the colors a customer is thinking for their wedding. Take into account your wedding's theme, the dress code, the season, and the venue while deciding on the ideal hue for your flower girl's attire.

Why is color so important?
The hue you choose may depend on all of these elements. A traditional white flower girl dress is a lovely option for a more traditional wedding. BUT with Pegeen.com you can choose from any of our 200 colors of silk to match any theme! If your wedding is out of the ordinary, think about wearing a dress that reflects your personalities as a couple. You can choose a flower girl dress that is the same color (or a shade close to it) as the junior bridesmaid or bridesmaid dresses to create a uniform look, or you can draw inspiration from your wedding's colors or even flowers. The color and style selection should fit with the overall style and mood of your wedding.
You may already be aware that flower girls are customarily the last members of the wedding party to make their way down the aisle before the bride during wedding ceremonies (or whichever member of the couple is not waiting at the altar already). They frequently throw flower petals and play a memorable and cute part in a wedding, therefore they'll need attire appropriate for the event. There are many different lengths and silhouettes of flower girl dresses including this style, our Pegeen Signature Bustle which is pictured below. The dress is accented with multiple handmade, hand rolled flowers made of silk.