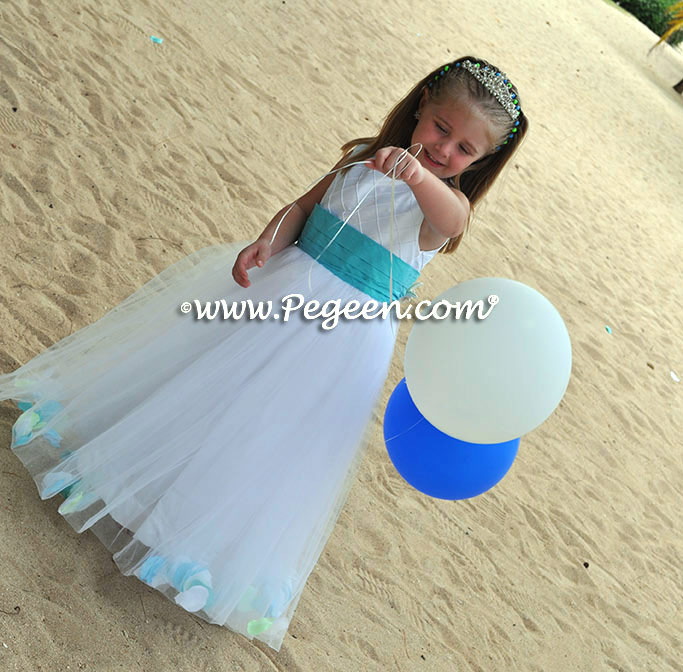 Ideas for beach style flower girl dresses
Beach weddings have become a trend where the sky sets the background, soft and gentle waves are a part of the music and sunshine is a natural source of lighting. It is a romantic wedding setting for any happy couple.
The beach venue is unique and requires some thought, especially when it comes to the dresses. Adults can manage their dresses and stay comfortable but those sweet little flower girls need to be given every advantage in comfort and utility. They can be one of the highlights of your wedding and you would always want them to look perfect. So, here is what you should pay particular attention to while choosing flower girl dresses:
 Consider the length of the dress
Beach means water and sand everywhere. So, keep the length of the dress at ballet length, so it does not drag through the sand and catch on twigs or anything else in the sand. Ballet length is 4" above the ankle and it is usually a good idea to have the hemline no longer or even shorter. One all too common mistake is to have the flower girls wear the dresses to the floor. Little girls look awkward when the dress hits the floor, I always look at it as ill-fitting, like it is a borrowed dress. If it is dragging through the sand and surf it will look ragged in no time. The worst feature of a floor length dress on a little girl is that she is much more likely to step on the dress and trip and fall. At best there would be a food or drink spill and at worst, an injury. Ballet length is the way to go, think of the timeless glamour of Audrey Hepburn and all the Hollywood legends. You can't go wrong with classy.
 Think about the comfort of the girls
A beach wedding will most likely and hopefully means warm temperatures and sunshine so you should consider having the girls wear sleeveless dresses. If your wedding colors allow, you should use the lightest colors you can, so the sun reflects off the dresses. Dark colors will absorb the heat and make them uncomfortable. The color should be casual as per the environment, an ocean theme with colors like blue, aqua and a sandy tan. The color should go well with the bridesmaid's dresses. Remember, sand can get very hot so make sure the little ones have sandals to protect their feet.
 Have fun with accessories
You can have a lot of fun with the accessories like a seashell hair clip or hair wreath. Pegeen has dress styles such as Style 333 which features flower petals of your color choice and seashells and starfish in between the tulle skirt layers.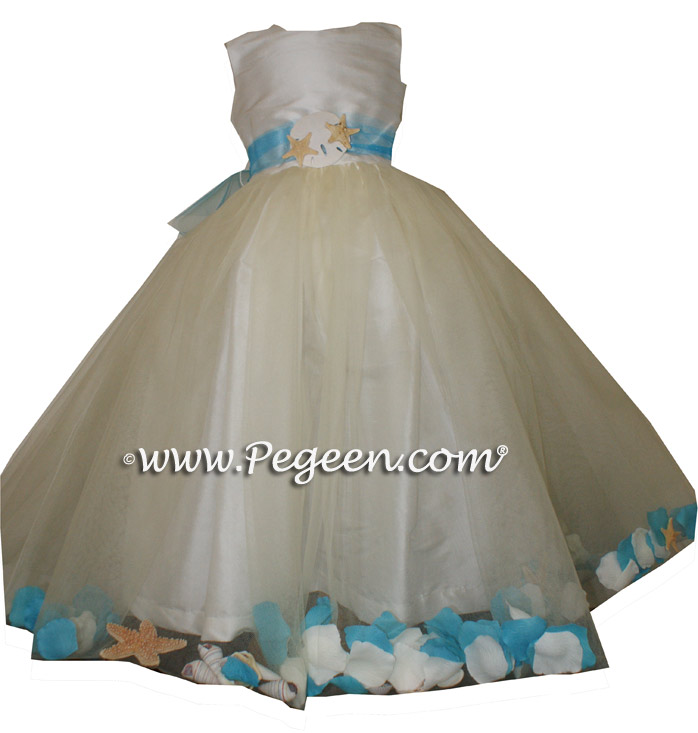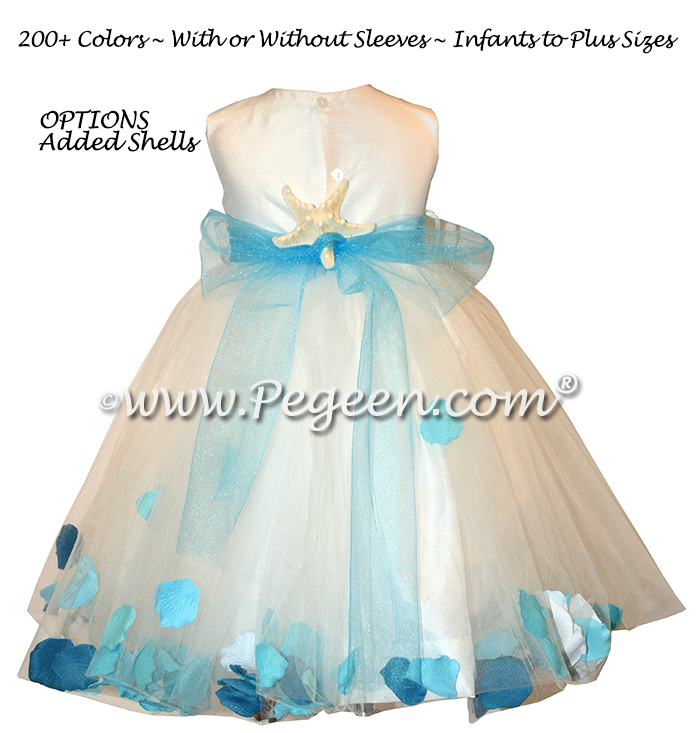 Here are a few more of our favorite beach wedding flower girl dress styles: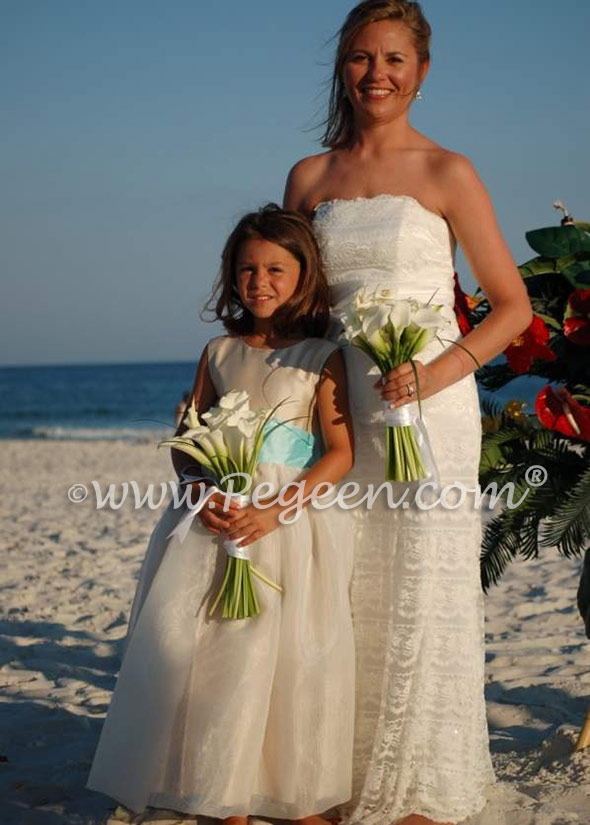 Above, style 326 in organza and pond blue silk for the sash.
Above, style 398 in bright summer inspired colors of lipstick and hydrangea silk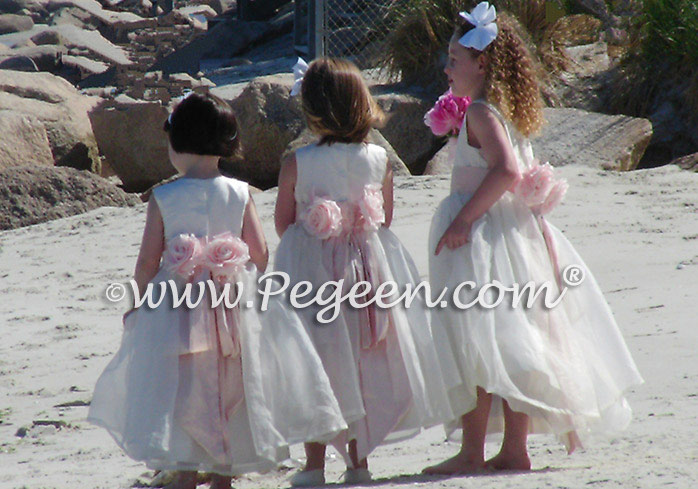 Above, style 313 in organza and blush pink silk for the sash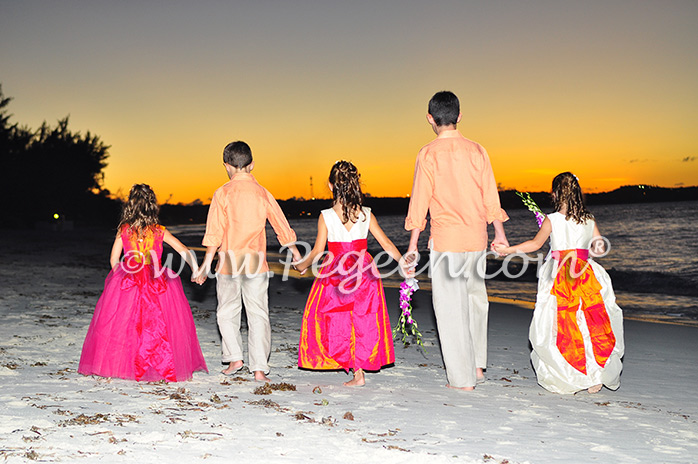 Above, hot tropical silk colors of boing and mango, styles l to r, 402, 345, 403