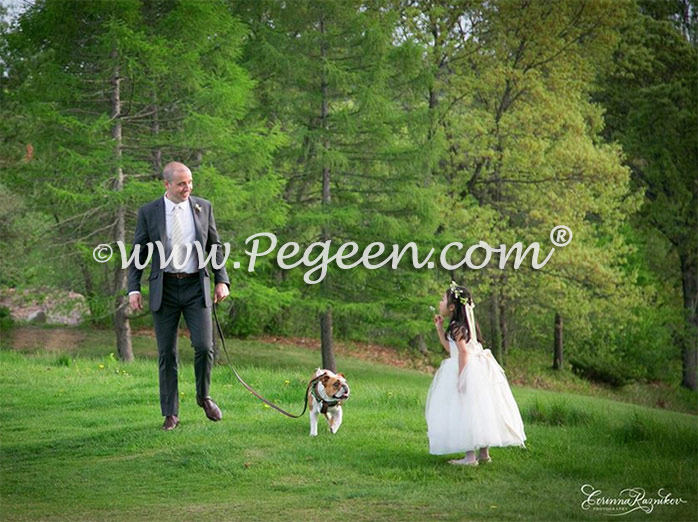 Flower girl dress with ivory tulle and silk with a pale bisque sash to coordinate the complete look
Pegeen's boutique offers a wide range of stunning flower girl dresses for any wedding or special occasion. From classic to modern, Pegeen's dresses are sure to make any little girl feel like a princess on her big day. But what sets Pegeen apart from other boutiques is their commitment to providing a personalized shopping experience.
Pegeen's team of experts is dedicated to helping customers find the perfect dress for their little girl, and they go above and beyond to ensure that every detail is just right. One of Pegeen's unique strengths is their ability to help customers design a custom flower girl dress.
If you have a specific vision in mind for your flower girl's dress, Pegeen can work with you to bring it to life. Their team of designers will guide you through the process of selecting fabrics, colors, and styles to create a one-of-a-kind dress that perfectly matches your wedding theme and your flower girl's personality.
Pegeen understands that every customer is different, and they strive to make the dress design process as easy and stress-free as possible. Whether you're a bride-to-be looking for the perfect flower girl dress or a mother-of-the-bride who wants to create a unique look for your granddaughter, Pegeen is here to help. Their personalized approach ensures that you will receive a dress that exceeds your expectations and makes your flower girl feel like a true princess.
Design your version of a flower girl dress using Pegeen's flower girl dress custom program called The Pegeen Dress Dreamer. Pegeen Dress Dreamer virtual closet Style 402 was used for this flower girl at a lovely outdoor wedding. The bride choose New Ivory and trimmed it with a bisque sash. 100% Pure Silk. Try our Dress Dreamer and create your own style!