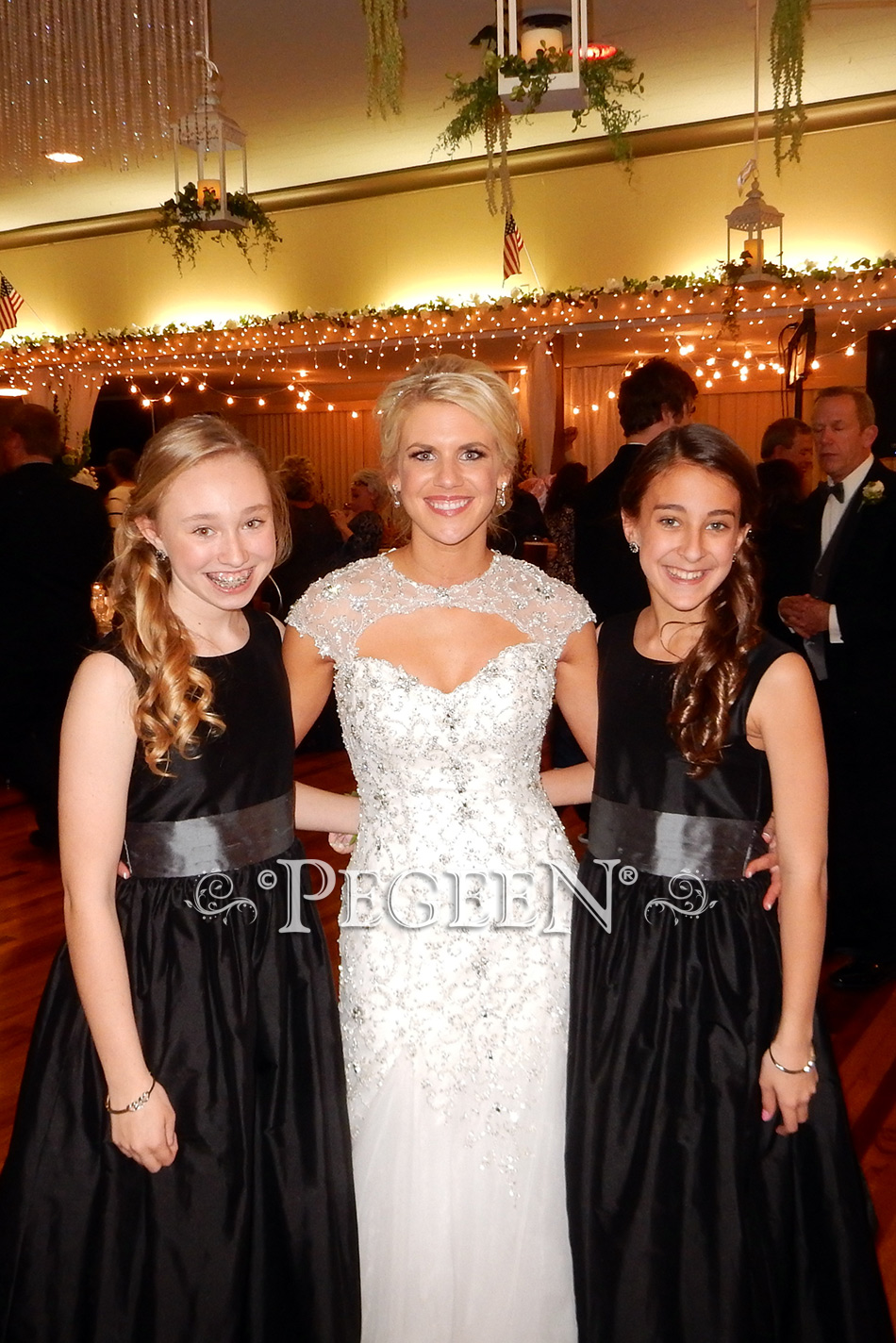 What's a mother to do when the bride wants black on young girls in her wedding?
The bride's mother had concerns about whether black was an appropriate color for Jr. Bridesmaids dresses, but the team at Pegeen Dress Dreamer was able to put her worries to rest. They provided many examples and even sent free swatches in the mail to help her make a decision. After much consideration, they ultimately settled on a beautiful color called Arial Blue for the sash, which was made of black silk that was woven in the opposite direction (cross weave).
The Jr. Bridesmaids wore Pegeen Dress Dreamer's Style 388, which was customized to add extra length to their dresses. The dresses were made of 100% pure silk, ensuring that they looked and felt luxurious. The team at Pegeen Dress Dreamer prides themselves on offering their customers the ability to create their own unique style, and they encouraged the bride's mother to try their Dress Dreamer tool to design a look that would perfectly suit her daughter's wedding.
In addition to the Jr. Bridesmaids dresses, Pegeen Dress Dreamer also provided the Flower Girl Dress Style 398 in the same arial blue and black silk combination. This ensured that the flower girl looked perfectly coordinated with the rest of the bridal party.
Overall, the team at Pegeen Dress Dreamer was able to provide the bride's family with the perfect dresses for their wedding. They listened to their concerns and worked with them to create a look that was both beautiful and appropriate for the occasion.
To build your own personalized and custom flower girl dress, visit our Pegeen Dress Dreamer at this link: Pegeen Flower Girl Dress Style 398 in arial blue and black silk
This silk flower girl dress in black silk for two Jr Bridesmaids who attended their cousin's wedding.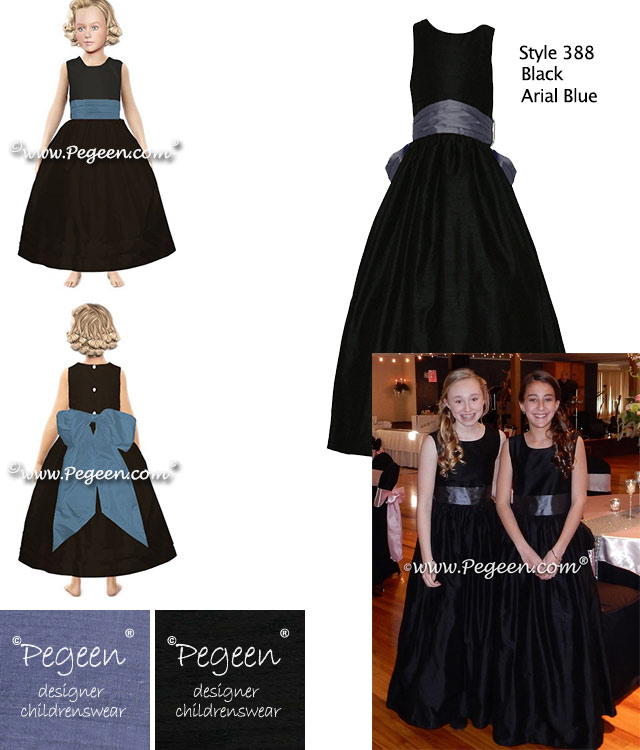 PEGEEN CLASSIC STYLE 398 Custom Silk Junior Bridesmaids Dress with exaggerated scoop. Comes with ruffled sash but you can add a pleated sash under options. Choose up to 3 colors, for the bodice (top), skirt and sash which is available in 200+ Mix and Match Color choices and mother of pearl button closure. Dress has a full gathered skirt with a ruffled sash in front of the dress and a large sash that you tie in a bow. All of our skirt lengths are ballet length, meaning just three or four inches above the ankle which can be customized as well. Includes your choice of short sleeves or sleeveless tank, other options available such as sash changes or flowers at a slightly higher price. See options below. Available from 4R through Plus Sizes, attached crinoline/petticoat and lined with silk.