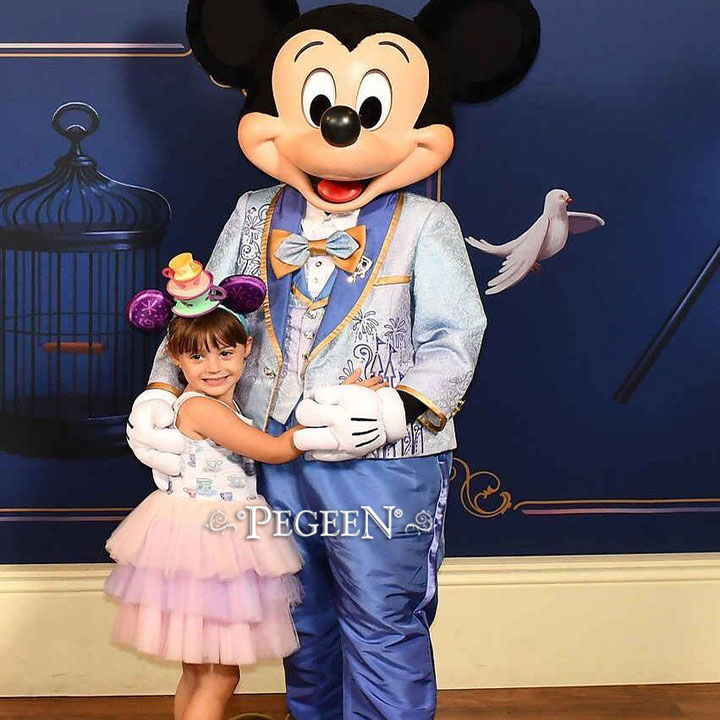 A princess dress for your Disney hugs
We were thrilled when one of our customers, who happens to have one of the best "mommy" blogs for Orlando residents, sent us these adorable photos of her daughter wearing our Teacups "Wonderland" dress from our Everyday Collection. The whimsical print of this dress was exclusively designed by one of our talented staff artists and features all the pale colors inspired by the enchanting Mad Hatter Tea Cup ride at Magic Kingdom in Walt Disney World. But that's not the main focus of this post. What truly brings us joy is seeing the beloved characters back in the park, freely hugging the kids again! We couldn't contain our excitement, and we had to share this post right away.
Whether you're a local resident or visiting Disney from afar, we invite you to explore our full collection of Princess Dresses. And if you're in search of the perfect flower girl dresses, we are more than happy to assist you over the phone or in person. At Pegeen, we ship worldwide, ensuring that everyone can experience the magic of our dresses.
Join the Mad Hatter for a delightful Tea Cup Spin with our Teacups "Wonderland" dress! This dress features a slip-over-the-head style with a ruffled tulle skirt and is knee-length for added comfort and mobility. The tank-style design adds a touch of playfulness. Available in sizes ranging from 12 months to Size 12R, this dress even comes with separate shorts for added convenience. Whether you wear it to The Parks for a whimsical adventure or to a Mad Hatter Tea Party, this dress is durable enough for everyday wear. And when it's time for cleaning, simply toss it in the washing machine and hand dry for quick and easy maintenance.
At Pegeen, we understand the importance of creating dresses that not only capture the imagination but also withstand the wear and tear of everyday adventures. We strive to provide exceptional quality and design in every piece we create, ensuring that your little one can make lasting memories while looking and feeling like a princess.
So, whether you're ready to take a spin in the Teacups "Wonderland" dress or explore our other Disney inspired enchanting designs, we're here to make your shopping experience memorable and enjoyable. Join us in celebrating the return of the huggable characters and the magic of Character Dining at Disney. Together, let's create cherished moments that will be treasured for a lifetime.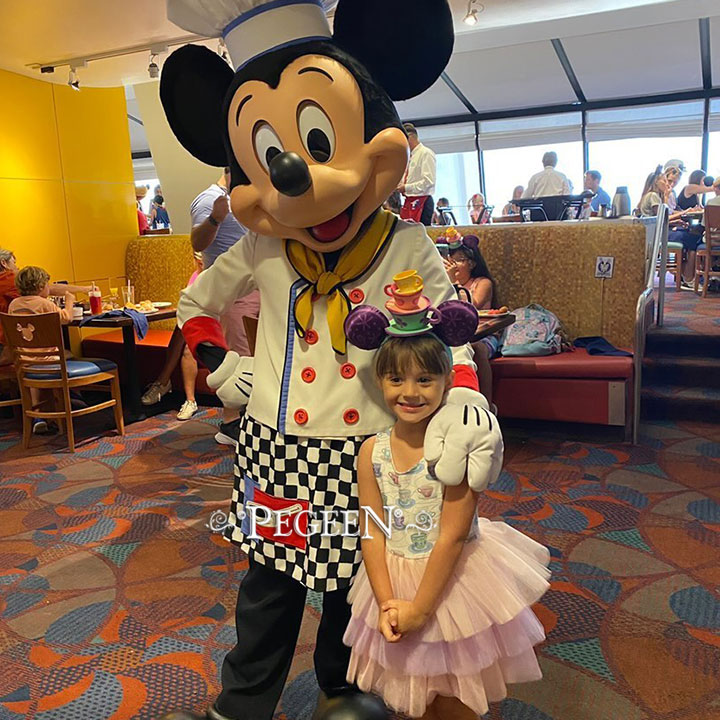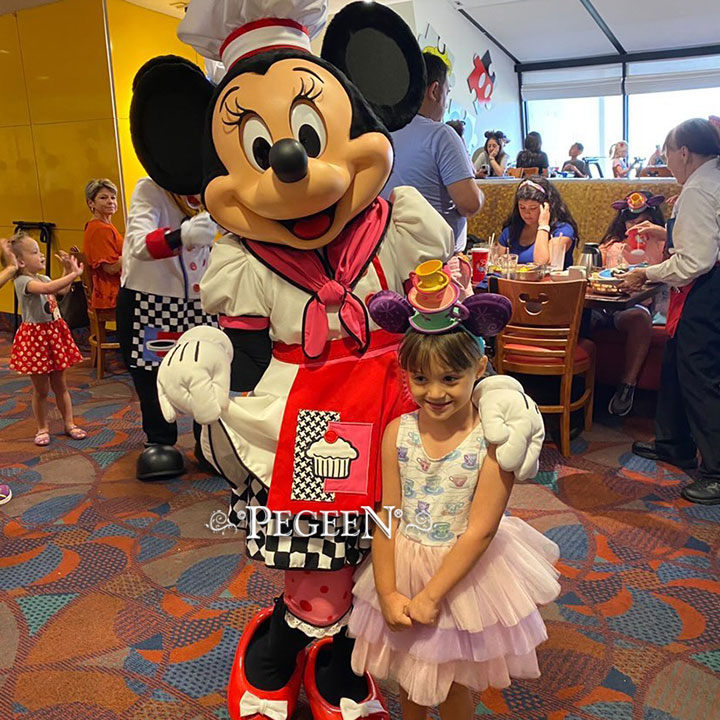 Curiouser Tea Cup print bodice
Unlined, triple tulle skirt
Tank Style
Shorter, knee length
12 Months to Size 12R
Includes matching shorts
Machine wash, hang dry
Just a reminder – although we sell exclusively online, if you are visiting Orlando, we are located just 1.25 miles from Disney World. Call to visit our factory or design studio. Appointments required. 407-928-2377