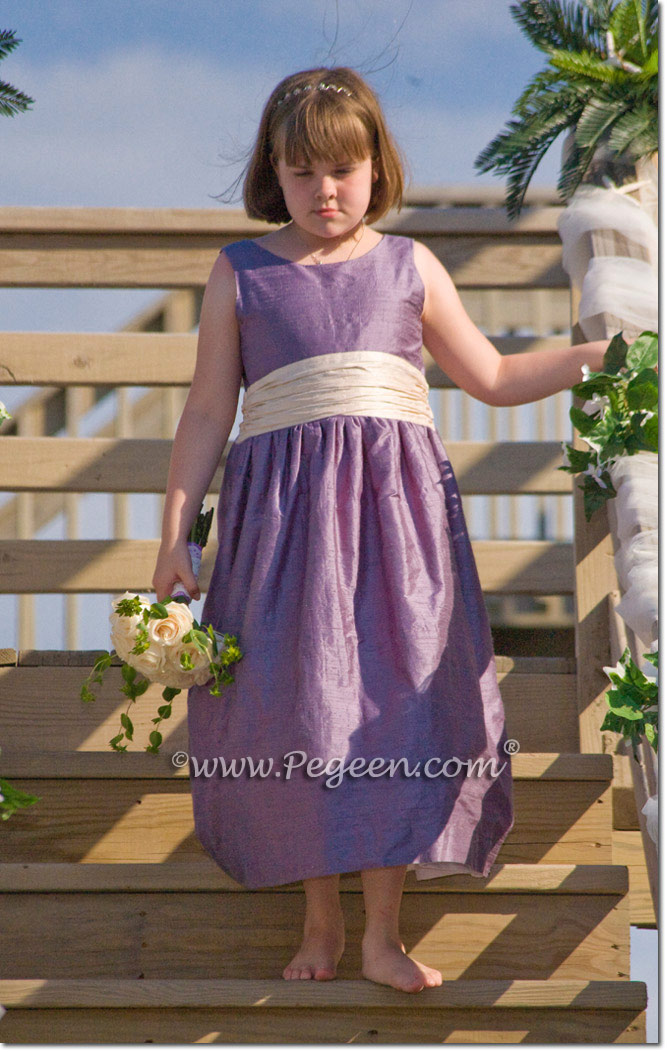 How we ensure your flower girl dress fits just right
Pegeen's unique formula and care about its creations and customers is proven though the strong referral and repeat business that they do. Moreover, Pegeen has a fantastic Plus Size Flower Girl Dress Fit program that is so easy and so good that we guarantee the fit, everytime.
Since we are manufacturers of flower girl dresses, one of the great number of requests that we get in addition to adding ¾ sleeves to our flower girl dresses for our Jewish clientele, is that for plus size flower girl dresses.
Pegeen's Plus Size Girl Division is dedicated to addressing the diverse needs of plus-size children. We understand the importance of providing options that cater to their unique requirements, ensuring they feel comfortable and confident in their attire. Our program is designed to offer a seamless and personalized experience for these young ladies.
The process begins by sending a bodice in the mail, allowing them to try it on in the comfort of their own home. This step is crucial in ensuring the perfect fit for their flower girl dress. Our team of experts then works their magic, making any necessary adjustments to guarantee a flawless fit that enhances their natural beauty. The effectiveness of this approach was recently acknowledged by a mother of a plus-size child, who expressed her delight with the program, referring to it as "magic in a box."
Pegeen's commitment to creating a positive experience extends beyond just finding the right fit. We understand that confidence plays a significant role in how a young lady feels in her flower girl dress. To further enhance this confidence, we have introduced a new feature that allows you to virtually coordinate the attire of your flower girl and ring bearers. This innovative tool enables you to visualize and coordinate different elements, ensuring a cohesive and harmonious look for your wedding party. With this feature, you can feel confident in your choices and create a coordinated ensemble that reflects your unique style and vision.
Marg Hyland, the President and CEO of Pegeen®, emphasized the importance of ensuring that young ladies feel confident in what they wear as flower girls. This new feature not only streamlines the coordination process but also empowers you to make informed decisions, creating a memorable and visually appealing ensemble for your special day.
Pegeen® is dedicated to providing exceptional service and addressing the needs of plus-size children, ensuring they have a positive and enjoyable experience when selecting their flower girl attire. With our personalized approach and innovative tools, we strive to make every young lady feel beautiful, confident, and excited to fulfill their role on your special day.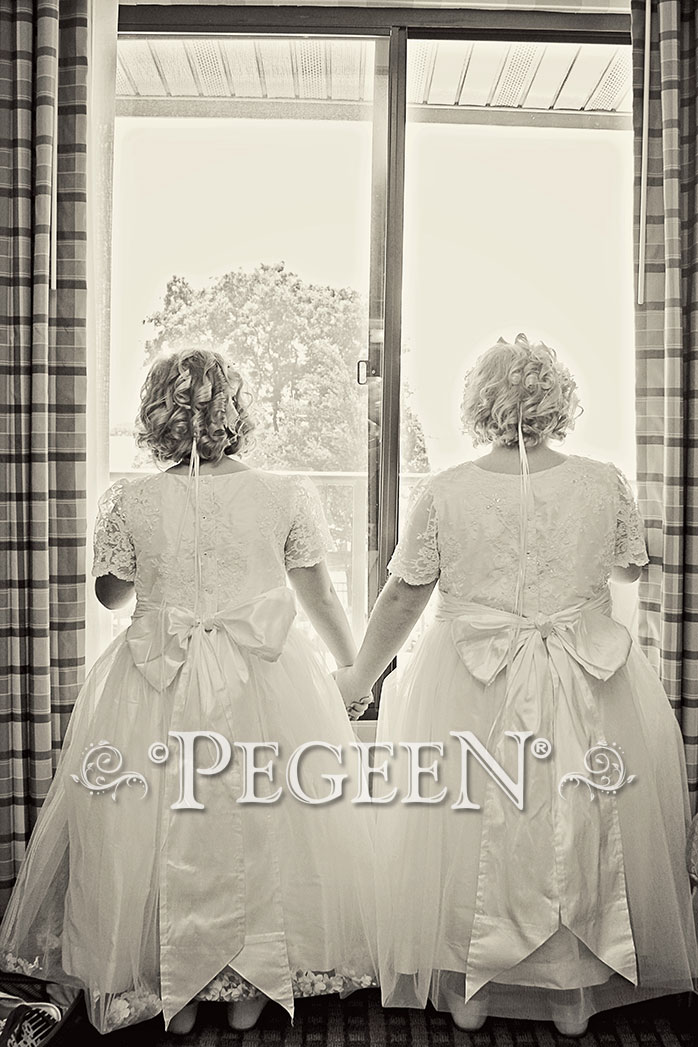 SPECIAL FIT is for girls who are just too hard to fit - sometimes they are very thin and others are stocky. The charge is $30 for chest sizes over 34 1/2" and covers all the adjustments that we need to make. You can choose these options by choosing, as you go to order, the pulldown menu for SPECIAL SIZING. We need the height, chest, waist and hips when you go to check out.
If a child doesn't need a bodice fit - the charge is just $20.
For PLUS SIZES we will send a Bodice in the mail which is made out of a muslin material. You will try on this pattern/muslin and get back to us with any further fit issues. Be sure to have a digital camera ready when it arrives. After the fit is finalized, we use our copy of the same muslin here and proceed to make your dress. "My staff and I are really good at spotting the problems. Once the digital pictures are sent back to us experience and a little programing magic, produces the changes that need to be made to the pattern. I really scare my kids sometimes when talking on the phone to customers. After they give me the measurements and height, I usually guess their weight within a pound or two. It amazes my kids but reassures the customer that we know what we are doing! I was especially happy when a recent customer said to me 'ITS LIKE MAGIC IN A BOX' and that pretty much says it right there."
OUR HISTORY: In 1982, innovative designer Marg Hyland formed her company PEGEEN®, and created an affordable line of couture quality Flower Girl Dresses and Ring Bearer Suits. Since that time PEGEEN became the first children's apparel company on the internet and is constantly striving to use the latest web innovations in order to sell her now online-only creations. "We have created a very practical and simplistic approach in order to sell our custom designed clothing in the easiest and most forthright presentation so that customers can now buy our dresses at Direct-from-Manufacturers pricing. This includes custom bodice fitting, guaranteed sizing, virtually any color combination a bride or mom can think of, and easy, fast delivery right to their doorsteps in record time. We produce everything in our own factory here in the US and we are very proud of it. Our success rate is fantastic and 100% - we know it by the amount of referral and repeat business we do! Imagine, customers who were once wearing our dresses as flower girls themselves are now ordering for their children! " said Hyland.