This eggplant flower girl dress was beautiful for this October Wedding
Visit this October Wedding with the Enchanting Eggplant Flower Girl Dress
Prepare to be mesmerized by the beauty of this October wedding, where the bride's choice of flower girl dresses left us in awe. The stunning flower girl dress in a captivating eggplant hue, known as Pegeen Classic Style 402, added an extra touch of elegance to the occasion.
From the moment the little flower girl walked down the aisle, wearing the enchanting eggplant dress, it was clear that this wedding was something truly special. The deep and rich color beautifully complemented the autumn atmosphere, creating a mesmerizing visual display that captivated everyone's attention.
Pegeen Classic Style 402 proved to be the perfect choice for this magical day. The dress exuded grace and sophistication, featuring a timeless design that enhanced the beauty of the flower girl. The attention to detail and impeccable craftsmanship made it a standout piece, seamlessly blending with the overall aesthetic of the wedding.
Not only did the eggplant flower girl dress steal the show, but the bride's choice of flowers also added to the enchantment. The combination of colors and textures created a harmonious ambiance, where every element worked together to create a truly unforgettable experience.
Witness the magic of this October wedding, where the allure of the eggplant flower girl dress and the captivating floral arrangements came together in perfect harmony. Immerse yourself in the beauty of this remarkable occasion, where love, elegance, and the enchantment of autumn filled the air.
Join us as we celebrate this unforgettable wedding, where Pegeen Classic Style 402 took center stage, radiating elegance and charm. Be inspired by the splendor of the eggplant hue and the undeniable beauty it brought to this October celebration.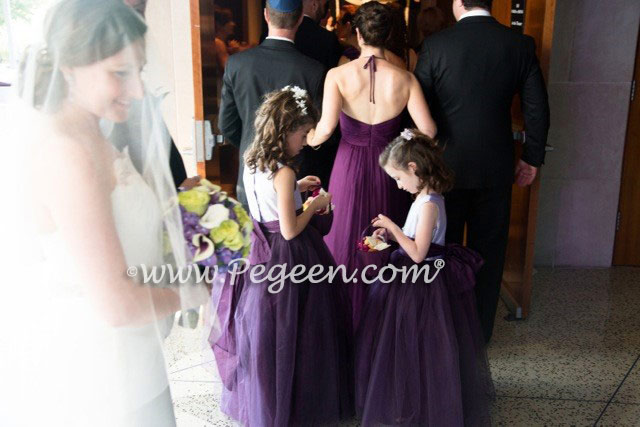 PEGEEN COUTURE STYLE 402 Degas inspired Custom Silk Flower Girl Dress
and ruffled silk sash and 10 layers of tulle over a layer of silk and a petticoat. Choose up to 3 colors, for the bodice (top), skirt and sash which is available in 200+ Mix and Match Color choices and mother of pearl button closure. Dress has a full gathered skirt with a ruffled sash in front of the dress and a large sash that you tie in a back bow. All of our skirt lengths are ballet length, meaning just three or four inches above the ankle or you should include a "belly button to finished" custom length at no extra charge with your measurements. Includes your choice of short sleeves or sleeveless tank, other options available such as sash changes, longer sleeves at a slightly higher price. See options below. Available from Infant through Plus Sizes, attached crinoline/petticoat and lined with silk.