When the Big Box Bridal Store treats your little girl like ...well you know
When planning for your own wedding day, there are zillions of things to decide, particularly the gowns you, your mom, and your bridesmaids are going to wear on that special day of your wedding. But don't forget about those little scene-stealers, your flower girls. Every eye will be upon these adorable little angels as they precede your grand entrance. They will set the stage for you, so you want them to be adorned in the most magnificent outfits imaginable. Your guests want to be enthralled by their innocence and beauty as they walk wide-eyed down the aisle. You can almost hear the collective "ooh, aahhhh" as they make their appearance. Their dresses are a reflection of your style and your taste, so you don't want to settle for just any dress, this is a once-in-a-lifetime event and you will want to make it as memorable as you can. Especially so now, when every guest is a videographer with their phone, and you can bet that your walk down the aisle will be posted on some of your guests' social media before the ceremony has even concluded.
Now, what do you do if your flower girls are hard to fit or if they are plus size?
At Pegeen, we understand this better than anyone else in the industry. We have been dressing hard to fit and plus size girls (and boys, don't forget the ring bearers!) for 40 years. We have a wonderful custom fit system where we ask for standing height, chest and waist. You can measure your child yourself, there is no need to go to a tailor. You simply get a soft tape measure from the grocery store in the aisle where they have sewing notions, the section that you have passed by a hundred times without noticing. Take their measurements, we will gladly walk you through it, please call us. With the measurements you give us, we send you a throwaway top for your child to try on. If it fits, we make the actual dress from the pattern and we know it will be a perfect fit. If adjustments are needed you simply send us a photo and we make alterations and send another top. No one has ever needed a third try-on.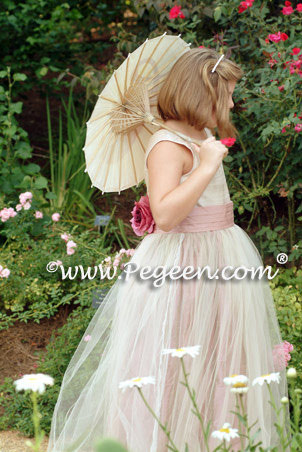 In the last ten years, we have only had to exchange one dress for sizing issues, and in that case the customer measured wrong, she augmented the numbers to allow for growth. You don't have to do that; we take care of everything. For instance, do you know that children grow more rapidly in the summertime than they do in winter? We know. We take the worrying out of the process and we're happy to give free advice, if you'd like.
But perhaps the most compelling reason to choose Pegeen for your plus size girl is that we are sensitive to her feelings. We want her to feel like a little princess, she deserves to feel like a little princess. We will never mention her weight if she is within earshot when you are on the phone. We don't have a Plus Size page where she might see herself and feel hurt, self-conscious, or embarrassed. If you send us photos, and we love to get photos or videos, her photos are treated like all the other princesses and spread throughout the website like all our clients.
We were in a bridal shop years ago when we overheard the proprietor tell the mother of a plus-size girl "We don't fit her kind, maybe find her a bridesmaid's dress and cut the length down". If you could have seen the look on that child's face, you would know why we have made it our mission here at Pegeen to ensure no child ever has to hear something like that.
We are here to help; our sizing is guaranteed, and our customer service is impeccable. Forty years of experience for you to benefit from.