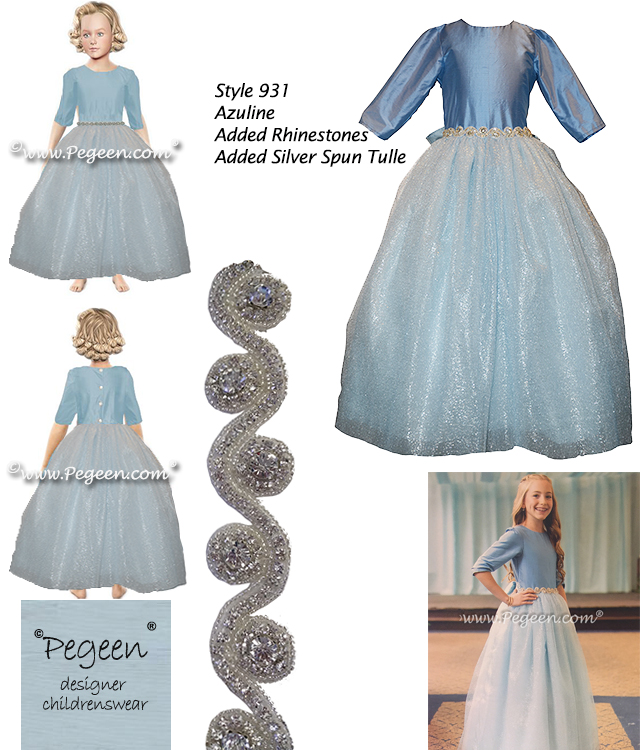 Plenty of bling for that evening wedding
We used our Pegeen Dress Dreamer to help create this Jr. Bridesmaids Dress in blue silk. Blue and Silver Jr. Bridesmaids Dress with 3/4 Sleeves Flower Girl Dresses, Jr. Bridesmaids Dress, Tulle Flower Girl Dress Pegeen Dress Dreamer virtual closet was used to create this Jr. Bridesmaid dress in powder blue with a shimmer tulle of blue with 12 layers. A wavy rhinestones topped off with a silver spun tulle skirt completes the look.
We customized the dress for this Jewish wedding by multiple layers of blue, silver and ice blue tulle but put a layer of silver spider tulle under the top layer. Additionally, she requested a larger rhinestone waistline piece and it was done in our color of silk called French Blue. Whenever we design a dress for a customer, we ask for a detailed rundown of the dresses used for the wedding party to best coordinate the flower girls or junior bridesmaids. In this particular instance, the brides mother and the girl's two older sisters used a beautiful floral print which we went crazy over. We suggest when you are ready to choose your dresses for your affair to make sure you contact us in a chat or simply pick up the phone as we want your day to be as perfect as can be!
Try our Pegeen® Dress Dreamer™ and create your own style! Just a reminder – although we sell exclusively online, if you are visiting Orlando, we are located just 1.25 miles from Disney World. Call to visit our factory or design studio. 407-928-2377