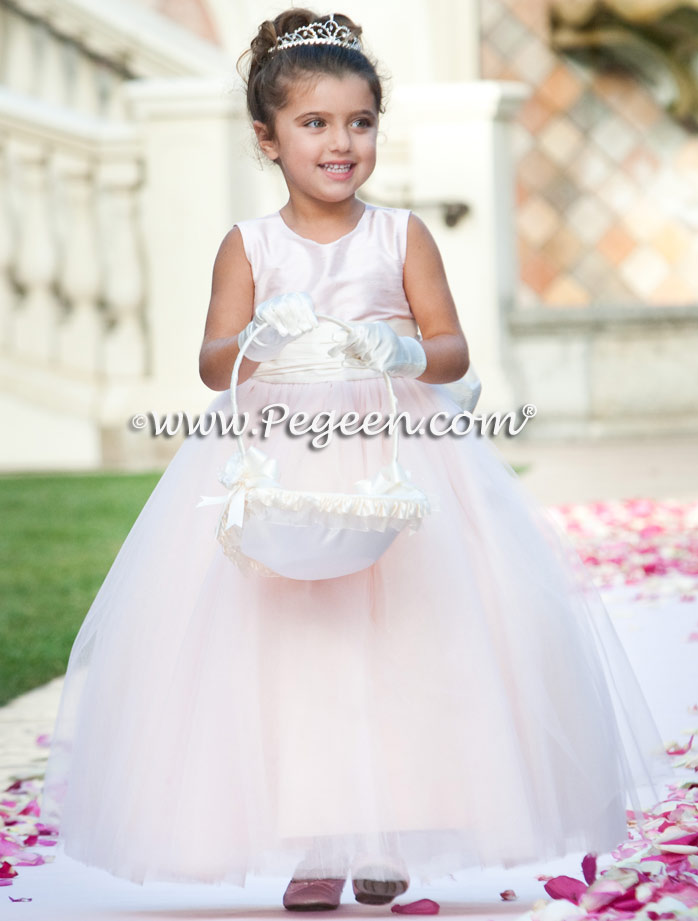 Our philosophy for 40 years is simple - Make beautiful dresses
At PEGEEN Children's Formal Wear, our commitment is to make your special day truly exceptional. We take immense pride in welcoming all our brides into our extended family, and nothing brings us greater joy than hearing the delightful exclamation, "Wow, your prices are fantastic!" We believe in offering a superior, high-quality product that is proudly Made in America, combining impeccable craftsmanship with unparalleled customer service.
When it comes to sizing, we excel in providing a fantastic range of options to ensure the perfect fit for every child. Our dedication to quality is evident in our choice of fabrics, with REAL silk being the primary material we use. Unfortunately, the online marketplace is rife with deceptive practices, as some Chinese sites masquerade as US-based sellers, shamelessly stealing our photography and passing off counterfeit products made from subpar materials like polyester and nylon, with mismatched colors. Even more dishearteningly, certain American online stores propagate falsehoods that undermine the integrity of the industry.
One of our favorite examples of such misleading claims was spotted on an online store's description of "SHANTUNG SILK": "Shantung can be created from a weave of silk or synthetic fibers. Even when made from synthetic fibers, shantung is a spectacular fabric. It has the look of silk but is a much less expensive option." Reading such statements makes us feel utterly appalled. Silk, in its true form, is an extraordinary fabric for children's formal wear. It possesses exceptional qualities, such as being breathable and temperature-regulating, ensuring comfort for little ones. Furthermore, silk maintains its pristine appearance over time, pressing up beautifully, and exudes an unmatched luxuriousness that sets it apart.
But I digress. At PEGEEN, we stand behind our promise of accurate sizing, impeccable fit, and, above all, your utmost happiness with our products. We are passionate about what we do, which is why we have been proudly accompanying brides down the aisle since 1982. Our love for our craft permeates every stitch and every detail, ensuring that your experience with PEGEEN Children's Formal Wear is nothing short of extraordinary.
So, whether you're seeking the perfect flower girl dress, a charming ring bearer outfit, or any other exquisite children's formal wear, rest assured that PEGEEN is here to make your dreams come true. We invite you to join our family and embark on a remarkable journey with us. With our unwavering commitment to quality, genuine silk fabrics, and exceptional customer service, we are ready to create unforgettable memories that will be cherished for a lifetime. Trust in PEGEEN's legacy of excellence, and let us make your special day truly extraordinary.
We love what we do, that's why we have been "Walking down the aisle with brides since 1982."