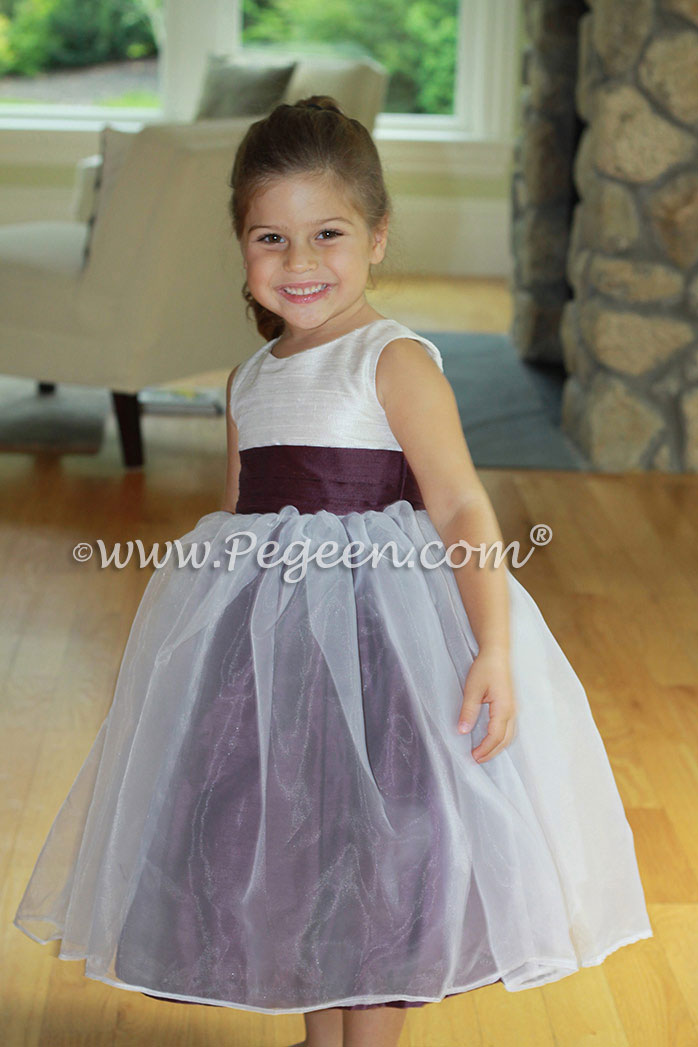 Providing excellent customer service is a cornerstone of any successful business.
Pegeen strives to exceed customer expectations at every turn. Recently, a customer contacted us in search of a silk flower girl dress to match the bridesmaids dresses she had purchased from a large box bridal store. The bridesmaids dresses were a deep purple color called Lapis, and the customer was having trouble finding a flower girl dress in a similar color.
At Pegeen, we understand the importance of matching colors perfectly, and we were happy to help this customer find the perfect dress. We happened to be planning a trip to CostCo that weekend, and since the bridal store was located in the same shopping center, we offered to pick up swatches of the Lapis color to ensure an exact match. This small gesture not only saved the customer time and effort but also showed her our dedication to going above and beyond to provide exceptional service.
Once we had the Lapis swatches in hand, we worked closely with the customer to design a beautiful flower girl dress that would complement the bridesmaids' dresses. The customer expressed interest in incorporating organza into the dress, and we suggested a classic style (Pegeen Classic Style 309) with a sweetheart neckline, made from antique white silk and deep plum-colored silk, a color we call 1000 nights. The result was a stunning dress that perfectly matched the bridesmaids' dresses while still offering something unique and special for the flower girl.
The customer was thrilled with the final product and appreciated the effort we put into ensuring the dress matched the bridesmaids' dresses perfectly. This experience is just one example of the personalized service and attention to detail that sets Pegeen apart from other dress makers. We take pride in making every customer feel valued and special and will continue to go above and beyond to exceed their expectations.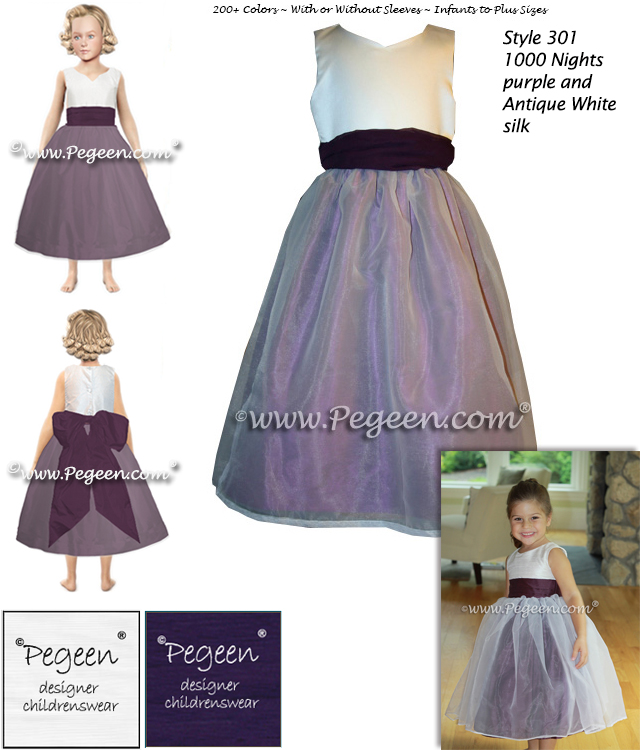 Pegeen Couture Style 309 Custom Silk flower girl dress with organza, silk base color with pleated sash. Choose up to 3 colors, for the bodice (top), skirt and sash which is available in 260+ Mix and Match Color choices and mother of pearl button closure. Dress has a full gathered skirt with a pleated sash in front of the dress and a large sash that you tie in a bow. All of our skirt lengths are ballet length, meaning just three or four inches above the ankle which can be customized as well. Includes your choice of short sleeves or sleeveless tank, other options available such as longer sleeves or flowers at a slightly higher price. Available from Infant through Plus Sizes, attached crinoline/petticoat and lined with silk.