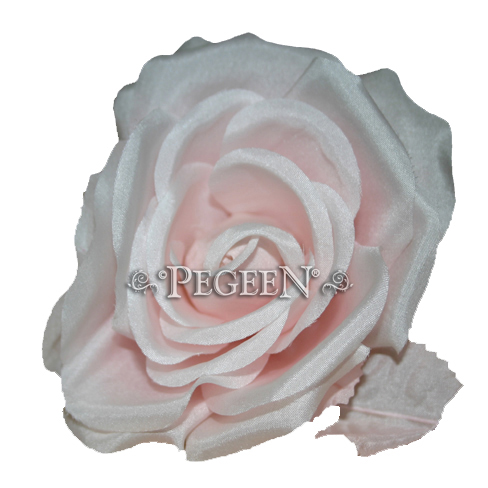 We knew this dress would be lovely when the colors were decided
This flower girl dress was Pegeen Classic Style 338 in Tomato Red, Green Apple, Blush Pink w/V-Back and Lt Pink Roses. We really loved this one so much too!
We are always amazed when our customers choose colors that are so unexpected. This dress was really no exception. Pairing the pink flowers with the pink silk on the bottom was truly brilliant. As if that wasn't different enough, the bride topped off the color grouping with this coral like color of tomato and the bright green sash of apple.
All of our flower girl dresses can be built in our high-tech Pegeen Dress Dreamer, and the app will launch soon in the Play Store! To design your dress, visit our Pegeen Dress Dreamer and be sure to order our free swatches!But, the Dress Dreamer can only run on your desktop right now because it is so powerful however, join our mailing list on the bottom of our page and we promise to keep you updated. Feel free to contact us with a chat or call to our design studio AND if you happen to visit Orlando, we are just under 2 miles to Disney and as long as you make an appointment to visit, we would love to work with you OR give you a tour of Disney World! We are pretty lucky to be here!

.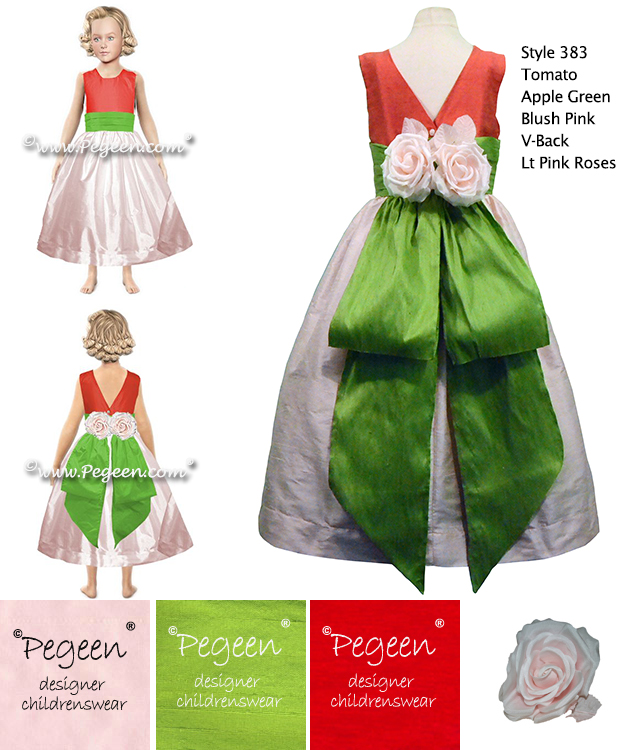 PEGEEN CLASSIC STYLE 383 Custom Silk Flower Girl Dress with a back bustle sash. Choose up to 3 colors, for the bodice (top) and sash and skirt, all of which is available in 200+ Mix and Match Color choices and mother of pearl button closure, and choice of silk back flower in 50+ colors of hand made, delicate silk flowers from fine habotai silk. Dress has a full gathered skirt with bustle cummerbund trimmed with a pair of real silk flowers. Sash is sewn into the skirt. All of our skirt lengths are ballet length, meaning just three or four inches above the ankle which can be customized as well. Includes your choice of short sleeves or sleeveless tank, other options available such as longer sleeves or flowers at a slightly higher price.