Royal Wedding news from Pegeen.com
News from one of the flower girl dress industry's leading authorities
More Royal Wedding news from Marg Hyland, one of the flower girl dress industry's leading authorities and Head Designer/Founder of Pegeen.com Children's Wear:
FOR IMMEDIATE RELEASE
Orlando, FL – April 20, 2011
The Regal Flower Girl Dress Collection by Pegeen
The Royal Wedding nuptials of Prince William and Kate Middleton are a little more than a week away. So who are her young attendants? In the UK, young attendants are called bridesmaids whereas in the US, we call them flower girls. So what will they be wearing. It's a wedding made in fairytale heaven, well at least for some of us. Marg Hyland, founder and head designer of Pegeen® which sells exclusively online as Pegeen.com, has just introduced some very unique designs as she has been doing for almost three (3) decades. This collection, however, includes flower girl dresses and ring bearers' suits appropriate for any child attending or participating in a wedding planned for the most royal of occasions. For every bride who wants to feel like royalty on her special day: The Regal Collection . . . Inspired by Royalty.
Each dress is a totally new design especially for infants and children, made with fabrics such as duchess silk satin, custom made brocades, optional monogramming and other available customizations, feathers and jewels, damask and yards of imported French ribbon and tulle, with names reflecting designs appropriate to different periods in history such as Guinevere, Marie Antoinette, Elizabeth, Grace, Isabella, and even Bloody Mary (a beautiful red flower girl dress which will be perfect for weddings during the holidays). Hyland has introduced a total of ten (10) flower girl dresses, and has even provided two (2) perfect little boys' period outfits: the James and the William. This collection is expected to quickly become one of Pegeen®'s most in-demand lines of all time. And considering the current economy, the price is right. These period flower girl dresses start at only $300 and the boys' outfits at $250.
SO, what about the children in Prince William and Kate Middleton's wedding party?
The Royal Bridesmaids: Traditionally, the flower girl will be dressed in complimentary colors to the bride's wedding theme and will scatter rose petals down the aisle ahead of the bride and just behind the ring bearer. Pegeen carries over 85 styles of flower girl dresses and jr. bridesmaids attire in 260 colors so customizable that every child usually walks down the aisle with a unique and personal vision of loveliness
Grace van Cutsem, Bridesmaid, daughter of Prince Charles' godson, Hugh van Cutsem, who incidentally was a pageboy in Prince Charles' and Princess Diana's wedding in 1981. Also in attendance will be the Honorable Margarita Armstrong-Jones, the 8-year-old is Prince William's second cousin and the daughter of Viscount and Viscountess Linley. Eliza Lopes, the 3-year-old daughter of Laura and Harry Lopes and granddaughter of Prince William's step-mother, Camilla Parker Bowles. Lady Louise Windsor, the 7-year-old daughter of Prince Edward, Earl of Wessex and Sophie, Countess of Essex. Lady Louise is Prince William's first cousin and ninth in line to the throne.
The Page Boys: The page boy will carry the bride's train as she enters the church and proceeds up the aisle. Pegeen designs over 24 of the most elegant and sophisticated outfits for pageboys and ring bearers who's job it is to carry the rings on a cushion down the aisle in front of the procession.
Billy Lowther-Pinkerton, the 10-year-old son of Anthony James Moxon "Jami"' Lowther-Pinkerton, who is the part-time Private Secretary to Prince William and Prince Harry. Tom Pettifer is the son of Prince William's former nanny, Tiggy Legge Bourke and also Prince William's godchild. Tom, 8, is the son of Prince William's former nanny, Tiggy Legge Bourke. He is also William's godchild.
We can't wait to see the designs!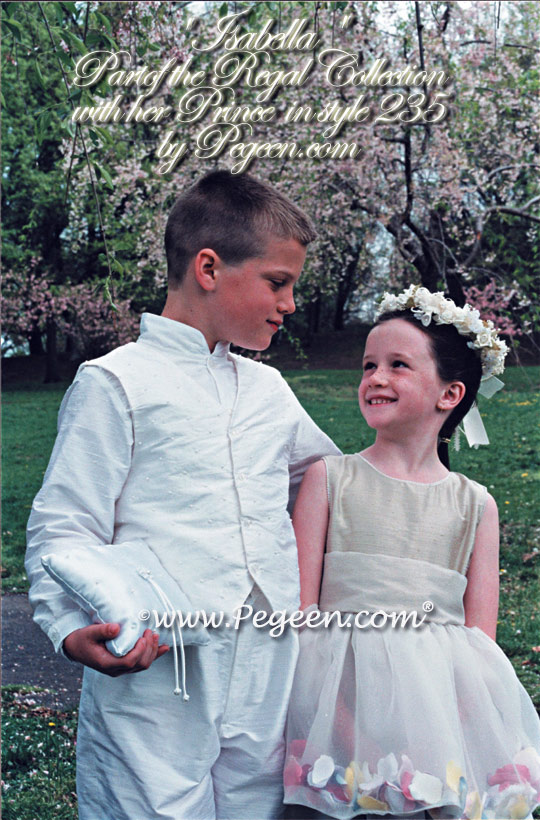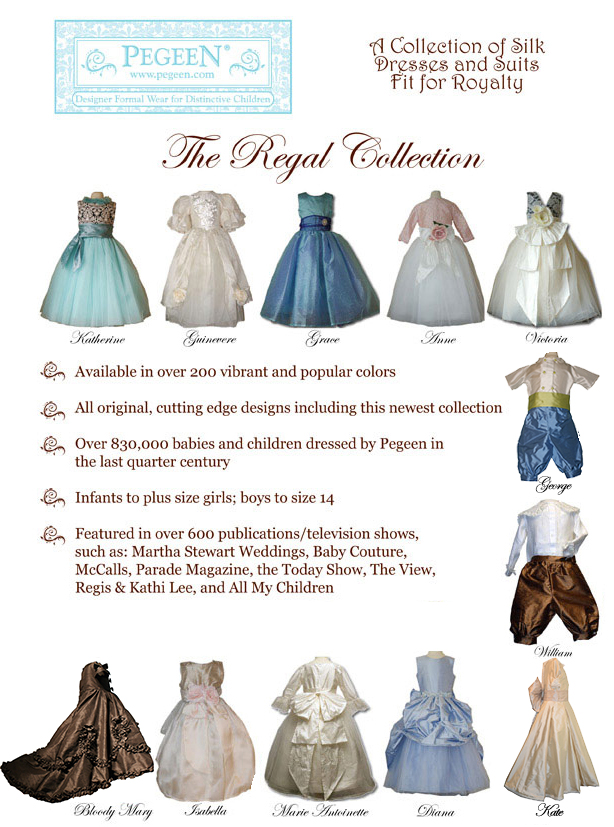 About Pegeen:

Pegeen.com offers several distinct lines which fall under two categories: Princess Everyday and Princess Special Days which include popular priced Pegeen "Classic", Pegeen Couture, Pegeen Tween for Jr. Bridesmaids Ring Bearers and the "Nutcracker Collection. For over 40 years, Hyland has created, customized and sold over 2,000,000 infants' and girls' dresses and boys' outfits for weddings, cotillions, christenings, bat and bar mitzvahs, ballet costumes and many other special and formal occasions. Hyland is committed to providing couture quality at very reasonable prices. To View Styles visit https://pegeen.com/dresses

Pegeen encourages their customers to send in their photographs of their events once it is over and highlights their favorites on their website. For more information: details. (https://pegeen.com/be-in-our-commercials.php)

About Pegeen: Pegeen.com®, headquartered in Orlando, FL, has been involved in creating beautiful yet affordable clothing for children for weddings and special occasions since 1982. We remain true to our founding mission providing factory direct, couture quality flower girl dresses at affordable prices. Every flower girl dress or ring bearer suit is made in our factory and with over 260 colors to choose from, we are proud to help you walk down the aisle. For more Press information on PEGEEN.COM, call 407-928-2377 or visit Pegeen.com Designer Childrenswear or our interactive design tool Pegeen® Dress Dreamer™

Pegeen Flower Girl Dress Company ~ 9147 State Rd 535 Orlando, FL 32836 ~ Shipping World Wide Since 1982