Antique and Gray flower girl dress we love Style 398 | Pegeen
Newest Featured Wedding in Gray Announced by Pegeen®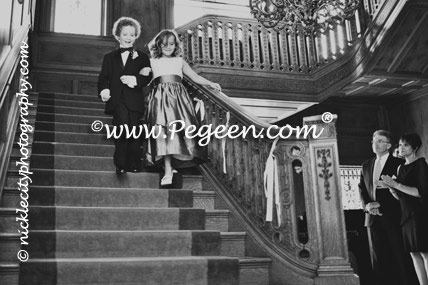 We are pleased to present another of our favorite weddings we just loved! I never was a fan of black and white photography but this time, we couldn't get over the images!!
Once a bride or mom has purchased a dress or suit from Pegeen.com they are free to send in their photographs of their children dressed in Pegeen's fashions. Pegeen only chooses their models from customers who send in photographs of their children who have purchased dresses from the company. Customer's photos are highlighted throughout our website in our gallery entitiled Weddings We Love as well as other places around the site. If all the elements are right, these photographs may be chosen to be used in some of our advertising.
What I loved most about this wedding was the beautiful textures and the wedding site. Set at the St. John's Grace Episcopal Church, Buffalo, NY and beautifully photographed by nickelcitystudios.com . I admit, I am a sucker for beautiful wood work and the lovely church setting was equally complimented by the reception site held at the Williams-Butler House, Buffalo. It reminded me so much of that wonderful show I used to watch on A&E, America's Castles and I was so impressed at the history of these two buildings. Makes me want to visit Buffalo, which now that it's Spring and not subject to the snow, I am more likely to brave.
We hope that you will visit our special wedding section and forgive me for sneaking in some of my favorite color photographs as well! (What's a wedding without the beautiful flowers!)
Silk Jr. Bridesmaids Dress: Style 398 in Medium gray and New Ivory.
to view dress: Style 398
###
About Pegeen:

Pegeen.com offers several distinct lines which fall under two categories: Princess Everyday and Princess Special Days which include popular priced Pegeen "Classic", Pegeen Couture, Pegeen Tween for Jr. Bridesmaids Ring Bearers and the "Nutcracker Collection. For nearly 40 years, Hyland has created, customized and sold over 1,700,000 infants' and girls' dresses and boys' outfits for weddings, cotillions, christenings, bat and bar mitzvahs, ballet costumes and many other special and formal occasions. Hyland is committed to providing couture quality at very reasonable prices. To View Styles visit https://www.pegeen.com/flower-girl-dress-styles.php

Recently, Hyland is proud to announce that the business has become a two-generational one as her business school son, daughter-in-law, and another son, a recent graduate from UPenn Robotics/Mechanical Engineering, have also joined the firm as Pegeen ventures into developing a full-fledged Virtual Reality store coming in 2021!

Pegeen encourages their customers to send in their photographs of their events once it is over and highlights their favorites on their website. For more information: details. (https://www.pegeen.com/be-in-our-commercials.php)

About Pegeen: Pegeen.com®, headquartered in Orlando, FL, has been involved in creating beautiful yet affordable clothing for children for weddings and special occasions since 1982. We remain true to our founding mission providing factory direct, couture quality flower girl dresses at affordable prices. Every flower girl dress or ring bearer suit is made in our factory and with over 200 colors to choose from, we are proud to help you walk down the aisle. For more Press information on PEGEEN.COM, call 407-928-2377 or visit Pegeen.com Designer Childrenswear or our interactive design tool Pegeen® Dress Dreamer™
Pegeen Flower Girl Dress Company ~ 9147 State Rd 535 Orlando, FL 32836 ~ Shipping World Wide Since 1982
hidden
Back to Top