This wedding we loved had flower girl dresses in Gold and Blue | Pegeen
Couture style flower girl dresses in champagne and blue silk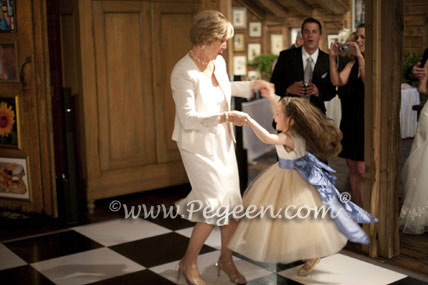 Pegeen Luxury Children's Wear once again, chooses their favorite wedding from those submitted by their customers. Pegeen highlights a beautiful family wedding in Cape Cod, MA. The full wedding's details can be seen at their website here: DETAILS
When Kathryn called me several months ago to choose dresses for her second wedding for her two children, she described her fiance as the most handsome man. Right away we decided that it was going to be based on this BEAUTIFUL gold and blue purse that she loved. We planned on using our tulle dress style 402 with a delft blue sash and champagne tulle. To coordinate with her older sister, the bride chose flower girl dress style 383 with a deep V-Back in ivory and pure gold.
More about our featured wedding..... We had decided that the flower girl, her youngest daughter, should have a dress slightly different than her sister, especially since Kathryn knew she would be dancing A LOT and LOVED to twirl. We finished the back of her dress with a large, Cinderella bow and accented with an ivory silk flower. The Photographer is Bob Perachio l www.elegantbliss.com l 617.970.6987 l weddings@rdpphotography.com
We hope that you will visit our favorite weddings and explore all these wonderful images from our couple from the beautiful venue at Borsari Gallery.
I was especially excited to present this beautiful photography by Elegant Bliss and lovely venue held at Borsari Gallery in Cape Cod," said Pegeen® President and CEO Marg Hyland. "Our bride and mother of two beautiful girls was keenly aware of having her daughters involved in her wedding as they began their new journey as a family." The youngest daughter wore a tulle gown with 10 layers and lined in a soft shade of champagne silk, accented with a delft blue Cinderella bow and silk flower in ivory. Part of the Pegeen Couture Collection, this Degas-Style ballerina dress is known for it's "swirl factor", an important part of dressing this little flower girl. Her older sister wore a matching ivory shantung silk dress with a pure gold sash, again accented with two ivory silk flowers on the V-Back of her dress and bustle.
Pegeen's® goal is to provide their brides a personalized experience where they are able to create their one of a kind look with their new and exclusive feature. Mix and match styles and those finishing touches to make a look that is one of a kind. Their designers make sure that each bride has a unique look that compliments their wedding theme. Pegeen selects one of the many entries of Real Weddings by their customers. At the end of the year, their favorite is crowned the wedding of the year. By showcasing real weddings on www.pegeen.com/rave.php, a bride is able to see today's most popular color palettes with our over 200 choices of color, cut and dress style. "Personalizing the look of a bride's once in a lifetime experience is what we are all about".
To see more of this fabulous wedding and the two featured gowns, one for a flower girl dress and one for a junior bridesmaid, log-on to their web site (DETAILS).
###
About Pegeen:
Pegeen.com offers several distinct lines: popular priced Pegeen "Classic", Pegeen Couture, Pegeen Tween for Jr. Bridesmaids, The Regal Collection and the newest collections "Heavenly Collection" for Communion and Cotillion and the "Nutcracker Collection. For almost 40 years, Hyland has created, customized and sold over 900,000 infants' and girls' dresses and boys' outfits for weddings, cotillions, christenings, bat and bar mitzvahs, and many other special and formal occasions. Hyland is committed to providing couture quality at very reasonable prices. To View Styles visit https://www.pegeen.com/flower-girl-dress-styles.php
Pegeen encourages their customers to send in their photographs of their events once it is over and highlights their favorites on their website. For more information: details. (https://www.pegeen.com/be-in-our-commercials.php)
About Pegeen: Pegeen.com®, headquartered in Orlando, FL, has been involved in creating beautiful yet affordable clothing for children for weddings and special occasions since 1982. We remain true to our founding mission providing factory direct, couture quality flower girl dresses at affordable prices. Every flower girl dress or ring bearer suit is made in our factory and with over 200 colors to choose from, we are proud to help you walk down the aisle. For more Press information on PEGEEN.COM, call 407-928-2377 or visit Pegeen.com Designer Childrenswear or our interactive design tool Pegeen® Dress Dreamer™
Pegeen Flower Girl Dress Company ~ 9147 State Rd 535 Orlando, FL 32836 ~ Shipping World Wide Since 1982
hidden
Back to Top