Buying Online from Pegeen with a New Way To Try On Clothes
PRESS RELEASE - FOR IMMEDIATE RELEASE
New Way To Try On Clothes When Buying Online
Contact: Jim Frank
FOR IMMEDIATE RELEASE
Phone: 407-928-2377
Email: contact {at} pegeen.com
Innovative Designer Allows Moms And Brides To "Try On" Their Plus Size Children's Outfits When Buying Online
Orlando, FL - August 23, 2022 --
PEGEEN, a company founded by designer Marg Hyland in 1982, offers an affordable line of couture-quality Flower Girl Dresses and Ring Bearer Suits. The company is constantly striving to incorporate the latest web innovations to sell their creations online. With her creativity and experience in the children's wear industry, Hyland has made it easy for brides to achieve an exquisite look for the children in their weddings.
One of PEGEEN's unique offerings is a "try-on" bodice, made according to the child's measurements, which is sent to the customer to ensure a guaranteed fit before the actual dress is sewn. This approach, known as "tailor-made from a distance," eliminates any guesswork as to whether the dress will fit properly.
Moreover, PEGEEN offers an unprecedented range of 260 colors, which can be combined in thousands of ways, allowing brides to create a look that is truly their own. This vast range of color options means that there are thousands upon thousands of possible combinations, giving brides an unparalleled level of customization. (More Below)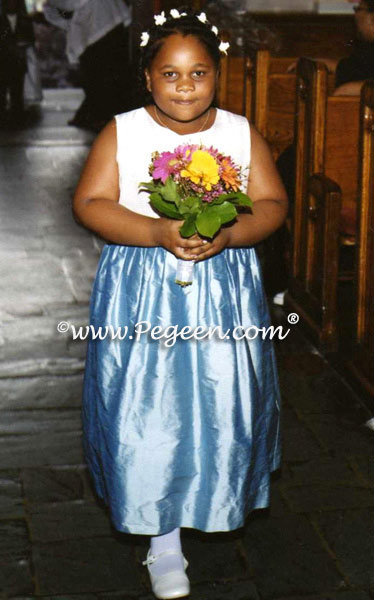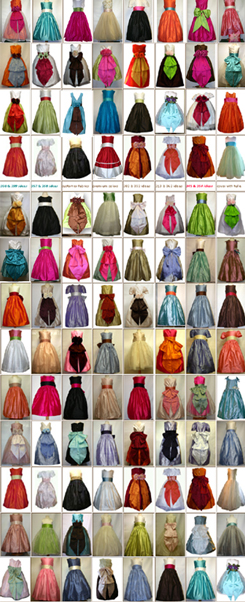 The company has always been a trendsetter and Hyland has blazed a trail into e-commerce as the first children's wear company to have a website, launched in the mid-90s. "In those days, including my website on our banner at a trade show was a novelty to some. Many other manufacturers and retailers asked us, "How do you pronounce egeencom?" "We have created a very practical and clear-cut approach in order to sell our custom designed clothing in the easiest and most forthright presentation so that customers can now buy our dresses at Direct-from-Manufacturer's pricing. This includes the custom bodice fitting, guaranteed sizing, virtually any color combination a bride or mom can think of, and easy, fast delivery right to their doorsteps in record time.
The company also offers fabric swatches for more than 260 colors of silk choices at a nominal charge.
"We produce everything in our own factory here in the US and we are very proud of it. Our success rate is fantastic - we know it by the amount of referral and repeat business we do. Imagine, customers who were once wearing our dresses as flower girls themselves are now ordering for their children! " said Hyland.
Customers love it, saying: "If you were traded publicly, I would buy stock" and most recently, "I swear, you MUST have elves in your factory! How you made these dresses and delivered them so quickly - you have exceeded my expectations" and "You are a rock-star". Pegeen's customer loyalty is apparent by viewing their ever-growing Testimony Page at their gallery page.
For more Press information on PEGEEN.COM, call 407-928-2377 or visit the website at http://pegeen.com/pages/press/editors.php
Pegeen Children's Formal Wear
Tel. 407-928-2377 contact {at} pegeen.com
Pegeen encourages their customers to send in their photographs of their events once it is over and highlights their favorites on their website. For more information: details. (https://pegeen.com/be-in-our-commercials.php)
Pegeen.com®, headquartered in Orlando, FL, has been involved in creating beautiful yet affordable clothing for children for weddings and special occasions since 1982. We remain true to our founding mission providing factory direct, couture quality flower girl dresses at affordable prices. Every flower girl dress or ring bearer suit is made in our factory and with over 200 colors to choose from, we are proud to help you walk down the aisle. For more Press information on PEGEEN.COM, call 407-928-2377 or visit Pegeen.com Designer Childrenswear or our interactive design tool Pegeen® Dress Dreamer™
# # #
About Pegeen:
Pegeen.com offers several distinct lines which fall under two categories: Princess Everyday and Princess Special Days which include popular priced Pegeen "Classic", Pegeen Couture, Pegeen Tween for Jr. Bridesmaids Ring Bearers and the "Nutcracker Collection. For over 40 years, Hyland has created, customized and sold over 1,700,000 infants' and girls' dresses and boys' outfits for weddings, cotillions, christenings, bat and bar mitzvahs, ballet costumes and many other special and formal occasions. Hyland is committed to providing couture quality at very reasonable prices. To View Styles visit https://pegeen.com/dresses
Pegeen Flower Girl Dress Company ~ 9147 State Rd 535 Orlando, FL 32836 ~ Shipping World Wide Since 1982
hidden
Back to Top