Pegeen's Wedding of the Year for 2014
PRESS RELEASE - FOR IMMEDIATE RELEASE
Orlando, FL – March 17, 2014
Each year, we pour through thousands of photos from our brides & moms who share their photos with us. In the past few years, we started sharing our favorites, calling them the "Wedding of the Month".... well the photos got better and better. So, a few years ago, we named our first "Wedding of the Year" and this year we have a real tie.... we just couldn't make up our minds! Traditionally, my partner and I view the photos that are sent and sometimes ask for more to be sent ---- as we try to decide who will be named our Wedding of the Year! Positively the most fun we have and certainly the most rewarding to see the fruits of our labor in your photos! Again, this year was no exception for beautiful.
We hope you enjoy and should you have any questions or need of help for obtaining High Resolution photographs for publication, contact us 407-928-2377
SO without further ado, in honor of our 33 Years in Business this St. Patrick's Day (heck, Pegeen is an Irish name after all), ladies (and gentlemen) - our four favorites!
2014 Luxury Wedding of the Year
Below: 2014 Garden Wedding of the Year Flower Girl Dresses in Claret Red and Spun Gold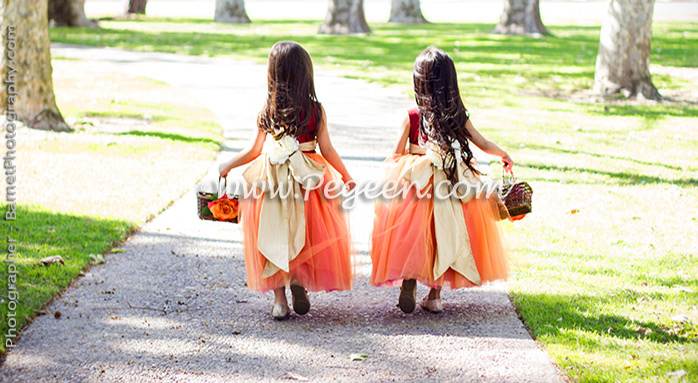 Below: Flower Girl Dresses/Southern Wedding of the Year 2014 in New Ivory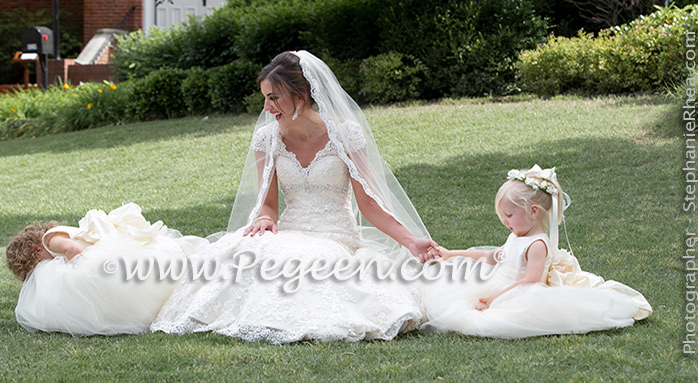 Below: Flower Girl Dresses/Island Wedding of the Year 2014 in Mango Orange, Hot Pink and Ivory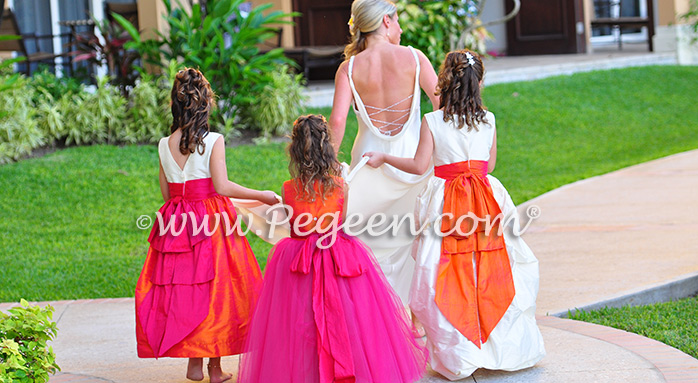 And our very IMPRESSIVE Ballerina
Below: Nutcracker Ballet Clara Party Scene Dresses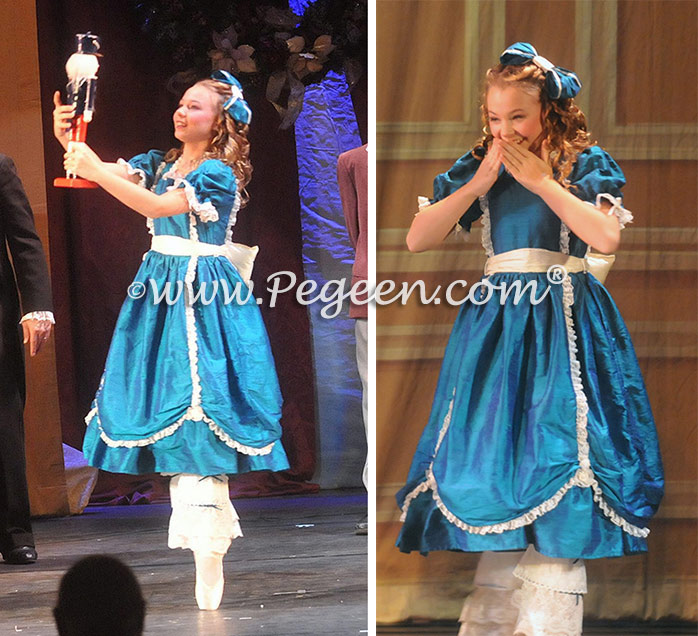 ###

About Pegeen:

Pegeen.com offers several distinct lines which fall under two categories: Princess Everyday and Princess Special Days which include popular priced Pegeen "Classic", Pegeen Couture, Pegeen Tween for Jr. Bridesmaids Ring Bearers and the "Nutcracker Collection. For nearly 40 years, Hyland has created, customized and sold over 1,700,000 infants' and girls' dresses and boys' outfits for weddings, cotillions, christenings, bat and bar mitzvahs, ballet costumes and many other special and formal occasions. Hyland is committed to providing couture quality at very reasonable prices. To View Styles visit https://www.pegeen.com/flower-girl-dress-styles.php

Recently, Hyland is proud to announce that the business has become a two-generational one as her son, who graduated from Florida Southern in Business, daughter-in-law, and another son, a recent graduate from UPenn Robotics/Mechanical Engineering, have also joined the firm as Pegeen ventures into developing a full-fledged Virtual Reality store coming in 2021!

Pegeen encourages their customers to send in their photographs of their events once it is over and highlights their favorites on their website. For more information: details. (https://www.pegeen.com/be-in-our-commercials.php)

Pegeen.com®, headquartered in Orlando, FL, has been involved in creating beautiful yet affordable clothing for children for weddings and special occasions since 1982. We remain true to our founding mission providing factory direct, couture quality flower girl dresses at affordable prices. Every flower girl dress or ring bearer suit is made in our factory and with over 200 colors to choose from, we are proud to help you walk down the aisle. For more Press information on PEGEEN.COM, call 407-928-2377 or visit Pegeen.com Designer Childrenswear or our interactive design tool Pegeen® Dress Dreamer™

Pegeen Flower Girl Dress Company ~ 9147 State Rd 535 Orlando, FL 32836 ~ Shipping World Wide Since 1982