Pegeen's Wedding of the Year for 2014
Try this sweet pink monogrammed silk and tulle flower girl dress
PRESS RELEASE - FOR IMMEDIATE RELEASE
Orlando, FL – March 17, 2014
Each year, we are fortunate enough to receive thousands of stunning photos from our brides and moms who choose to share their special day with us. To showcase our favorite photos, we began featuring them as the "Wedding of the Month" a few years ago. However, as the photos continued to improve in quality and creativity, we decided to take things up a notch and introduce the "Wedding of the Year" award.
Over the years, we have seen some truly breathtaking photos, but this year we were blown away by the exceptional submissions, and we found ourselves in a real tie - we simply couldn't decide on a single winner.
To select our "Wedding of the Year" winners, my partner and I personally view all the photos submitted, and sometimes even request additional photos, as we strive to choose the most deserving wedding of the year. This is a highlight of our year, as it's an opportunity for us to see the fruits of our labor in the form of the stunning photos our brides and moms share with us.
As always, this year's submissions did not disappoint. We were honored to receive such beautiful photos that truly captured the essence of each couple's special day. We are always grateful to our brides and moms for sharing their photos with us, and we look forward to seeing even more stunning submissions in the years to come.
If you're planning your own special day, consider sharing your wedding photos with us for a chance to be featured as our next "Wedding of the Month" or even the "Wedding of the Year." We love celebrating the love and commitment between couples, and there's no better way to do that than through stunning photos that capture the magic of your wedding day.
2014 Luxury Wedding of the Year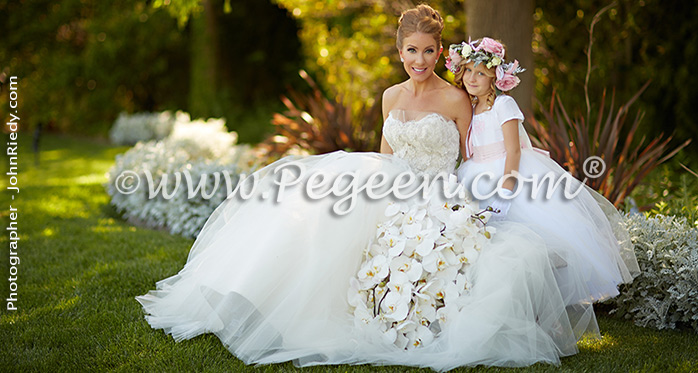 Below: 2014 Garden Wedding of the Year Flower Girl Dresses in Claret Red and Spun Gold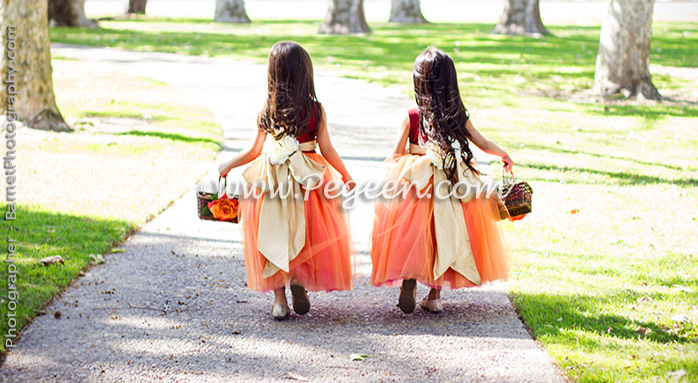 Below: Flower Girl Dresses/Southern Wedding of the Year 2014 in New Ivory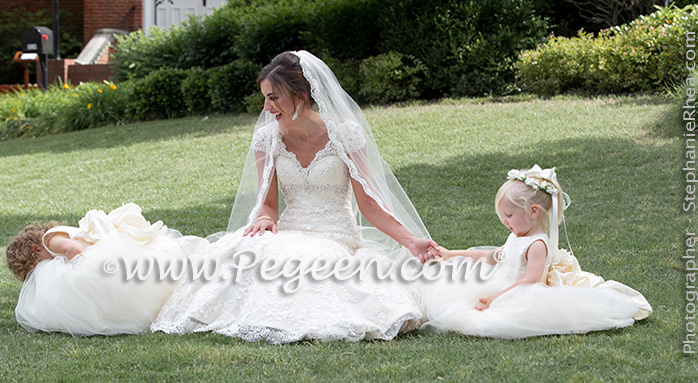 Below: Flower Girl Dresses/Island Wedding of the Year 2014 in Mango Orange, Hot Pink and Ivory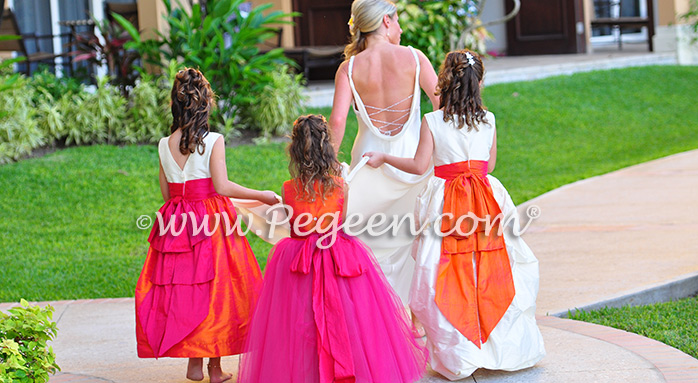 And our very IMPRESSIVE Ballerina
Below: Nutcracker Ballet Clara Party Scene Dresses
###

About Pegeen:

Pegeen.com offers several distinct lines which fall under two categories: Princess Everyday and Princess Special Days which include popular priced Pegeen "Classic", Pegeen Couture, Pegeen Tween for Jr. Bridesmaids Ring Bearers and the "Nutcracker Collection. For over 40 years, Hyland has created, customized and sold over 2 million infants' and girls' dresses and boys' outfits for weddings, cotillions, christenings, bat and bar mitzvahs, ballet costumes and many other special and formal occasions. Hyland is committed to providing couture quality at very reasonable prices.

Pegeen encourages their customers to send in their photographs of their events once it is over and highlights their favorites on their website. For more information: details. (CLICK)

Pegeen.com®, headquartered in Orlando, FL, has been involved in creating beautiful yet affordable clothing for children for weddings and special occasions since 1982. We remain true to our founding mission providing factory direct, couture quality flower girl dresses at affordable prices. Every flower girl dress or ring bearer suit is made in our factory and with over 260 colors to choose from, we are proud to help you walk down the aisle. For more Press information on PEGEEN.COM, call 407-928-2377 or visit Pegeen.com Designer Childrenswear or our interactive design tool Pegeen® Dress Dreamer™

Pegeen Flower Girl Dress Company ~ 9147 State Rd 535 Orlando, FL 32836 ~ Shipping World Wide Since 1982