Pegeen's Favorite flower girl dress of the year for 2011
PRESS RELEASE - FOR IMMEDIATE RELEASE
Flower Girl Dress/Weddings of the Year for 2011 Announced by Pegeen®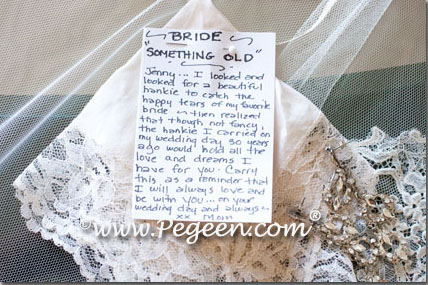 Orlando, FL
Since 1982, Pegeen® has helped thousands of brides walk down the aisle. Three (3) of those brides' weddings from 2010 have been chosen as Pegeen®'s Weddings of the Year, with photographs, vendors and background stories. A summary of that information is here and detailed information and almost 200 photos of these special weddings are posted on Pegeen.com. Since choosing the Wedding(s) of the Year (and Weddings of the Month) since 2007, each wedding is reviewed thoroughly by Pegeen wedding experts when searching for the winners we think deserve this recognition, beginning with the personal stories of the bride and groom, to everything from the location, special stories provided by the wedding party, the vendors chosen, and, finally, how each wedding comes together on that special day to make each of these events remarkable in their own unique way. Pegeen has provided over 830,000 originally designed and customized flower girl dresses, ring bearer suits and other garments for weddings and other formal events involving children for over 40 years.
Pegeen®, which designs, customizes and sells flower girl dresses and other formal wear for children exclusively online as Pegeen.com, has just announced their selection for the Grande Wedding of the Year 2010-2011, as well as designating two other weddings for recognition: the Junior Bridesmaids Wedding of the Year as runner-up; and the Most Colorful Wedding of the Year for honorable mention.
As the Grande Wedding of the Year 2010-2011, Pegeen® proudly announces the selection of the wedding of Jenny and Kevin in April 2010 at the St. Regis, Monarch Beach in Davis Point, CA. We don't believe anything could have been more perfect from the bride's stunning dress, the attendants' attire and the outfits worn by the flower girl (provided by Pegeen®); to the location, catering, decor, wedding favors, flowers, etc. by the fabulous David Tutera. Every picture tells a story, and the photos posted on Pegeen.com tell it all! A perfect wedding planned by David Tutera Weddings (DT Studios, Inc.; http://davidtutera.com). Other vendors: Invitations, menus, name cards, etc. – Nidas Botiq (Laguna Beach, CA); Photos – Lars Withers Wanberg; Video – Ashley Video; Hair/make-up – Hair Comes the Bride/Ashley Turner; Wedding gown – Manuel Moto for Pronovios; Couture Flower girl dress – Pegeen.com; Music – West Coast Music; Carls, Jr. Fast Food Truck; Grooms Cake – Christopher Garrens "Let Them Eat Cake."
Jenny shared with us the story of Kevin's proposal which was romantic and quite a surprise. "We went to dinner at the Montage Resort, Laguna Beach. We had a beautiful dinner overlooking the ocean and then we took a romantic walk along the beach. Somehow we ended up in front of a room at the Montage. When he opened the door it was the most beautiful and romantic sight - pink everywhere (I am obsessed with pink!). Kevin had candles EVERYWHERE, pink balloons, and rose petals covering every surface. The perfect music was playing and there was champagne! He brought over the most beautiful and most wonderful pink cupcake EVER, got on one knee, and asked me to marry him. Of course, I said, YES!"
The wedding chosen by Pegeen® as the Wedding of the Year Runner-up is the Junior Bridesmaid Wedding, that of Lisa and Bill which took place in August 2010 on the grounds of Bill's beautiful summer lake home in Maine, near the more than 100-year-old home surrounded by water on three sides.
Lisa, a riding instructor who owns her own stables in Hamilton, MA, had a unique and personal touch to her wedding. All twenty of her students served as her junior bridesmaids, along with her two new daughters who were also attendants. The dresses for the bridal party, including Lisa's Vera Wang gown, were custom-made by Pegeen® from The Regal Collection.
The wedding procession was truly special. A winding path lined with white hydrangea plants in dark brown whiskey barrels led the way. Each of the 22 girls carried miniature whiskey barrels with handles and scattered flowers in the bride's path. To complement the dresses, everyone, including the bride, wore charming dark brown riding boots.
The entrance to the wedding was an enchanting sight. A flotilla of 21 dark green canoes, each manned by two boatmen and carrying two little girls, formed a procession from one end of the family compound to the wedding location. Lisa arrived in her future husband's antique refurbished canoe, accompanied by his daughter and two brothers-in-law.
After the heartfelt ceremony, Lisa and her new husband embarked on a boat across the lake to reach the reception. The couple was warmly welcomed by their 300 guests, ready to celebrate their union.
The wedding designated for Honorable Mention by Pegeen is The Most Colorful Wedding of the Year, that of Stella and Olu in August 2010.
Witness the enchanting union of Stella and Olu, which took place in August 2010, and was hailed as the most vibrant wedding of the year. With the bridal party adorned in captivating hues of royal purple and apple green, the celebration truly mirrored the joyous occasion it marked. Stella and Olu's journey began in Baltimore back in 2003, where they first met. After years of nurturing a close friendship, they realized that they were meant to be together and embraced matrimony last August. Meticulous attention was given to selecting the bridesmaids' attire, featuring skirts that matched while allowing each individual's unique style and personality to shine through, perfectly harmonizing with the overall wedding theme. Recounting Olu's heartfelt proposal, Stella reminisced, "On a serene Saturday evening, as we celebrated our anniversary, Olu had planned a trip to London. However, he insisted we relax at the hotel before heading to the airport. Little did I know, he had something extraordinary in mind. He dropped me off for a brief shopping excursion and disappeared momentarily. Upon his return, as we entered our suite, I was captivated by the flickering candlelight and scattered flower petals. Overwhelmed with emotion, I turned around to find him on one knee, and the rest, as they say, is history!"
Go to Pegeen.com and see for yourself the difference that can make much of wedding planning easier, more fun, less stressful and less expensive, while being treated to Hyland's expert advice and common sense. You'll definitely benefit from her extensive background in the ever-changing world of wedding planning and attire.
You won't be disappointed.

###

About Pegeen:

Pegeen.com offers several distinct lines which fall under two categories: Princess Everyday and Princess Special Days which include popular priced Pegeen "Classic", Pegeen Couture, Pegeen Tween for Jr. Bridesmaids Ring Bearers and the "Nutcracker Collection. For over 40 years, Hyland has created, customized and sold over 2,00,000 infants' and girls' dresses and boys' outfits for weddings, cotillions, christenings, bat and bar mitzvahs, ballet costumes and many other special and formal occasions. Hyland is committed to providing couture quality at very reasonable prices. To View Styles visit https://pegeen.com/dresses

Pegeen encourages their customers to send in their photographs of their events once it is over and highlights their favorites on their website. For more information: details. (https://pegeen.com/be-in-our-commercials.php)

Pegeen.com®, headquartered in Orlando, FL, has been involved in creating beautiful yet affordable clothing for children for weddings and special occasions since 1982. We remain true to our founding mission providing factory direct, couture quality flower girl dresses at affordable prices. Every flower girl dress or ring bearer suit is made in our factory and with over 260 colors to choose from, we are proud to help you walk down the aisle. For more Press information on PEGEEN.COM, call 407-928-2377 or visit Pegeen.com Designer Childrenswear or our interactive design tool Pegeen® Dress Dreamer™

Pegeen Flower Girl Dress Company ~ 9147 State Rd 535 Orlando, FL 32836 ~ Shipping World Wide Since 1982