Pegeen Announces their Flower Girl Dress and Wedding of the Year for 2013
PRESS RELEASE - FOR IMMEDIATE RELEASE
Orlando, FL – March 17, 2014
2013 Flower Girl Dresses and Wedding of the Year
This year we were delayed with the announcement because we actually had to FIND our winner through cyber space as she had closed down her site and contact information was lost! BUT we found her and are pleased to announce that our winner, from Australia, had the most romantic wedding we ever witnessed. The bride choose Pegeen Couture Style 402 with our Pegeen Signature Bustle in Peony Pink and Lavender. Their wedding had a special tribute to their chance meeting in the UK when they met in London and it was such a romantic story that every woman would dream happen to her (insert Daniel Craig for me here, but alas he's married and so am I). Details
2013 Special Wedding and Flower Girl Dress of the Year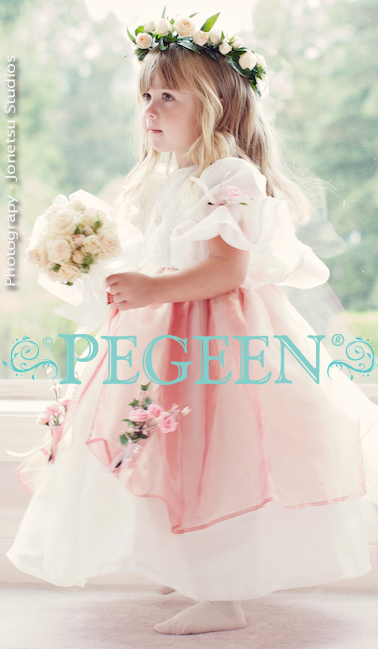 We had SUCH a hard time deciding about a second wedding that took place in Canada. The wedding was so gorgeous that we decided to have our first CO-WINNER! Our first, 2013 SPECIAL Wedding and Flower Girl Dress of the Year is from the Pegeen Regal Collection, Style 619 and it was a beautiful silk flower girl dress with aloncon lace, pearls and silk lame with hand trimmed roses. These flower girl dresses are sure to please even the most discerning bride, and what about those flowers!? OMG - they are exquisite. The bride's wedding (in Canada) actually included the three flower girl dresses and a matching but sweet dress (Pegeen Infant Classics Style 802) for her niece. We loved her cake, the flowers, and so much more that we couldn't just choose one wedding!
2013 Special Wedding and Flower Girl Dress of the Year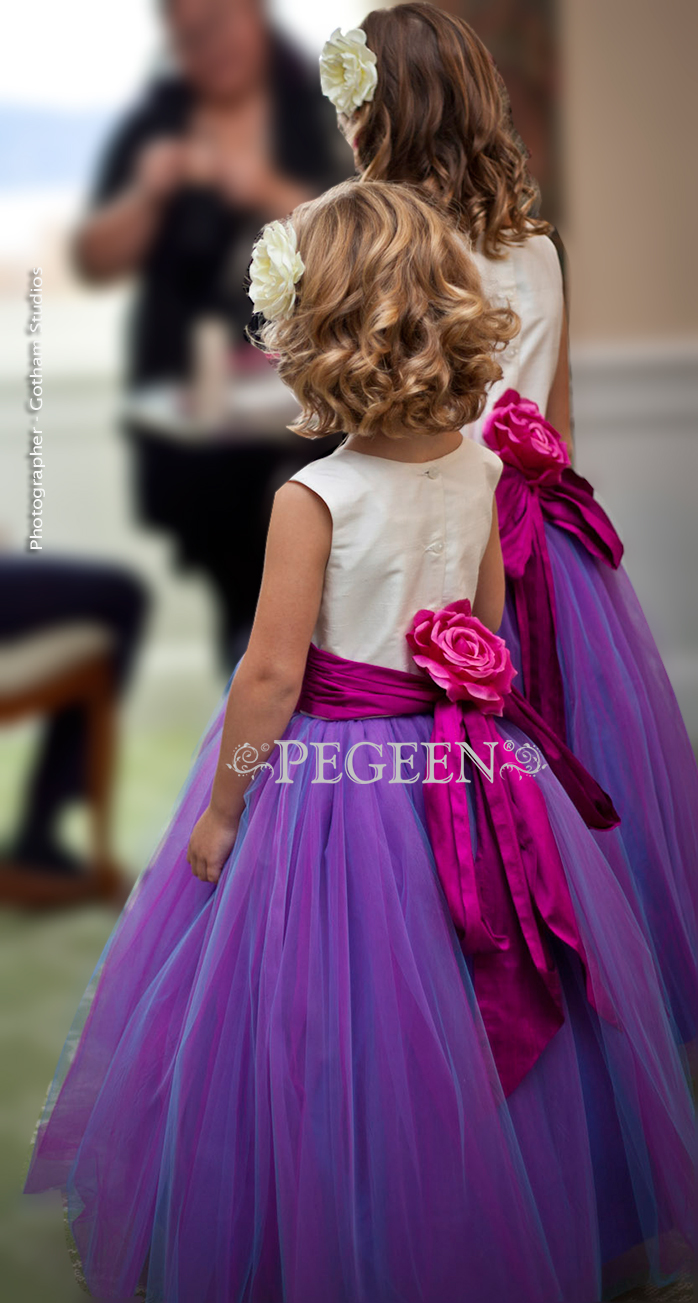 And then, for the third wedding, we chose was a lovely wedding with deep and bright colors and is our 2013 Runner Up Wedding & Flower Girl Dress of the Year. We were SO excited when we made these dresses flower girl dresses that in my heart, I knew that these dresses were going to be among our winners. I think you will agree. Pegeen Classic Style 356 with two colors of tulle. The bride, this time located in New York choose Regal (Purple) and Flamingo Pink. This went with her Bill Levkoff bridesmaids dresses in Iridescent Taffeta and we think they went perfectly! We trust that you will enjoy all of our winners and over the next 24 hours, these pages will be fully completed with lots and lots of images! Should you have any questions or needs, feel free to call or email us as we are always happy to help! Thanks again for viewing, and enjoy!
###
About Pegeen:
Pegeen.com offers several distinct lines which fall under two categories: Princess Everyday and Princess Special Days which include popular priced Pegeen "Classic", Pegeen Couture, Pegeen Tween for Jr. Bridesmaids Ring Bearers and the "Nutcracker Collection. For nearly 40 years, Hyland has created, customized and sold over 1,700,000 infants' and girls' dresses and boys' outfits for weddings, cotillions, christenings, bat and bar mitzvahs, ballet costumes and many other special and formal occasions. Hyland is committed to providing couture quality at very reasonable prices. To View Styles visit https://www.pegeen.com/flower-girl-dress-styles.php
Recently, Hyland is proud to announce that the business has become a two-generational one as her son, who graduated from Florida Southern in Business, daughter-in-law, and another son, a recent graduate from UPenn Robotics/Mechanical Engineering, have also joined the firm as Pegeen ventures into developing a full-fledged Virtual Reality store coming in 2021!
Pegeen encourages their customers to send in their photographs of their events once it is over and highlights their favorites on their website. For more information: details. (https://www.pegeen.com/be-in-our-commercials.php)
Pegeen.com®, headquartered in Orlando, FL, has been involved in creating beautiful yet affordable clothing for children for weddings and special occasions since 1982. We remain true to our founding mission providing factory direct, couture quality flower girl dresses at affordable prices. Every flower girl dress or ring bearer suit is made in our factory and with over 200 colors to choose from, we are proud to help you walk down the aisle. For more Press information on PEGEEN.COM, call 407-928-2377 or visit Pegeen.com Designer Childrenswear or our interactive design tool Pegeen® Dress Dreamer™
Pegeen Flower Girl Dress Company ~ 9147 State Rd 535 Orlando, FL 32836 ~ Shipping World Wide Since 1982
hidden
Back to Top