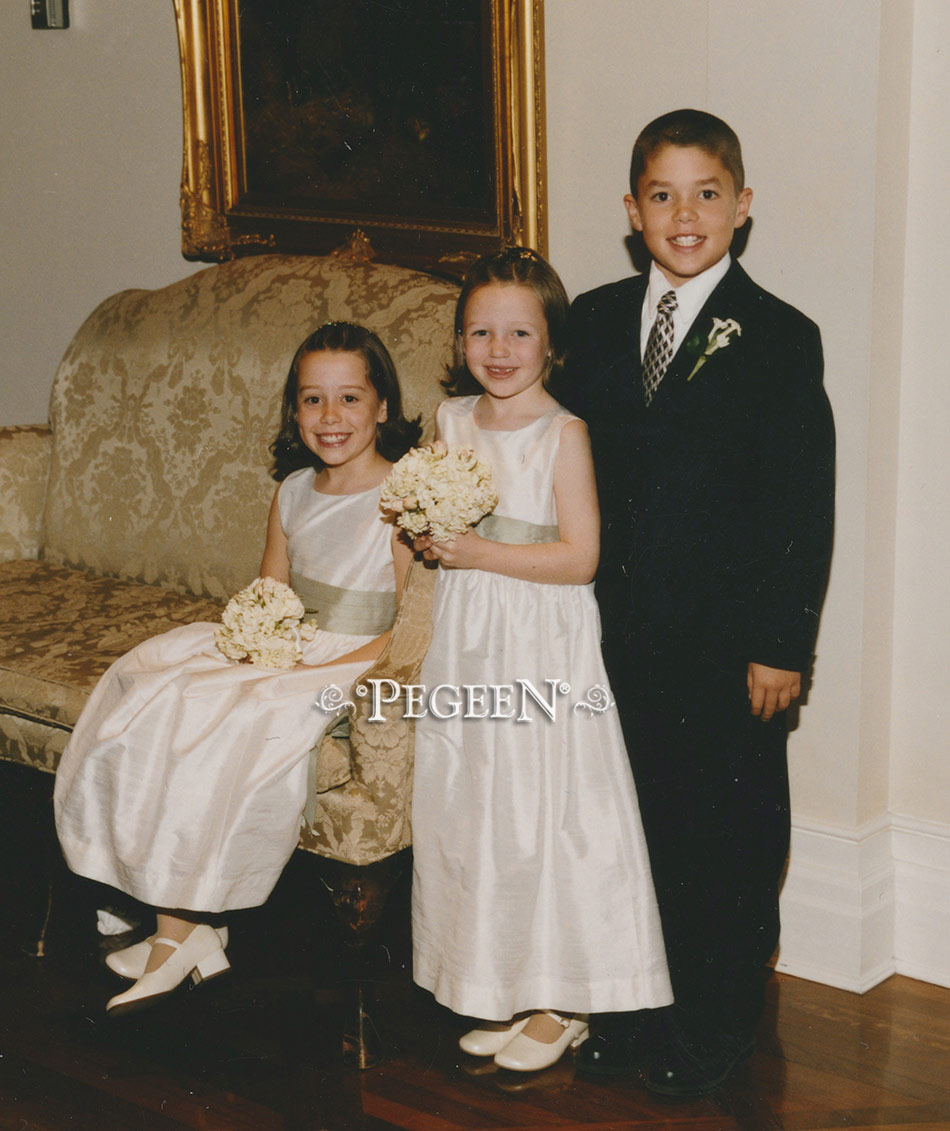 First it was the Pandemic, now there's a recession.
How to decide if there should be kids in your wedding party
PRESS RELEASE - FOR IMMEDIATE RELEASE
Orlando, FL (PRWEB) Sept 18, 2022
"Yes, for Many Reasons," Says Marg Hyland of Pegeen®.com
Cutting wedding expenses is a reality in today's environment. However, there are good - and bad - ways to accomplish it, and eliminating children from a wedding party is not recommended for many reasons. Especially when there's an online company that provides factory direct formal wear from hundreds of options that are couture quality, but starting at much, much less - only $190. Now, that may feel a bit pricey but Pegeen has one thing that most companies do not. First, longevity. Over a million dresses, customer satisfaction and referrals, this is why Pegeen.com has been in this business for 40+ years, even providing plus size and hard-to-fit formal wear for girls which is almost impossible to find, especially at affordable prices.
Marg Hyland, President of Pegeen®.com and its head designer, has been walking down the aisle with brides since 1982. She says one trend, due to the current economic environment, is to reduce wedding expenses. And, unfortunately, in some of the wrong ways.
One of Pegeen.com's most popular and age appropriate styles can be created in our Pegeen Dress Dreamer (right now only on desktop).
"Many couples and families in today's environment find it necessary to cut wedding expenses," says Hyland. "One way NOT to do so is by eliminating the children who have traditionally been an important focus as part of the wedding party. At Pegeen®.com, we work with brides almost every day of every year and they soon realize that excluding children would be a mistake, at least until all other necessary cost-saving changes have been made."
Here are just a few reasons why:
Many couples and families in today's environment find it necessary to cut wedding expenses. One way NOT to do it is by eliminating children, traditionally an important focus in the wedding party...during one of life's most important celebrations
1. Throughout history, children have participated in wedding parties as part of both immediate and extended families. As early as Roman times, young girls attending the bride and groom carried herbs and wheat as symbols of prosperity and fertility. The participation of children has come to be expected in today's ceremonies. Their presence lends not only a traditional flair to the nuptials but also complements those in attendance of the betrothed who gather for one of life's most important passages.
2. With so many blended families today, having children actively participate in the ceremony helps cement ties between multiple families establishing new familial relationships as a result of the new union.
3. Having a child as one of the attendants, when the relationship to the wedding party is appropriate, can actually help cut costs due to a lesser expense than that of an adult attendant. In addition, the younger attendant can help guide and monitor the flower girls, ring bearers, etc. before and during the ceremony. This is now a popular trend in certain areas of Europe and we're beginning to see it in the U.S. for the same reasons.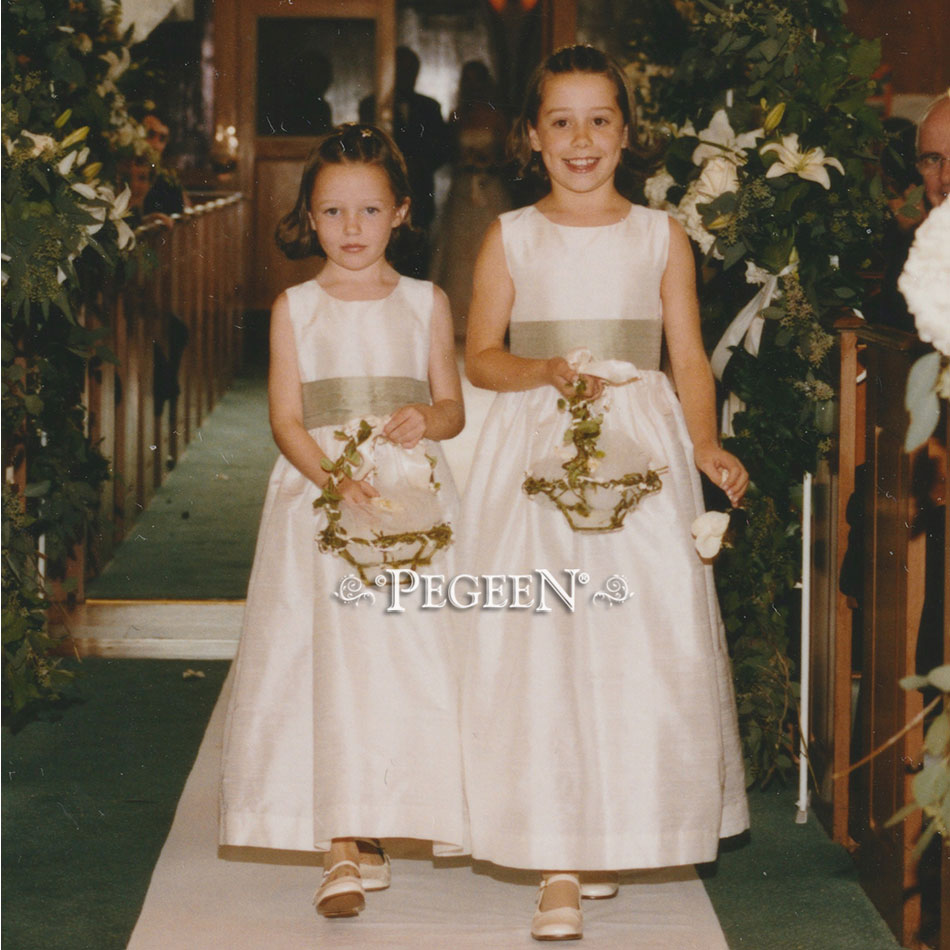 After 40+ years in the fashion business, designing made-to-order formal wear for babies and children for weddings, religious events, cotillions, and other special occasions, there's not much Hyland hasn't been asked. And little about which she hasn't provided sound advice for small, large, destination, theme, very formal, and more casual weddings of all sizes, in all 50 states and in many areas of Europe. "In fact, it's become a generational thing. One recent wedding planning session, I was surprised and very moved by a customer who's daughter was a flower girl many years ago. When I got a call in early summer from Karen, it was like our conversation picked up from where it was 25 years ago. She asked how my son was, and I told her that I now had two and the second had recently graduated. We talked about how our children had grown and what they were doing. As we planned for the dress for her now daughter's wedding, I was touched to find out she had saved the silk dress from that wedding years ago and how her daughter wanted us to use that flower girl dress with a sash change color and how her daughter's dream would actually feel for her wedding. As we changed out the sash and added two new silk flowers, just like those from years back, we decided to put in a brand new crinoline so the dress would be full and fluffy for the big day" Here is her response "The eagle had landed! Yes the dress arrived and looks amazing! We are so excited. We will send lots of pics at the wedding. Aside from being just a smidge long it fits well too. Also somewhere along the way my husband missed that we were doing this and even he was touched by this when he saw Emi in it! Thank you. And the toffee color is perfect!"
Some of the most helpful of that advice is that children should be dressed in age appropriate attire and not as "little adults." Pegeen®.com has hundreds of styles and colors from which to choose for babies and children of all sizes and both genders, and the fabrics can be selected and purchased to match or complement the rest of the bridal party, at a very reasonable cost. Pegeen also offers swatches for the bride to choose colors from for a modest fee.
Pegeen®.com's most popular styles begin at only $190 (a couture line is also available), while the quality, workmanship and fit are exceptional AND GUARANTEED. This is why so much of Hyland's business has always been from referrals since this high quality children's formal wear and all the services offered are virtually impossible to find at these prices. Just as importantly, Pegeen®.com makes it easy to create appropriate attire for plus size or other hard-to-fit girls at very reasonable costs which can be almost impossible as many brides, sadly, have learned.
But that's the success behind Pegeen®.com where wedding planners, brides, and other wedding participants can shop online, 24-7, and talk by phone or chat online with Hyland almost any day of any week.
Go to Pegeen®.com and see for yourself the difference that can make much of your wedding planning easier, more fun, less stressful and less expensive, while being treated to Hyland's expert advice and common sense. You'll also benefit from her extensive background in "all things weddings."
You won't be disappointed.
###
About Pegeen:
Pegeen.com offers several distinct lines which fall under two categories: Princess Everyday and Princess Special Days which include popular priced Pegeen "Classic", Pegeen Couture, Pegeen Tween for Jr. Bridesmaids Ring Bearers and the "Nutcracker Collection. For nearly 40 years, Hyland has created, customized and sold over 1,700,000 infants' and girls' dresses and boys' outfits for weddings, cotillions, christenings, bat and bar mitzvahs, ballet costumes and many other special and formal occasions. Hyland is committed to providing couture quality at very reasonable prices. To View Styles visit https://pegeen.com/dresses
Pegeen encourages their customers to send in their photographs of their events once it is over and highlights their favorites on their website. For more information: details. (https://pegeen.com/be-in-our-commercials.php)
Pegeen.com®, headquartered in Orlando, FL, has been involved in creating beautiful yet affordable clothing for children for weddings and special occasions since 1982. We remain true to our founding mission providing factory direct, couture quality flower girl dresses at affordable prices. Every flower girl dress or ring bearer suit is made in our factory and with over 200 colors to choose from, we are proud to help you walk down the aisle. For more Press information on PEGEEN.COM, call 407-928-2377 or visit Pegeen.com Designer Childrenswear or our interactive design tool Pegeen® Dress Dreamer™